Daisy Hapyon is one of VNN's virtual singer. She was originally born as a mascot for our Italian partner "Happy Synthesizer," and she then made her debut into the vocal synthesizers world through VNN, which is exactly where she dreamed to work and making the bond between us and the community even stronger than before!
Daisy's Development: A Bit of History
Daisy Hapyon was born as a mascot for the Facebook fan page "Happy Synthesizer," and the goal behind her was to create a character representing all of us as vocal synthesizers fans. Daisy is cheerful and positive, fitting our enthusiastic mood when we listen to our favorite VOCALOID songs. Her name comes from YAMAHA's prototype Daisy Bell as a tribute to the software that livens up our days. After her design got ultimated, we couldn't help but love this little aspiring virtual singer, and decided to join her development team and make her debut possible. Daisy then became the representation of this community's enthusiasm for virtual singers and, of course, our main vocal synth. There is no high ambition behind Daisy, but just a wish: to make all fans feel connected by the same passion.
Profile
Name: Daisy Hapyon
Name in Japanese: ハピ音デイジー (Hiragana: はぴおん・でいじー)
Age: 16
Height: 168cm
Weight: 59kg
Likes: Everything VOCALOID/UTAU/synthesizer related, Rhythm games of any sorts, gadgets and daisies (a pun about her name)
Dislikes: Being scolded, missing an episode of her favorite show, pizza with "Ananas" as she calls them aka pineapples.
Daisy is the youngest of the trio. She is a very energetic and outgoing person who wishes to know everything about vocal synthesizers, to the point that she desired to be one herself, and practiced dancing, singing, and other skills necessary to be a performer. She's very cheerful and often naive, even commonly being labeled as "childish" because of her playful personality towards everyone. Compared to Vivi and En, Daisy attracts people by simply acting overly happy and playful, always managing to make people smile thanks to her childish and funny attitude.
Daisy collects all sorts of gadgets related to her beloved synthesizers and is also pretty addicted to rhythm games of any sort (often because they feature songs featuring her favorite vocalists). She could barricade herself in her own room all day just to play video games or practice singing and dancing.
She also daydreams a lot about randoms things and needs to be brought back to reality by Vivi, En or Paffugo, her little winged strawberry mascot.
Reference Sheet
Daisy's little mascot: Paffugo
Age: "S-Such a question is disrespectful to a lady!"
Weight: 9kg (which is around the weight of an entire strawberries crate)
Daisy's cute and kind companion, shaped like a strawberry with angel-like wings. People might think she's a fairy- like mascot that tries to keep Daisy and others safe and happy. Despite her cutesy appearance, Paffugo is actually quite serious and harsh when making sure Daisy doesn't do anything stupid. Wishing for Daisy to be a success, she can be really cold-hearted and barely shows any mercy to Daisy when she notices her behaving childishly.
Much like En, Paffugo can appear as a proudful type of being too, but also tends to act maturely enough in order to meet the needs of any situation, often preventing disasters from happening in the first place.
TRIVIA:
Paffugo lowkey loves romantic stuff, such as shoujo manga and visual novels
Winter design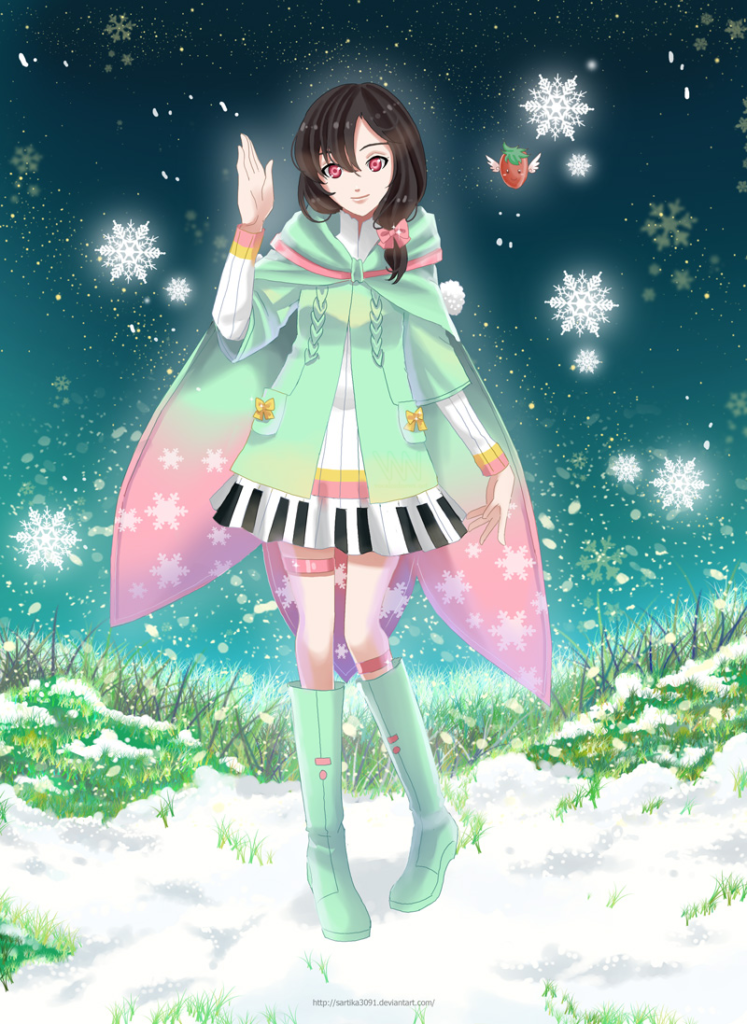 Daisy in UTAU
Daisy is currently an UTAU, which means that everybody can download and use her voice bank. You can listen to some of her demos below.
Her vocal range is between G#3 and C#5, and she has more than 258 voice samples to make her as versatile as possible, with extra samples helping her pronounce some difficult words. To download Daisy, click on the link below!
You can download Daisy Hapyon 2.0 voice bank here.
We chose the CV style for Daisy's first voice bank, but she will be updated and improved in the future. We preferred making a CV UTAU voice bank, full of extra samples, yet still easy to use even for beginners. We hope that thanks to her, many people will approach UTAU and synthesizers in general.
Her updated voice bank has been in development for over a year, in order to provide the best quality we could give you with a CV bank for UTAU. Otized by Mystsaphyr and almost entirely re-recorded, this voice bank is surely a huge improvement for Daisy and we hope you'll have fun using her as much as we did developing her.
With her CV voice bank, you'l be getting her official illustrations drawn by SwaNami and Mimikkun, you can use them freely as long as it not for commercial purpose. If you intend to use them for such project, please contact us and ask for permission.
Daisy however now has a VCV voicebank, made by Catlione, and a whole new design for it! You can download her VCV voicebank here.
Showing herself in a new outfit designed by Sartika Nurhasanah and officially illustrated by SwaNami, Daisy is proud to introduce you all to her VCV voicebank! She can't wait for you to make her sing! Alongside her VCV voicebank, you'll receive her new artworks drawn by SwaNami and YenMi. Those can be used for any non-commercial purpose.
You can check some of her demo songs down here!
*When using the VCV, please open the voicebank using the "m.wav" in the main folder! If you use one of the samples in the "VCV" folder the oto.ini won't load correctly!
Of course, Daisy will still be updated in the future, so stay tuned with us!
Term of usage
Daisy Hapyon belongs to VNN and Happy Synthesizer. Do NOT claim parts of her voice bank and/or design as yours.
Do NOT pitch or edit her voice bank and redistribute it.
Do NOT use Daisy's character, design, official illustrations and voicebanks for commercial purpose without a written permission from Happy Synthesizer and VNN.
Do NOT claim her voice bank and/or design to be some other UTAU other than hers.
VNN and Happy Synthesizer shall be credited whenever Daisy's character and design are used.