Hello everybody! I'm Daisy Hapyon and I'm back with a whole new news recap! (。•̀ᴗ-)✧
This week has been rough for our staff, so some of those news don't have an article yet.
But no worries, they will catch up and publish them all shortly!
With that being said, let's begin! (。・з・)ゞ
A New Song by Studio VOXYZ!
The week began with one new amazing jam from our friends at Studio VOXYZ, featuring a beautifully tuned MEIKO English vocal!
Composed by MystSaphyr, amazingly tuned by Circus-P and featuring a mastering work by GuitarHeroPianoZero, "Hourglass" delighted us all with its sound, providing MEIKO fans a new composition to listen and love!
ShiAn's Demo Song "Taboo Apple Dance" Got its Final Version!
Took us a bit more of waiting, but Quadimension's ShiAn's final voicebank is finally there, and we got a renewed version of her demo song "Taboo Apple Dance" by Zeno as demonstration work!
Click on the picture to open the video on Bilibili, or else you can click here if it doesn't show up!
Want to get more informations about this song and ShiAn? Check our article about it!
Luo Tianyi Birthday Celebrations are Coming!
Luo Tianyi will celebrate her anniversary very soon and, to commemorate that happy event, we got a collaboration with Lawson and more details about her birthday party!
For more details, check out the articles below!
LAWSON x Luo Tianyi Campaign in Shanghai, Zhejiang and Jiangsu Provinces!
Luo Tianyi's Birthday Celebration Officially revealed
BZITA's Hatsune Miku Mobius Ring Up for Pre-order!
An elegant ring made by BZITA as symbol of fans' eternal love toward Hatsune Miku.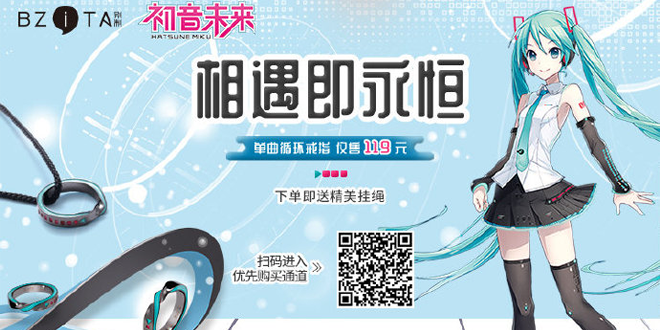 Check out our article to get more details about it!
GraffArt Announced a 2nd Round of Megpoid 10th Anniversary Merchandise!
Next we have GraffArt's second round of Megpoid merchandise, made as celebration of her 10th anniversary!
発売店舗は下記になります。
GraffArt Shop:なんば店、秋葉原店、名古屋店

同日10時より通販でもご予約受付開始です!
こちらもぜひご利用ください!https://t.co/YUlCk6ZRP2#Megpoid pic.twitter.com/GOQtHeB3eG

— 株式会社A3 (@A3_CharaCharge) June 18, 2019
We made a whole in-depth article about this new goods, check it out here!
Hatsune Miku x Fujita Macarons now Available via Animate's Store!
There was also a little update on the Hatsune Miku x Fujita Macaron collaboration that got announced not long ago!
🎀予約開始🎀

不二家x #初音ミク
『キャラクターズ マカロン(ステッカー付き)』が登場💖

さらに❗
特典として #Rella さんの描き下ろしイラストを使用したステッカーが封入😊👏

商品ページ⇒ https://t.co/w7DtLUhNbT pic.twitter.com/Pv8cb5bJCi

— アニメイトオンラインショップ (@animateonline) June 19, 2019
The boxes are now available through Animate's store! For more details check our updated article of it!
New Official Yuzuki Yukari LINE Stickers!
VOCALOMAKETS also shared a new adorable LINE sticker set featuring Yuzuki Yukari, drawn by ebi_gohan!
えびごはん(@ebi_gohan)さんによる結月ゆかりLINEスタンプ「結月ゆかり byえびごはん」が発売になりました!
セリフが多めでかわいらしい結月ゆかりLINEスタンプとなっておりますので、既存の結月ゆかり・紲星あかりLINEスタンプ共々よろしくお願い致します!
詳細:https://t.co/rZpYP9NNBk pic.twitter.com/OrOxKWIuDO

— VOCALOMAKETS (@VOCALOMAKETS) June 19, 2019
For more details check out our article about it!
IA got her Official Playlist on Spotify!
We also got IA's official playlist on Spotify, featuring all of her official songs!
You can find all of her albums, ready to be listened by you through the app!
Have a nice music time with IA and ONE, everyone!
Napstina Reveals Herself as… Haru.jpg!
Heroes don't always wear caps… nor reveal themselves until the right time comes! This is the case for Napstina, Quadimension's mysterious tuner that provided their skills for both HaiYi and CangQiong in many occasions!
こんばんは!🥞仕事の告知です。

私は去年から、仕事用名義「Napstina」の下で、平行四界さんから発表された音声ライブラリ「海伊」「苍穹」「赤羽」「诗岸」の制作に関わってました。

今後もこの名義で、この子たちに関していろいろ頑張りますので、よろしくお願いいたします。 pic.twitter.com/biErj9YCOt

— Haru.jpg🥞Napstina (@Haru_jpg) June 17, 2019
At the very end, it seems this talented tuner wasn't as far as the community thought! On June 17th, Haru.jpg revealed herself as Napstina, leaving the entire fanbase in shock!
This was surely a huge surprise for us all, me included! o(≧∇≦o)
She also blessed us with an amazing cover of liem's "Pinky Swear", originally sang by Luo Tianyi, performed by ShiAn on her release day!
While on Youtube we got the ShiAn solo, on Bilibili we got a whole duet version with her voice provider, Warma. Check it out here!
Chugai Mining Reveals a Magical Mirai 2019 Merchandise Line in a "Soinekkoron" Theme!
Here we got some more merchandise for Magical Mirai 2019, this time in a Soinekkoron pose, made by Chugai Mining!
【新商品情報】
中外鉱業オリジナルシリーズ「そいねっころん」に初音ミクが登場!こちらは8/9(金)から開催される「マジカルミライ2019」先行商品になります。https://t.co/wxqKuXs7Qu
マジカルミライ2019公式サイト:https://t.co/AJP6840h1R#マジカルミライ #初音ミク pic.twitter.com/OltoOzHsFg

— 中外鉱業 (@chugaionline) June 20, 2019
Check out our article about it!
Vsinger Reveals Their Characters' New Outfits and Merchandise for BML VR 2019!
Giving us more exciting news about Luo Tianyi and her friends, Vsinger reveals their new outfit for BML VR 2019 and a whole new set of merchandise!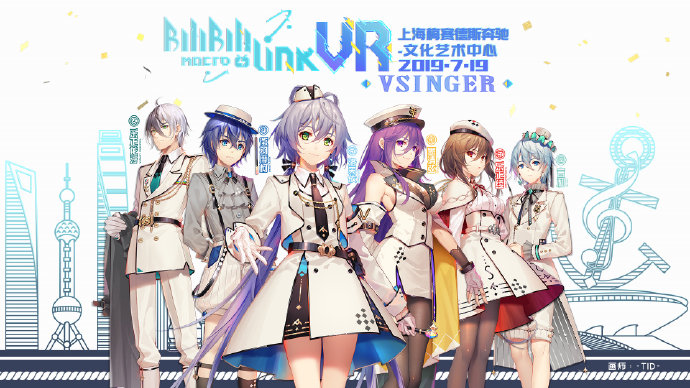 Check out more in our article!
Hatsune Miku x K.R.T Girls' Collaboration Goes Further!
Hatsune Miku's collaboration with K.R.T Girls goes further and further!
★聯名痛車搭乘召集令★今夏最經典超高人氣之合作,高捷少女x初音未來首度聯手,第二波系列活動即將展開!聯名款新品、聯名痛車、XR未來日互動車站、電子集章,將於6/29閃耀登場~~6/29上午10:00於R10美麗島站舉辦痛車首航…

Posted by 高雄捷運 on Thursday, June 20, 2019
They will hold a press conference at Formosa Boulevard metro station showing off their new merchandise, talk about their future projects and unveil a very special ita-train as well!
If you sign for their Facebook event, you might even have a free ride on it! You can find it here!
Tenryū Hamanako Line x Otomachi Una 3rd Anniversary Illustration!
Otomachi Una brings up a new marvelous illustration for her Tenryū Hamanako Line collaboration, as well as her 3rd Anniversary!
/初公開!\🚃天浜線コラボ&音街ウナ3周年🎊のキービジュアルです♪🙌🏻🙌🏻🙌🏻💕✨イラストはさいとうなおきさんです♪є(๑´◎`)๑_ _))ペコリ🙏🏻🙇🏻‍♀️元気いっぱいのウナが今にもおどり出しそうですね♪💃🏻💞✨ラッピング車両のデザインもおたのしみに♪🚃👌   є(๑´∇`๑)э 「▔ロロロロロ▔l L。。───────。。」 ̄ ̄ ̄ ̄ ̄ ̄ ̄ ̄ ̄ ̄

Posted by 音街ウナ on Thursday, June 20, 2019
But there is more of course: a Twitter campaign, where the winners will become "godparents" of the upcoming train that will be at her own image! Instructions can be found in the tweet below!
\🚃天浜線×音街ウナ🎀/ラッピング車両の名付け親さま大募集♪🤗🙏

① @otomachiuna をフォロー

②このツイートをRT(Aコース)

③ #ウナラッピング名付け親 で名称をツイート(Bコース)

ぜひぜひご参加ください♪є(๑´◎`)๑_ _))ペコリ🙏🏻🙇🏻‍♀️

👇詳しくはこちらhttps://t.co/x3gseQMlnP pic.twitter.com/t6FKyvqSBy

— 音街ウナ公式🔰ラッピング車両名付け親さま大募集♪🐥 (@otomachiuna) June 21, 2019
Follow her Twitter account (If you don't, they won't be able to DM you in case you win!)
Then, you have two options you can choose between:
A: Retweet this tweet
B: Tweet your name using the hashtag #ウナラッピング名付け親
The campaign started on June 21st and will keep going until the 25th (JST), with winners to be announced on early july!
Prizes include an alarm clock voiced by Otomachi Una (VA: Aimi Tanaka) saying typical train conductor phrases and two daylong passes featuring a Una decal!
MEDIUM⁵'s Mini figures Family is Now Complete!
Quadimension finally teased all of the upcoming mini figures portraying each of MEDIUM⁵'s members!
Source for the pictures is here.
Their mini figure series now include CangQiong, ChiYu and ZERO, Stardust's prototype design.
They are currently in a prototype stage of course, but we might be able to hear more in the near future so stay tuned with us!
Hatsune Miku x Youme Cafe Collaboration in Hong Kong gets More Details!
Having a coffee in company of Hatsune Miku's presence has never been more amazing than in this Youme Cafe collaboration!
【Youme cafe荃灣店】初音ミクxYoume cafe商品情報公開!此次商品使用Youme cafe限定的等身及Q版兩個系列的新圖,分別來自R_りんご及上倉エク兩位畫師。兩個系列角色均穿上由FANTASISTA…

Posted by Youme cafe on Friday, June 21, 2019
Read more about it on our article!
Cytus' is Eagerly Waiting for your Hatsune Miku Stories and Chibi Illustrations!
Next we have Cytus' collaboration with Hatsune Miku, taking place on Facebook, and waiting for fans' stories and artworks with Miku and the game's characters!
Cytus II X Hatsune Miku 限時合作二創開啟~邀請玩家一起創造出更多 Miku 2.3.9 的故事完成以下其中一項並將作品上傳至此貼文留言處將從中隨機抽出5位獲得Neko X Hatsune…

Posted by Cytus on Friday, June 21, 2019
This giveaway will have five random winning artists, chosen randomly from the comment section of their Facebook post.
All you have to do is comment under their post uploading an artwork following one of those two themes:
Comic/Illustration/Short paragraph that features Miku interacting with Cytus II characters
Chibi-ver. artwork created based on Miku's image and appearance in Cytus II
The winners will receive a NEKO x Hatsune Miku Mousepad as prize!
Featured Works
Our news reel finishes here, but I would like to give a spotlight to some artworks that really impressed me and VNN's staff! Those artist's illustrations are absolutely amazing and I truly wanted to share their works with you all! ヾ(≧∇≦*)ゝ
昨日LUMiさんを描けなかったので・・・#るみーつ pic.twitter.com/7br5ZJcADY

— 深山フギン (@omoiomoutori) June 4, 2019
LUMi by Miyama Hugin
After so much time since when we last seen LUMi around, I was so happy to see her official character designer make an art of her! Her elegance still amazes me to this time and I wish I would see her more around!
星尘。。。? #VOCALOID #VOCALOIDCHINA #星尘 https://t.co/EOx6PFoO45 pic.twitter.com/YvlUIWgkWq

— 艮D | Izeda Datori (@stupedadatori) June 22, 2019
Stardust by Izeda Datori
Useless to say, this Stardust artwork was eagerly appreciated by me and the whole VNN headquarters! Izeda Datori is often a guest artist for us and even draw me more than once, so shouldn't be a new face to you! If you are looking for amazing drawings of Chinese virtual singers, they are the artist for you and this Stardust artworks proves it!
Xin Hua pic.twitter.com/O6W79Totef

— chorva @ 📌commissions full (@chorvaqueen) June 20, 2019
Last but not least we have the much beloved SD chibi series made by Chorvaqueen! This time featuring the adorable Taiwanese virtual singer, Xin Hua! I always loved her design and cute voice, plus she fits Chorva's artstyle so much, doesn't she?
My weekly recaps comes to an end once again!
But don't forget to stay tuned on VNN for more amazing news, especially through Twitter and Facebook!
As for me, I'm constantly on Twitter looking for content! Want to suggest me something to share next week? Then you can mention me anytime!
See you later guys, and stay SYNTHesized! ヾ(>ω<○)