Daisy Hapyon was created in order to represent Italy, and give it a mascot and a voice. She was originally born as a mascot for our partner page for VNN Italy, "Happy Synthesizer," and she recently made her debut into the vocal synthesizers world. Daisy is an UTAU born to represent not only the Italian community, but also all enthusiastic fans who share their love for this surprising technology and its constant improvements.
Daisy's Development: A Bit of History
Daisy Hapyon was born as a mascot for the Facebook fan page "Happy Synthesizer," and the goal behind her was to create a character representing all of us as vocal synthesizers fans. Daisy is cheerful and positive, fitting our enthusiastic mood when we listen to our favourite VOCALOID songs. Her name comes from YAMAHA's prototype Daisy Bell as a tribute to the software that livens up our days. There is no high ambition behind Daisy, but just a wish: to make all fans feel connected by the same passion.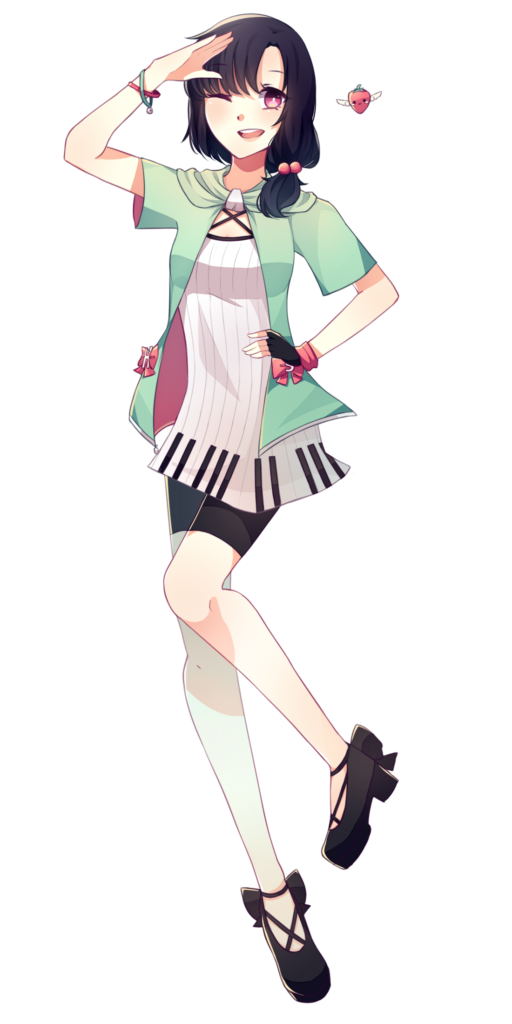 Daisy's Profile
Name: Daisy Hapyon (ハピ音デイジー – はぴおん・でいじー)
Age: 16
Gender: Female
Nationality: Italian
Height: 168 cm
Weight: 59 kg
Voice Provider: Envy (Eririn)
Likes: Everything VOCALOID/UTAU/synthesizer-related.
Dislikes: Being scolded by Paffugo (her little angel-winged strawberry, her companion and mascot).
Daisy can be depicted as a cheerful and light-hearted girl who sometimes is too naive. She really loves every vocal synthesizer on Earth and does her best to share news about her beloved synthesizers with as many people as possible. Inspired by her favourite VOCALOID's success, Daisy started practicing to be a good singer, and she manages a synthesizers fan club in her spare time. She's a friendly and easy-going girl, and she calls everyone her friend (and master, if they use her on UTAU).
Daisy & UTAU
As already mentioned above, Daisy became an UTAU, which means that everybody can download and use her voice bank. You can listen to some of her demos below.
Her vocal range is between A3 and C#5, and she has more than 258 voice samples to make her as versatile as possible, with extra samples helping her pronounce some difficult words. To download Daisy, click on the link below!
You can download Daisy Hapyon's voice bank here.
We chose the CV style for Daisy's first voice bank, but she will be updated and improved in the future. We preferred making a CV UTAU voice bank, full of extra samples, yet still easy to use even for beginners. We hope that thanks to her, many people will approach UTAU and synthesizers in general.
We have bigger plans for Daisy's future, so keep an eye on her and watch our baby girl grow up and improve with us!
Usage Rules
As you could expect, Daisy comes with some rules:
Daisy Hapyon belongs to VNN and Happy Synthesizer. Do NOT claim parts of her voice bank and/or design as yours.
Do NOT pitch or edit her voice bank and redistribute it.
Do NOT use Daisy for commercial purpose without permission from Happy Synthesizer and VNN.
Do NOT claim her voice bank and/or design to be some other UTAU other than hers.
If you follow these simple rules, you can go ahead and use her! You don't want Paffugo to scold you too, right?
We will be happy to see your creations with her, such as covers, fan art, cosplays, or anything else, so feel free to send us your work through our social media accounts (Facebook, Twitter, and so on). Feedback or suggestions on how to improve her are also welcome! Our goal is to connect with you, and we hope that Daisy will help us all feel more connected and united by the same passion.