August 31, 2017 was a big, big day in the VOCALOID world, marking Hatsune Miku's 10th anniversary extravaganza! In the weeks leading up to the big day, on the big day itself, and throughout Magical Mirai 2017, dozens upon dozens of special announcements were made, spanning topics like album releases, artbook announcements, mobile game collaborations, and much, much more.
Those game collaborations, however, were so many in numbers that several likely slipped under your radar. But that's where this roundup comes in! Let's take a look back some of the many, many mobile RPGs that Miku appeared in recently!
Hatsune Miku x Kerihime Sweets Collaboration Underway!
First up on the Miku collab bandwagon was Gungho Online Entertainment's puzzle RPG, Kerihime Sweets. From 8/29 to 9/19, players can play two special stages called "MIKU Galaxy Tour" and "Hatsune Miku Music Festival!" and earn a whole lot more crown coins!

When playing "MIKU Galaxy Tour," players will be treated to the song "Prism Heart" by samfree! Doing well on the stage will net you special collab items and weapons, such as the "MM2016 Mic" (based off Magical Mirai 2016 Miku) and the "Magical Penlight!"
Starting on 9/5, players can undertake a "Magical Mirai 2017 Challenge." By equipping the Magical Penlight, players will be able to challenge the boss of the "MIKU Galaxy Tour" stage! Those who emerge victorious will unlock special items like a Miku T-shirt and towel accessories, and even a jukebox for listening to the stage's background music. Oh, and said music that plays in "MIKU Galaxy Tour" will change to "MagicalMikuxer" by AlpacaP!
But enough reading, now lets check out some gameplay videos!
Download Kerihime Sweets from the App Bank and Google Play!
Source:
Keruhime Sweets Official Site
Hatsune Miku x Mahou Otome Collaboration Commences!
The collab with Gothic wa Mahou Otome ~Sassa to Keiyaku Shinasai!~, the mobile bullet hell shooter RPG from CAVE Interactive, officially commenced on 8/31 as well!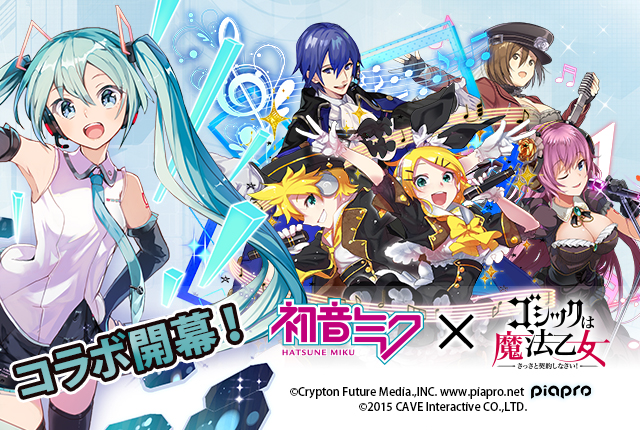 Prior to the event, Susumu Imadachi of Elec Comic, Tsuneki Ikeda and Boori of CAVE Interactive, Yusuke Kumagaya of Crypton Future Media, and doriko all appeared in a special livestream on 8/29 to share details. A special arrangement of doriko's "Onomapet" will serve as the background music throughout the stage that will be available during the collab period.
The Miku familiar can be unlocked and "contracted with" just by logging into the game between 8/31 and 9/14. The Luka, Rin, and Len familiars can be unlocked from scoring enough points in the event quest before 9/10.
After that, KAITO, MEIKO, and additional familiars for Miku, Rin, and Len can be unlocked through an in-game lottery. Each of the VOCALOID familiars will be fully voiced, and will enable special shots, that players who contract with them can use in the game until the collab's conclusion on 9/28.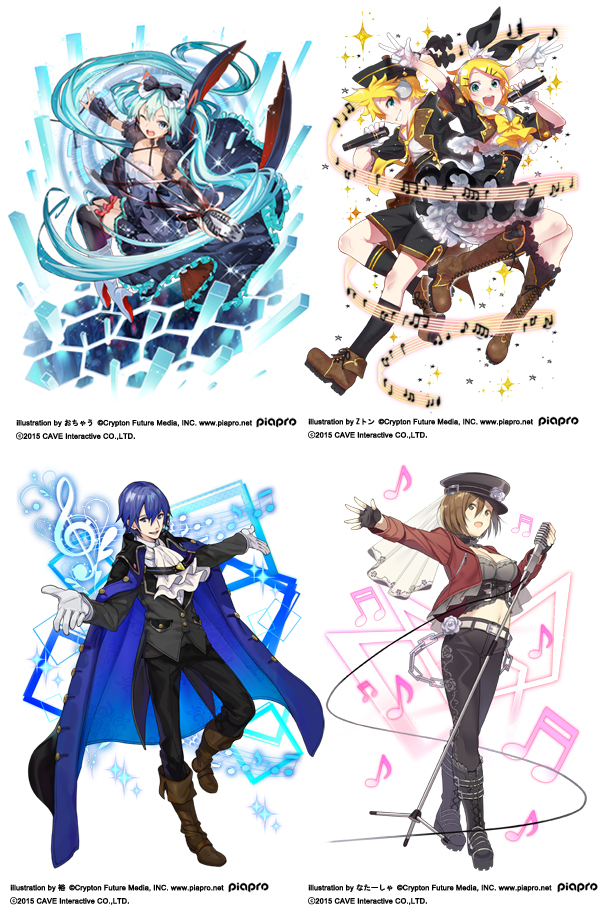 Each of the above-mentioned familiars have 3 different designs in the game: a "pre-evolution" design, a "post-evolution" design, and a transition design between them. You can see the pre- and post-evolution designs below, along with comments from each of their illustrators:
The VOCALOIDs' outfits can also be unlocked for the game's main cast to wear.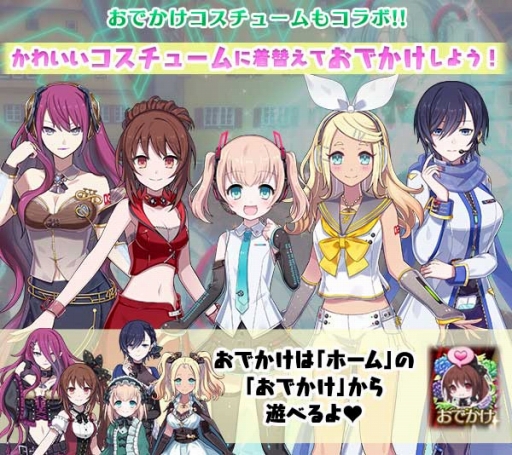 Finally, a special TV commercial for the collab event has begun airing on Japanese airwaves, which you can find below!
Download Gothic wa Mahou Otome from the App Store and Google Play!
Sources:
4gamer.net
Famitsu App
Hatsune Miku x Colopl Rune Story Commercials Now Online!
As reported on Mikufan, the collaboration with Colopl Rune Story (a.k.a. Shironeko Project in Japan) also commenced on 8/31. And with it, commercials started airing on Japanese television, which are also available for viewing online!
Both the 15-sec and 90-sec commercials use MITCHIE M's arrangement of the game's theme song, "Stand Up!" and shows parts from the promotional video with Kasoku Sato's Miku model dancing to Yumiko-sensei's choreography, and Hinako Sakurai even makes a special end appearance in one of them. Furthermore, the commercials give players a look at the different versions of Miku that can be unlocked to play as in the game, until the collab's conlcusion on 9/21.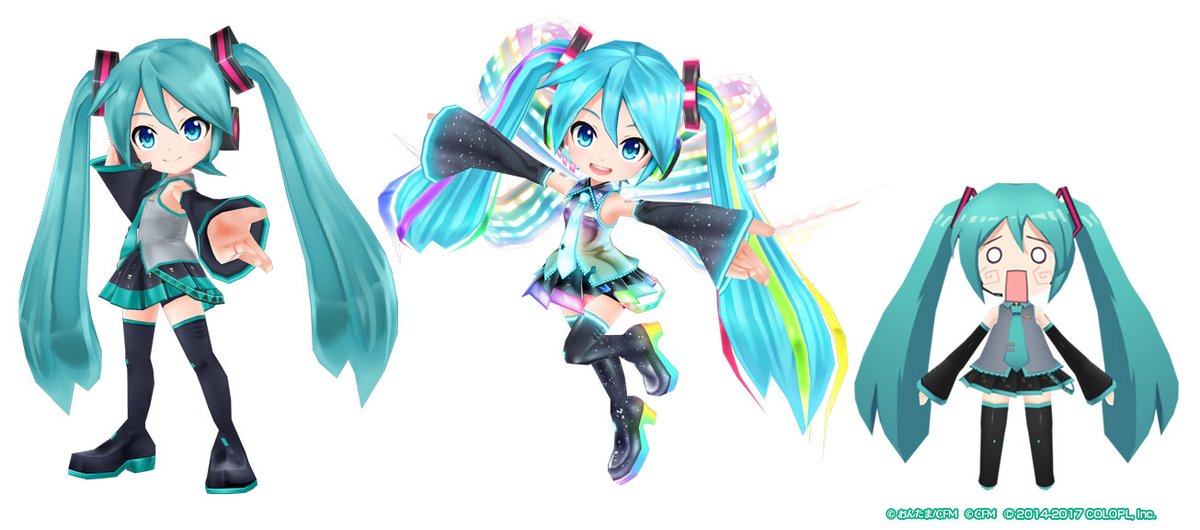 Just by clearing the first quest for the collaboration event, Miku in her default look will be unlocked. It was also revealed that she can change into Hachune Miku if certain conditions are met, and into her 10th Anniversary design when in "Fever Time."
And let's not forget the multitude of other artists who are lending their talents to this collaboration! Check out some of their contributions below!
Download Colopl Rune Story from the App Store, Google Play, and for PC!
Sources:
Shironeko Project Official Site
4Gamer.net
Hatsune Miku Official Blog
Mikufan.com
Hatsune Miku x Shenwuyue Collaboration Commences!
And who says only Japan gets to have all the Miku collab fun? 8/31 also marked the beginning of the collaboration with Chengdu Youxi's mobile fantasy RPG, Shenwuyue ~Divine~!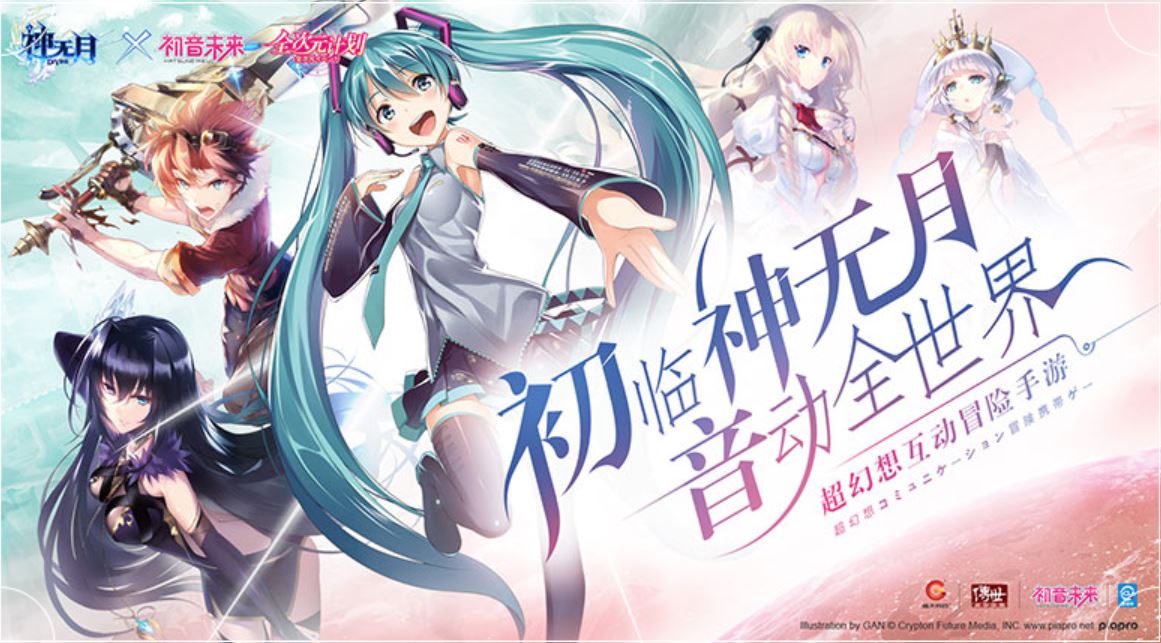 Besides the promotional art illustrated by GAN, what alerted many fans to this collab was most likely the single biggest advertisement for a Miku event that the world has ever seen!
Players who undergo Miku's mission during the collab period (ending on 9/30) will be rewarded with star stones, experience points, special restorative items, and, unsurprisingly, some leeks. On 9/6, they'll be opening an in-game shop where you can spend your hard-earned earned leeks on Miku-themed soul stones, portraits, and other rare items.
Complete all of Miku's tasks, and she'll join your party! Miku will come with abilities like "Magical Song" in which she sings to attack, a powerful finishing move called "Chorus of Love," and passive abilities called "Support Group" and "Electronic Diva."
Miku will also be singing the game's theme song, which you can hear below!
Download Shenwuyue from the App Store, for Android, and from TapTap!
Sources:
Shenwuyue Official Weibo
Shenwuyue Official Collaboration Site
Stayed tuned for Part 2 of our Hatsune Miku 10th Anniversary Game Collabs Roudup!