Let's keep going with Stardust's celebrations by sharing with you two contests Bilibili launched with Quandimension: Stardust birthday celebrative works and MEDIUM⁵ creator contest!
About the Contests
Wishing not only for more love during Stardust's special day, but also for more original works featuring MEDIUM⁵'s group, Quadimension started a collaboration with Bilibili aiming to encourage fan to create more content for their virtual singers. How, you might be asking? With a creation contest of course!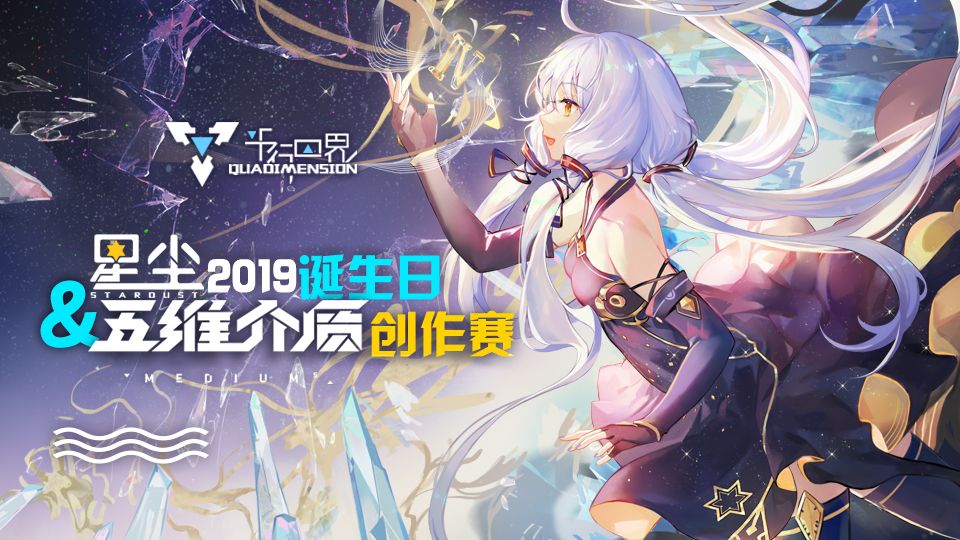 This contest is open for every Bilibili user willing to challenge themselves in creating content using either Stardust's birthday or/and MEDIUM⁵ in general as themes, as long as their content follow the guidelines above:
Any kind of content you can create and upload to the website will be accepted, as long as it is originally made by you (no reprint is allowed) and it has been uploaded in your account.
No promotional/commercial works are allowed for those contests
Your entries must follow Bilibili's rules
In order to apply, all you have to do is upload your work onto Bilibili by using the hashtag #五维介质创作赛#. In case it is also about Stardust's birthday, you need to add the #星尘2019诞生日#  hashtag as well. After doing so, remember to also post something on your timeline using those as hashtags! Most importantly, make sure to write something, too! They asked to not just put the tags alone.
You can alo add generic hashtags such as #cosplay#,  #原创绘画# (Original illustration) and so on if you wish to!
Entries can be submitted starting today until September 15th, while people can give their favorite works a like until 17th of the same month.
Prizes
There will be four winning entries by default, with more winners to be added depending on the amount of entries they get:
Excellent Award
Popular Award (Depends on the likes you get!)
Creativity Award
Best newcomer
Winners will get some gifts directly from Quadimension, such as MEDIUM⁵'s mini figures box and Stardust's bikini figure, and might have the chance to work with the team in various projects, such as albums and artworks, in the future!
Sources
Let's celebrate Stardust together by providing content to her and her sisters with those contests!
Follow us on VNN and our social medias to not lose any news about your favorite Virtual Singers!
Quadimension is on Youtube and Weibo
You can also find Stardust on Weibo, Twitter and Youtube
ChiYu can be found on her personal Weibo, just like ShiAn has her own account!
HaiYi is on Weibo too, and so is CangQiong on Weibo as well!
Contest page on Bilibili