That's right! Miku Expo Europe is getting it's own Fan Forge challenge, celebrating the official theme song for Miku Expo Europe, Music Like Magic! by OSTER Project!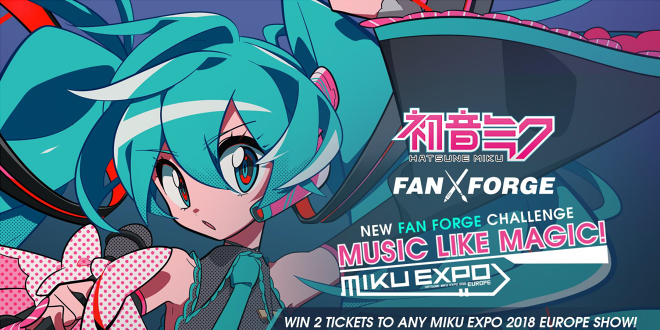 What is Fan Forge?
Fan Forge is an open gallery for artists to submit their fan art and ideas for their favourite properties.
These designs will be shared and rated by the community, for the chance to become officially licensed products.
Selected artwork will earn a commission per item sold on the Fan Forge website, through wholesale and at conventions.
Prizes
There shall be 1 Grand Prize Winner and 2 Runner Ups for this challenge.
Grand Prize
The Grand Prize winner shall receive 2 tickets to any Miku Expo Europe show. (Please note that travel is not included with this prize.)
OR
A 5 item Tour Goods Present Package.
Runner Up
The 2 Runner Ups shall receive a 3 item Tour Goods Present Package.
Bonus
Additionally, all selected designs shall receive commissions on all sales of goods featuring their design.
Challenge Guidelines
To enter the Music Like Magic! challenge, entrants must submit a design for a T-Shirt, using the template provided here.
Designs should be original and inspired by one of the six Piapro characters: Miku, Rin, Len, Luka, MEIKO or KAITO.
Entrants must be 18 years of age or older.
Submissions are open internationally to all countries.
Do not submit similar versions of the same design, as this will only divide the votes.
Entrants are encouraged to design their own versions of costumes but should not use costumes created by other artists in the community.
Do not submit anything overtly sexual.
Deadline
Submissions are open right now and the deadline is September 16th, 2018 at 11:59 PST.
How to submit
Entrants can submit their designs by using this form.
You can also view all the designs which have been submitted so far here.
Source