Special limited-time roll cakes bearing Miku's KEI-designed box art illustration for Hatsune Miku: Project Diva X HD are now on sale at the Akihabara and Shinjuku districts of Tokyo.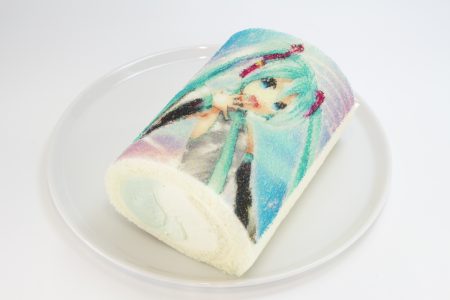 These delectable goods are the result of a collaborative project between the Hatsune Miku: Project Diva X HD team and Sweet Paradise Cake Shop, with its two locations in Tokyo. These limited-time sweets come in three varieties: 1) Limited Roll Cake (¥1800 JPY/$18 USD) with its print of the Project Diva X HD box art, 2) Popcorn (¥800 JPY/$8 USD) with its mixture of a wide variety of flavors, and 3) Collaboration Drinks (¥500 JPY/$5 USD) which are colored like each of the Crypton VOCALOID characters.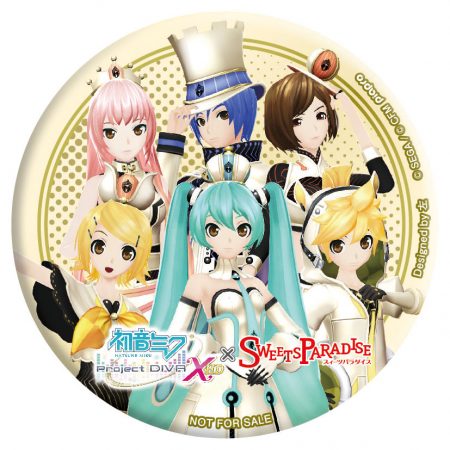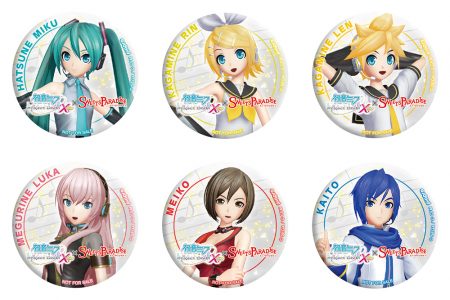 Furthermore, those who purchase a special roll cake will receive an extra-large can badge for free, while those who purchase a collaboration drink will receive a regular-sized can badge.
They will be on sale until September 30th, which means that after attending the Hatsune Miku Symphonia or Magical Mirai concerts, one can stop by Akihabara and pick some up to eat on the way home. However, they have proven to be so popular that there have been tweets reporting that on August 25th, an entire day's worth of roll cakes have sold out within just an hour of the store opening. One would probably have an easier time getting a roll cake the earlier they get to the store.
ああ? > 「本日分のロールケーキは開店1時間で完売してしまったという」
『初音ミク Project DIVA X HD』コラボフードの感想をお届け。『VRフューチャーライブ』の情報公開日が判明 https://t.co/aR3b0n7oBQ @dengekionlineさんから

— *nog (@nog67) 2016年8月25日
"Huh? > The store's barely been open for 1 hour, and already an entire day's worth of roll cakes are sold out…"
※UPDATE: Now Introducing the Character Crepes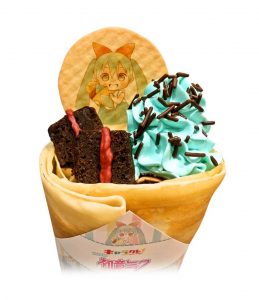 And that's not all. According to the official Hatsune Miku blog, the Miku Crepe will also soon be making its debut at Shibuya Mile (a whole other shop not affiliated with the Sweet Paradise ones) at the Shibuya ward of Tokyo! The Miku Crepe is the product of a completely separate agreement from the roll cake one described above, and will be on sale for a limited time from August 26th to September 8th. More details can be found at the Hatsune Miku Official Blog (Japanese).
Locations
The special Hatsune Miku: Project DIVA X HD roll cakes are being sold at the two locations below. For those who want to taste them for themselves, be sure to follow the maps. This goes double for those who plan to travel from overseas to visit Akihabara or Shinku!
Sweets Paradise Cake Shop, Yodobashi Akiba location
1-1 Kanda Hanaoka-cho, Chiyoda-ku, Tokyo Metropolitan Area, 1F of Yodobashi Akiba, around the ワイワイマルシェ (Waiwai Marche) passageway


Sweets Paradise Cake Shop, Shinjuku location


1-1-2 West Shinjuku, Shinjuku-ku, Tokyo Metropolitan Area, B2F of the Shinjuku Subway Station, within the metro dining hall



Tweets From People Who Have Tasted the Roll Cakes
Here is a collection of tweets with thoughts and pictures of the roll cakes from people who have managed to buy and taste them before, which can hopefully sate the appetites of those who can't easily get there themselves. Just use your imagine as you browse the tweets, and you too can feel like you are really there and have experienced eating a roll cake for yourself (or not…)!
秋葉原のヨドバシの下。ミクさんなんかやってる pic.twitter.com/XBtxyTAmNe

— かずと@大好きな俺のハニー (@chaahan_love) 2016年8月25日
"Saw this below the Yodobashi in Akihabara. They're doing something with Miku-san here."
ケーキいただきます。 pic.twitter.com/EKU3NXBWt8

— けーの (@kno2502) 2016年8月25日
"Time to dig in to some cake!"
Akibaヨドバシ来てみた(  ̄▽ ̄) ミクさんロールケーキがデカワイイねー ポップコーン食べて出勤しますわw pic.twitter.com/HWQHDZfwMK

— 越後屋 三九蔵 (@echigoya39zou) 2016年8月25日
"I'm here at the Akiba Yodobashi (  ̄▽ ̄) These Miku roll cakes are uber-cute! Gonna order some popcorn, then it's back to work.
ミクさんケーキただ今復活したw
また3個しか入ってないらしいからお早めに

入荷予定は聞いても解らないとの事 pic.twitter.com/CTT4WzmK4J

— ようくん (@elfsystm2008) 2016年8月25日
"They just started selling Miku roll cakes again! I hear there's only three, though, better hurry!
When I asked when they'll have more, they said they have no idea…"
お、ミクさん (@ ヨドバシカメラ マルチメディアAkiba in 千代田区, 東京都) https://t.co/kcMPkFucXw pic.twitter.com/RhITOqzodL

— [email protected]ミクシンフォニー (@ejiwarp) 2016年8月25日
"Wow, Miku-san @ Yodobashi Camera Multimedia Akiba, Chiyida-ku, Tokyo Metropolitan Area
ミクさんロールケーキ、新宿店完売!(>_<) pic.twitter.com/1lYRROtBWl

— つきまる (@tsukimiku) 2016年8月25日
"Miku roll cakes on sale at a shop in Shinjuku! (>_<)
ミクさんのロールケーキあったよ!(アキバ店 pic.twitter.com/GSSVuF25cP

— ちか (@Chikatch1) 2016年8月25日
"They had Miku roll cakes here!"
Originally written by Kowhey of VNN Japan.