SEGA has released a promotional trailer on YouTube and Niconico for the Playstation VR-exclusive game Hatsune Miku: VR Future Live, set for release on October 13th, 2016.
This exactly 1 minute and 39 seconds-long trailer begins with Miku greeting us with a "Hello! I'm Hatsune Miku!" Then, a scene straight out of a Magical Mirai or MIKUEXPO concert is brought to life before our eyes on the VR. Game play and music for "Love Trial", "Shake It!", "1/6 -out of gravity-", "The First Melody", and "39" is shown and played in this particular trailer, giving us a taste of what the fully-compiled set list may be like.
Furthermore, various new Project DIVA modules were also revealed alongside each song performance, which fans of the game series will likely recognize as being relevant to their respective songs.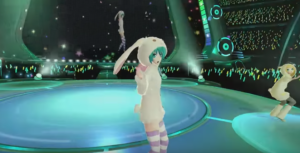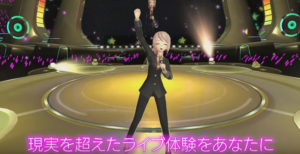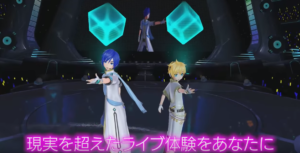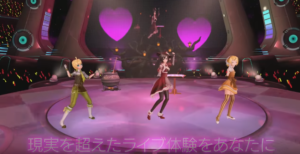 When the game's title and logo are shown, fans may notice a very inconspicuous "with Project DIVA" written underneath it, hinting that some elements of Project DIVA will be incorporated into the game as well.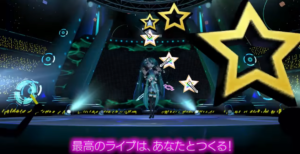 The trailer also reveals how the 2nd Stage and 3rd Stage will build off of the initial 1st Stage, which will feature Miku's performances. In the game's 2nd Stage, Rin, Len, and Luka will be making their debut in the game, and in the 3rd Stage, so too will MEIKO and KAITO be performing in VR concerts! Eventually, all six Cryptonloids will be able to perform onstage together! The 2nd Stage is scheduled for release sometime in November of this year, while the 3rd Stage is scheduled for December. Each will be priced at ¥2500 JPY (about $24 USD; official Western release price to be announced).
Finally, SEGA is preparing an All Stage Pack release of the game for those who wish the buy all three Stages of the game in one go. Buying all three of the Stages separately will cost ¥7,500 JPY, but buying the All Stage Pack will cost ¥7,000 JPY (about $68 USD; official Western price to be announced), a total of ¥500 JPY cheaper.
Hatsune Miku: VR Future Live, 1st Stage will be released on October 13th exclusively for the Playstation VR.
Originally written by Kowhey of VNN Japan.