Fans of IA and ONE will be pleased to hear that there will be a concert screening next month at Tsukuba Conference! The screening shall be part of the opening ceremony for the 3rd day of the conference and will feature recordings of live performances from 2018 to 2019.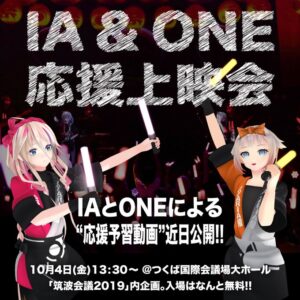 What is Tsukuba Conference?
The Tsukuba Conference is a 3 day conference, sponsored by the Tsukuba Conference Committee.
The event is focused on innovation in science and technology and how it contributes to society.
Please note that the 2nd and 3rd days of the event are by invitation only.
The 4th day is open to the public.
Where is the screening?
The location of the event is the Tsukuba International Conference Hall in Japan. The full address is:
Tsukuba International Conference Hall, 2-20-3 Takezono, Tsukuba, Ibaraki, Japan.
The concert screening will be held in the large hall of the venue.
When is the screening?
The conference will run from October 2nd to October 4th, 2019.
The IA and ONE concert screening will be held on Friday, 4th October.
The screening will start at 1:30 PM and end at 3:00 PM.
More Information
We at VNN are excited to hear about more concert screenings for IA and ONE!
Make sure you stay tuned to VNN for further announcements and keep an eye on IA and ONE's official Twitter for updates straight from the ARIA girls!
Source