This year's Hatsune Miku: Magical Mirai 2019 brought us so many, exciting news for us fans to enjoy! Besides the newest updates on Piapro Studio and the status of the Character Vocal Series' family, Crypton Future Media announced a new service already online: Kiite!
What is Kiite?
Kiite (which also means "Listen") is a new streaming service released today (31th August) by Crypton Future Media, the company famous not only for being Hatsune Miku and her friends' creator, but also for other community-based services, such as the world's largest VOCALOID music label KARENT, SONICWIRE, Piapro and SONOCA to name a few.
This time, Crypton presented, during an intense conference held at the Magical Mirai 2019, Kiite, a new music playing and streaming service, completely free! Kiite works through playlists, which users can make by themselves or already pick from pre-existing ones. Rest assured that your favourite VOCALOID song is on that site! And if not, you can simply ask for it to be added through the Request tab!
The service is currently available only in Japanese, but don't worry: it's easy and intuitive to use even for people who can't read Japanese at all! Follow the guide on how to register your account down below!
How to Register!
Making an account on Kiite is quite easy!
Step 1: Go on kiite.jp
Step 2: on top right, just below an empty profile icon, there are two buttons, ログイン (Login) and 新規会員登録 (Signup). Click on this second one! (If your device doesn't display correctly Japanese character, follow the picture down below).

Step 3: You will be shown a form: the first line is for your desired URL. Please note that this one can't be changed, so choose wisely! It must be between 4 and 24 characters, both Japanese and English characters allowed, same for dashes, asterisks and so on.
The second space is for your Nickname. This one can be changed! It's up to 32 characters, and will be displayed on top of your page.
The third and fourth space are for the mail you use to register, while the other two spaces are for the password.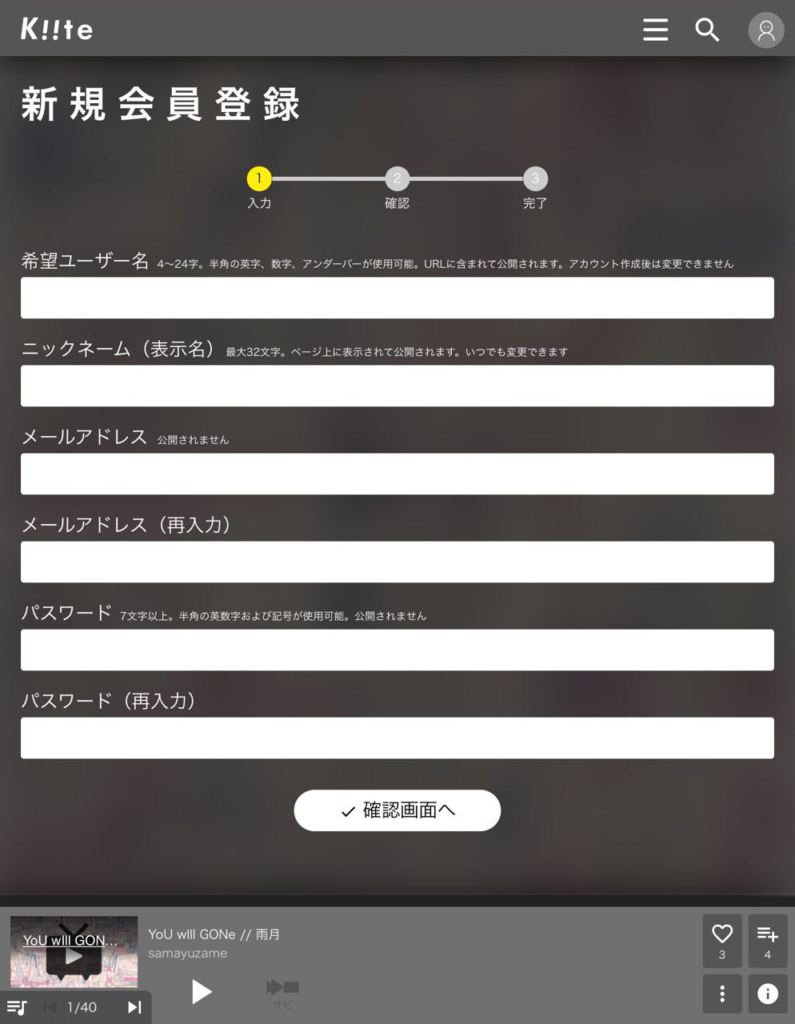 Once you're done filling the form, click on the button at the end. You will be asked to check your datas, confirm them. Then, you'll be asked to check your mail to confirm your account. Please note that the link they'll send you lasts up to 12 hours. Also, don't forget to check your spam, if you don't see the mail!
And you're done! Your account is now ready!
But How Does it Work?
On Kiite, you can search your favourite music in different ways: you can search for the name, the singer or the producer (on the site, called Creator). In this example, I searched for ささくれ.uk.

In the keyword (キーワード) you can search for the song, the playlist or the creator. The options underneath are for searching all contents with those words, original songs (オリジナルのみ) or covers of that song/artist (カバーのみ).
Playlists are quite intuitive, too! If you like a song, you can add it to your personal playlist and give it a like, as well. Playlists can be shared, too. This is a sample of the playlists for sasakure.UK.
But what if the song you were searching for isn't there? That's easy! On the main page of Kiite, you'll find a Request form. You just have to add the URL of a video, either from NicoNicoDouga or Youtube, and you're done! The song will be added as soon as possible!
Source
Kiite is definitely something really nice you can enjoy during your everyday life! Please give it a try, and share with us your favorite songs! And don't forget to follow us on VNN, while we cover all the magic and news this amazing edition of Hatsune Miku Magical Mirai 2019 brought us!
Hatsune Miku is on Facebook (English and Japanese), Twitter (English and Japanese), Youtube and Weibo
Give a look at Kiite and start listening to your favorite songs on its website!
Press release on Crypton Future Media's official Blog