Ever since she was first inaugurated last year, Okhotsk Ambassador of Tourism Yuzuki Yukari has been promoting travel to the Okhotsk subprefecture of Hokkaido. Let's take a look at what she has been up to at her new job in 2018!
Promotional Events & Goods
Okhotsk Yukari played a part in various events that promote the region and its culture. One such event was the Okhotsk Fair 2018 at the Sapporo Chi-Ka-Ho from January 24th to the 25th, where visitors could sample food, crafts, and other regional trademarks unique to Okhotsk. At the fair, a life-size popup display of Okhotsk Yukari was present, and a video presentation was shown to introduce her. You can see some photos and videos of the event in the below tweets from users who were actually there!
ゆかりさんのオホーツク観光大使のポケットティッシュと観光大使任命のニュースの号外新聞
札幌チカホ オホーツクフェア2018 pic.twitter.com/tN1BMuXVIy

— 天狗山@.4/5シンフォニー熱唱版 (@tenguyama_3939) January 24, 2018
Yukari-san's Okhotsk Ambassador of Tourism pocket tissue pack, and the special edition news article about her appointment as the new tourism ambassador.
Sapporo Chi-Ka-Ho Okhotsk Fair 2018
https://twitter.com/end_knights/status/956004427600748545
Chi-Ka-Ho, Yukari-san's pocket tissue packs and display were at the Okhotsk exhibit.
The newspaper article was the same as the one published before.
There were also tons of delicious food, so anyone interested should pay them a visit.
オホーツクフェア2018 札幌チカホ のゆかりさんの様子を#オホーツクゆかり pic.twitter.com/sXlTcK50lP

— オホーツクの庭師 うさぎの宴から帰宅 (@mmb_yuzukiyukar) January 27, 2018
Yukari-san could be seen at the Okhotsk Fair 2018 in Sapporo Chi-Ka-Ho #オホーツクゆかり
Additionally, Okhotsk Yukari pocket tissue packs were handed out to get more people aware of the new Ambassador of Tourism for the region. On each tissue pack is a brief description of Yukari, reading "Yuzuki Yukari is a virtual idol who loves to sing and chat. True to her namesake, her motto is 'She Unites You All With Her Voice,' and she performs all sorts of activities to accomplish just that. She's working very hard as the Okhotsk Ambassador of Tourism, and all while wearing her special clione-like costume!"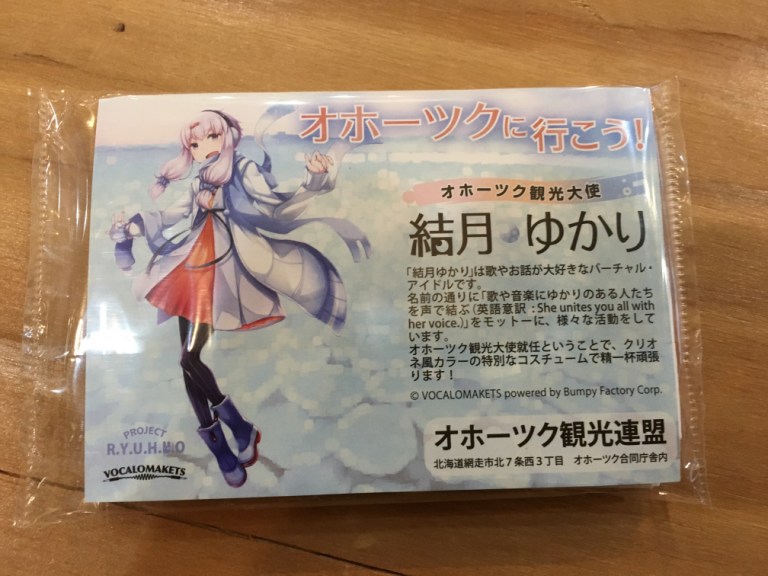 If you need something more than just a tissue pack to get excited, then this next bit of news should do the trick!
Many brand new projects for Okhotsk Yukari have begun with the help of students from the Kitami Institute of Technology. A manga artist from the university named あおいくじら (Aoi Kujira) provided a new illustration of Okhotsk Yukari clutching a curling broom and shown beside curling stones. Using this new illustration, the students created original clear file folders, and handed them out along with necessary documents to other students who were busy preparing for exams, or who have just passed them. How's that for motivation!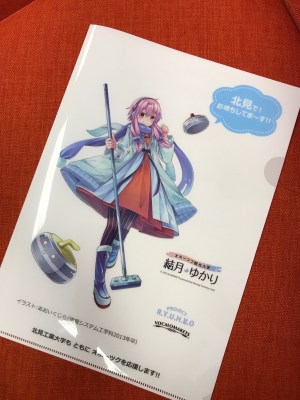 Furthermore, on February 2nd, the NND circle known as Kounosu (コウノス) visited the Satellite Office Kitami (where the organizers of Okhotsk Yukari's activities, PROJECT R.Y.U.H.Y.O., reside) in order to hold a special talk event. Kounosu is known for being the creators of 結月ゆかりのお腹が空いたので (Yuzuki Yukari no Onaka ga Suita no de, "Yuzuki Yukari is Hungry"), a series of cooking videos that are narrated by Yukari's VOICEROID program.
The event was free for anyone to attend, and the main topics covered in the talks were:
How watching someone else create their own works can help you expand your own worldviews
How easy it actually is to start on your own creations
How to overcome the wall that keeps you from putting this into practice
The presentation then went on to tell the audience more about the video series, and gave them tips on how to get started on their own creations, especially those that involve VOICEROID. The full slideshow presentation can be found here on NicoNare.
While not specifically held as promotion of the Okhotsk region, this event did show how the PROJECT R.Y.U.H.Y.O. staff is willing to help promote Yukari herself and her software.
Life-Size Popup Displays
For the past several months, life-size popup displays of Yukari in her official Okhotsk design have been appearing all over the region. To date, there are 7 known locations where visitors can find these popup displays, all of which visitors are free to take pictures with. Here are the locations: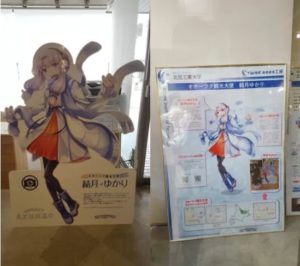 2) Kitami Institute of Technology Library, Kitami City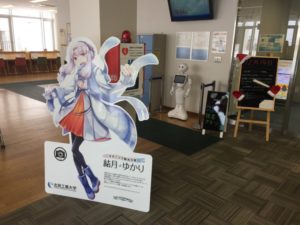 3) Entrance to the Kitami Institute of Technology Student Dining Hall, Kitami City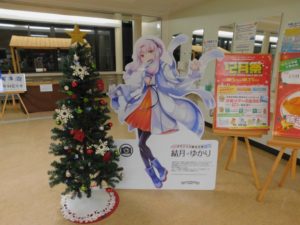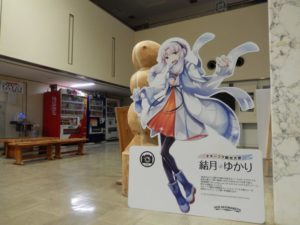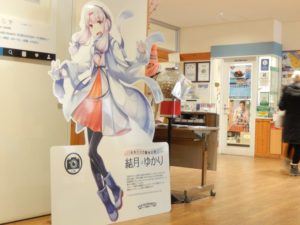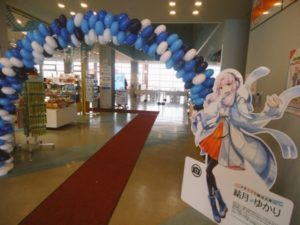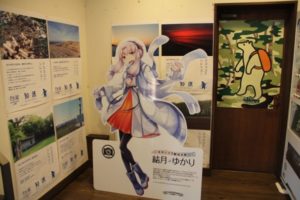 Furthermore, life-size popup displays of Okhotsk Yukari were also present at the 2nd Robodex robotics convention at the Tokyo Big Sight from January 17th to the 19th, and at the above-mentioned Okhotsk Fair 2018 event.
Okhotsk Yukari Campaign
These popup displays are not just for show, but are part of a campaign going on now for visitors of Okhotsk to take part in! From now until April, visitors can win a special Okhotsk Yukari coaster by following the below steps:
Visit one of the Okhotsk Yukari popup display locations, snap a photo of yourself with her, and tweet the photo with the hashtag #オホゆかキャンペーン
Visit the Satellite Office Kitami, scan the QR code that they have set up there, and complete a questionnaire
Show the completed questionnaire to the workers there and receive a free Okhotsk Yukari coaster!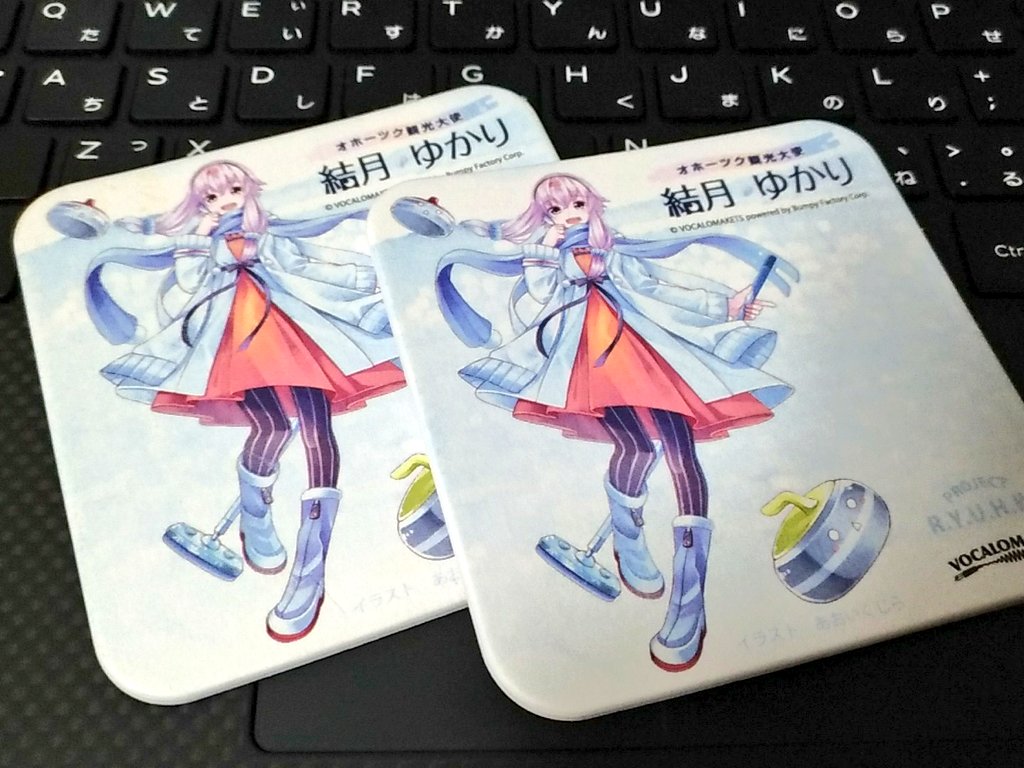 See above for directions to each location, including the Satellite Office Okhotsk. Only the first 200 people who complete all three steps will receive the coaster, so visitors to Okhotsk should starting planning now!
Website Updates
Finally, Okhotsk Yukari's official site now has a new section called オホーツク実況 (roughly meaning "The Real Okhotsk"). Here, visitors to the website can watch videos showcasing famous aspects of the Okhotsk region, such as their cuisine and natural attractions. So far, there are videos introducing visitors to Kitami-style yakiniku, drift ice, and in honor of the Olympic spirit, a video explaining curling from the Kitami Sports Committee.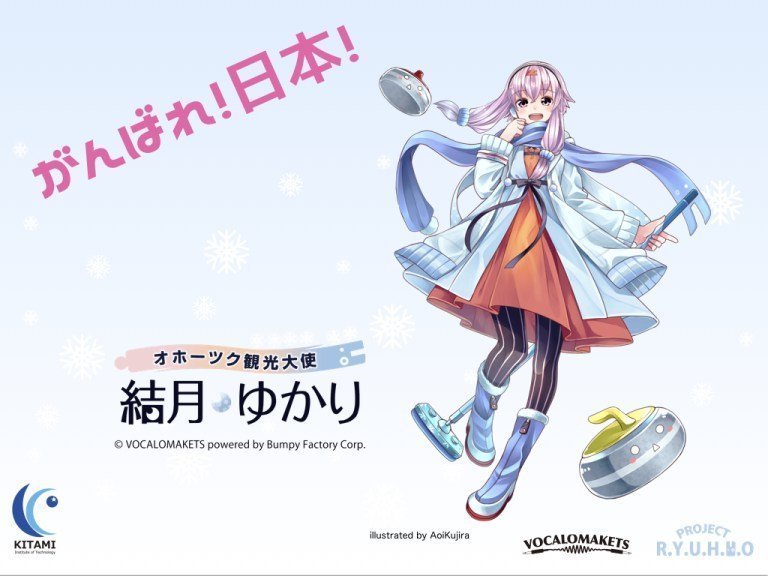 As Yukari continues to promote the Okhotsk region and more, VNN will continue to update!
Information Source
Okhotsk Ambassador of Tourism Yuzuki Yukari Official Site
PROJECT R.Y.U.H.Y.O. Official Twitter