Stardust's Arriving Day is surely a very important event for Quadimension, and why not celebrate it announcing an illustration contest focused on their character group "MEDIUM⁵" with a Weibo post? Let's have a look at it together!
Contest Rules!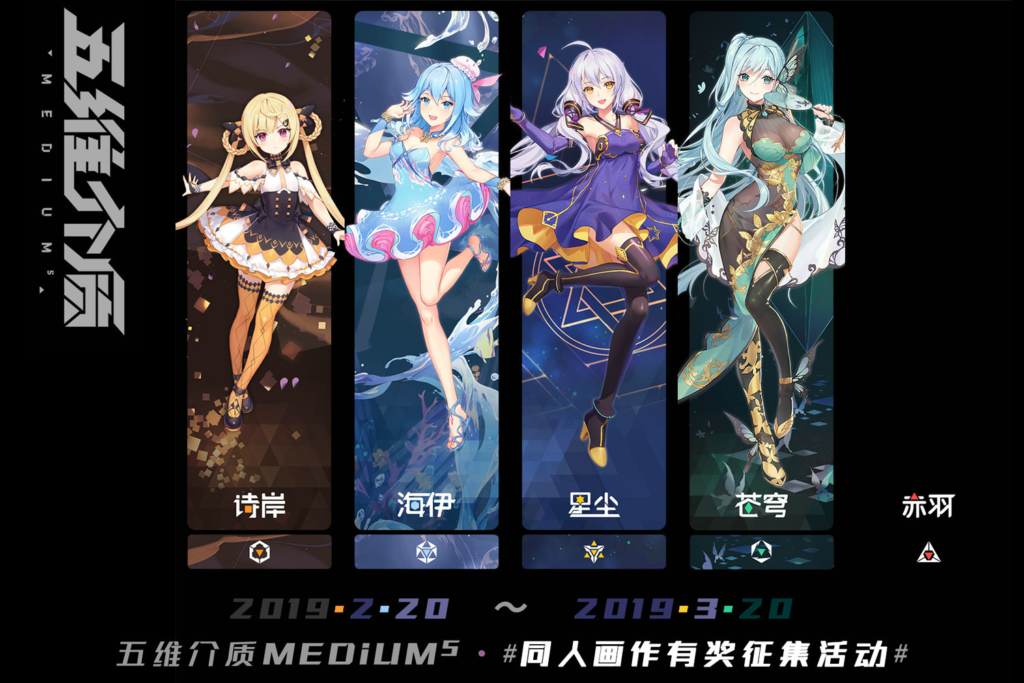 As we can imagine, this contest focuses on MEDIUM⁵'s characters (Stardust, HaiYi, CangQjong and ShiAn), all the illustrations need to feature one or more of them. You can draw them either in traditional or digital form, you can also design your own outfit for them in your own illustration. You are able to add your own watermark in your art, but it must not be invasive.
Your work will be judged by Hanasa, TOMATO, ATdan, -匙-/-Chi- and Sainker, and then announced on March 31st via Stardust's official Weibo account.
How to Enter
Joining the competition is very simple! After you draw your illustration, login to Weibo and post it on MEDIUM⁵'s super tag page using the hashtag "#同人画作有奖征集活动#" (remove the quote marks when using it), and remember to check "同步到微博" before posting it, as in the example below.

Deadline is March 20th, 2019. Be sure to submit your work before that date!
*Remember you need a Weibo account in order to join!
Prizes
There will be three different kind of prizes you might be able to win by submitting your work:
Prize A (3 people only): 1000 RMB + a Stardust 3rd Arriving Day creator pendant
Prize B (10 people only): A Stardust 3rd Arriving Day gift package and creator pendant
Prize C (50 people only) A Stardust 3rd Arriving Day creator pendant.
Sources
Are you planning to join the contest as well? We hope to see your marvelous work as well!
Stay tuned with us on VNN for more information and news about your favorite Virtual Singers!
Stardust's announcement post of the contest on Weibo
Stardust on Weibo
Quadimension on Weibo