The collaboration between IA and the mobile game, Sapphire Sphere ~ Blue Boundary ~ has begun!
What is Sapphire Sphere?
Sapphire Sphere is a mobile fantasy RPG game by X.D. Global and is available on both Android and Apple devices.
What is the collaboration?
The Sapphire Sphere x IA campaign has already begun and shall run until August 29th.
During the campaign, 'Spirit Song IA' will be available as a 5 star character which can be obtained from the in-game gacha!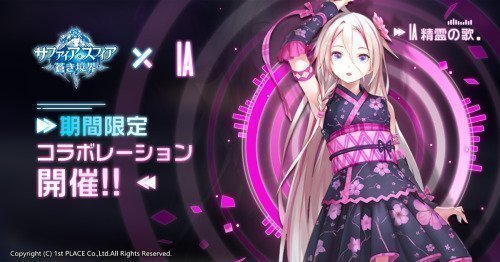 IA's character in the game is a Magician class with Wind attributes and can both attack enemies and provide a buff to allies.
Also, during the collaboration campaign, the opening theme song for the game shall feature vocals by IA!
To hear a a preview of this special version of the theme, check out the video clip linked in the Tweet below.
【IAコラボ情報(2/2)】コラボ期間中はゲーム内のオープニング主題歌がIAボーカルver.になります!そちらもぜひ、チェックしてみてください!#IA #サファイアスフィア #サファスフィ pic.twitter.com/1LVKCZfYLH

— 1st PLACE Co.,Ltd (@1st_PLACE0302) August 23, 2018
(IA Collaboration Information 1/2) Real fantasy RPG Sapphire Sphere ~ Blue Boundary ~ x IA collaboration is now underway! For a limited time until August 29th, virtual artist IA will be implemented into the game as a 5 star character! #IA #サファイアスフィア #サファスフィ

(IA Collaboration Information 2/2) The opening theme song in the game shall become an IA vocal version during the collaboration period. Please check it out!
#IA #サファイアスフィア #サファスフィ
Where can I get the game?
You can download Sapphire Sphere from the App Store or the Google Play Store.
Please note that you will need to have a Japanese regional account to play the game.
Source