Snow Miku 2019 is surely gathering a lot of attention and collaborations lately! The latest one to be announced is a whole new collaboration with the mobile game Destiny Child and will begin on January 31st!
About the event
It's totally not the first time we see Hatsune Miku collaborating with this game! We previously had her joining in her standard outfit and after that as Snow Miku 2018 as well! It shouldn't really be a surprise for us to see her once more, this time dressed as our favorite snow princess, ready to bring her winter magic worldwide!
Our beloved snow princess will be join Destiny Child's unit cast on January 31st after their game maintenance and there are various way of getting her in-game!
"Snow Miku PARADicE 2019"


By rolling the dices you may be able to get a reward based on the results! This part of the event will only last until February 14th

"Princess Snow Miku Festival"

Collect "Princess Snow Miku Brooches" by clearing stamina-required dungeons in story mode (Tutorials not included) and get some marvelous rewards including a 5★ "Princess Snow Miku" once you cleared all the missions!
Princess Snow Miku Step Up Summon

A 5★ "Princess Snow Miku" unit can be summoned via Step Up Summon with a 1,5% of chance to get her! For each time you reach STEP 6, you will also be gifted a 5★ Child Summon ticket and brought to STEP 1 again. She will only be available in the Step Up Summon until February 14th so be fast to grab her!
Let This Snow Princess Support You!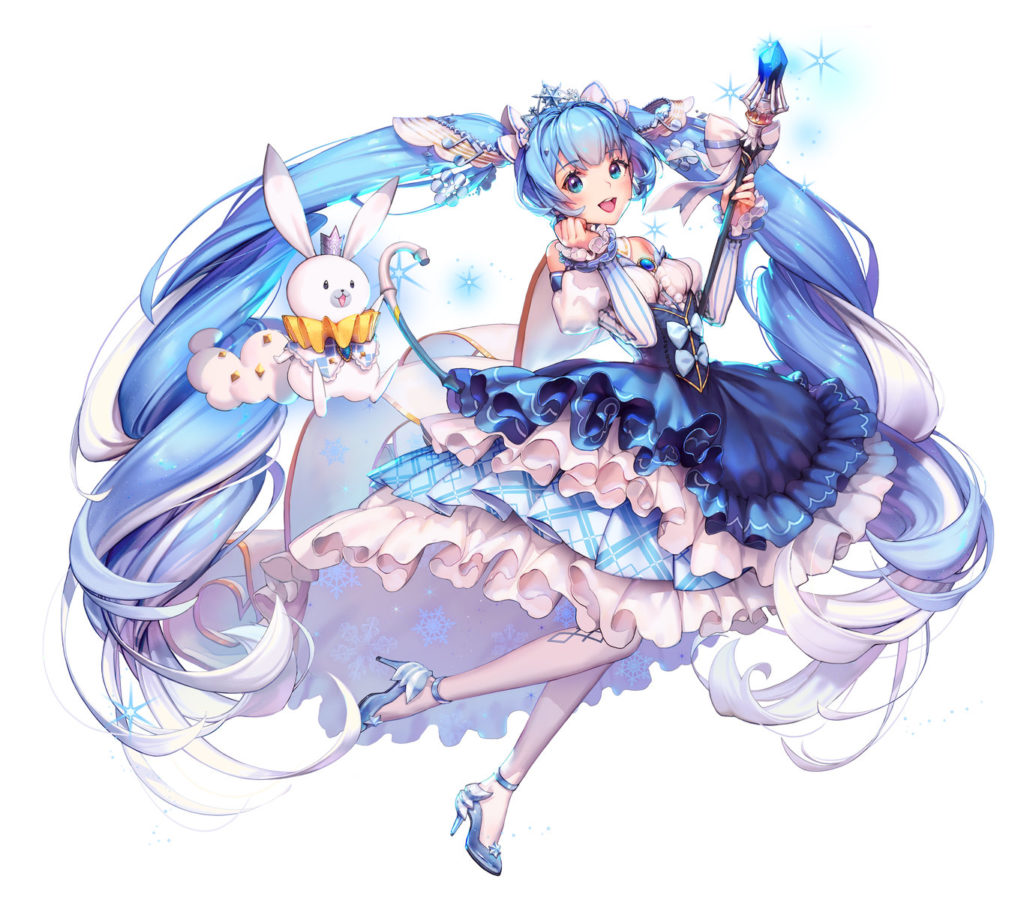 This 5★ "Snow Princess Miku" unit is a water-type support, and seems to be powerful too when used in this same type of teams!
"A princess alighted upon the earth along with the pure falling snow."
Stats (in her base form):
Power: 2,150
HP: 2,219
ATK: 998
DEF: 788
AGL: 726
CRT: 848
Skills:
Water Attack (Rank1 Lv1):
Deals 99 Auto Attack damage to the target (Automatic).
Snowball (Rank1 Lvl1):
Deals 368 damage to Target, Skill Gauge +13% for 2 Water Type Allies (Excluding herself).
Snow Bell (Rank1 Lvl1)
Deals 603 damage to Target, ATK +1200 and CRT Rate +30% for 3 Water Type Allies with the highest ATK for 16 seconds.
Snowdrop
Deals 1713 damage to 3 random Enemies, Grant Barrier (absorbs +2000 Damage before HPs are affected) up to 5 Water Type Allies for 20 seconds and heals 1224 for them.
Leader buff
Skill Gauge Charge Speed +10 for Water Type Allies.
Will you be getting her? The collaboration ends on February 21st so you may have to hurry to grab yours! Let us know what you think about her!
Conclusions
Stay tuned with us on VNN for more exciting news about your favorite Virtual Singers!
Destiny Child on Facebook
Destiny Child on moot
Official Website