TextAlive recently collaborated with Magical Mirai to bring lyrics to life live on stage using their technology! Let's find out more about this exciting opportunity for creators.
What is TextAlive?
TextAlive is a production support service, which allows you to quickly create animated lyrics for music videos and share them online. It has been continuously updated with features that focus on the creator, such as a private upload function and the ability to import VSQX files from VOCALOID, to get timing information for the lyrics.
TextAlive also supports high-quality video exporting, such as the HD MP4 format.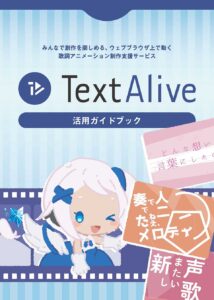 TextAlive Course
At both the Osaka and Tokyo performances of Magical Mirai, TextAlive held a course to inform producers on how to use this technology for their own productions.
The Osaka course ran from 13:00 – 14:00 on Saturday 10th August, while the Tokyo course ran from 17:00 – 18:00 on Saturday 31st August. (Miku's anniversary!)
During the course, BIGHEAD gave a talk on the future of creative culture.
Missed out on the talk? Don't worry! You can watch the presentation with BIGHEAD below.
There was also a special exhibition at the Tokyo event, where VJ apapico demonstrated how he used the technology for live VJ performances.
Check out the video below to see him in action, playing one of BIGHEAD's songs, 'ACE OF SPADES' feat. Hatsune Miku.
Examples of TextAlive Usage
Now that you know a little more about TextAlive, let's take a look at some examples.
In this first set of examples, TextAlive shows a comparison of two versions of the video for 'A plan is still in progress, covertly' by Shinra feat. Hatsune Miku.
This is the original video produced with TextAlive:
And this is the final version of the video after further editing:
And now, for the main event!
At Magical Mirai 2019, the following video was projected on a large display above the live stage, as a background video to the performance of 'Main Character' by Luna feat. Kagamine Len.
The visualisations of the lyrics are mesmerising!
More Information
It is exciting to see how technology is constantly improving to assist producers in their creative pursuits. As always, keep an eye on VNN for further updates on this and other technologies which can further enrich your vocal synth experience!
And don't forget to check out TextAlive's social media and website if you are interested in hearing about any new developments with their service.
Source