Berlin wants to celebrate Luo Tianyi's 7th Anniversary, therefore VOCABERLIN invites everyone to their "Luo Tianyis Birthday @ VOCABERLIN 2019" fan meeting held on July 12th at METRONOM in Berlin, Germany.
What is VOCABERLIN?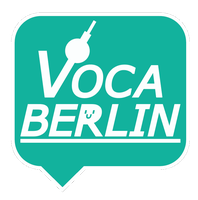 VOCABERLIN is a non-commercial circle and fan club that supports the music and art scene in Germany with the help of vocal synths. For nearly one year, they have been hosting events for fans by fans in celebration of various vocal synths. This small team of vocal synth fans from all over the world are aiming to create a local community for vocal synth fans in Berlin.
Event Details

Together with the help of JAMBerlin and METRONOM, a facility for kids and adolescents in Berlin Reinickendorf/Tegel, VOCABERLIN wants to give fans an opportunity to meet and celebrate Luo Tianyis 7th anniversary in Germany. You'll be able to sing karaoke, play games like DanceDanceRevolution or various card games, and see exciting acts like the German odorite dancer Koyuki Mizuno. They'll make sure you won't get bored!
Date: Friday, July 12th
Venue: METRONOM (recreational , sports and cultural center)
Sterkrader Straße 44, 13507 Berlin
Time: 7 PM ~ 0 PM (GMT+1)
Entrance Fee: 2 Euro (the money goes back to JAMBerlin as a contribution towards costs. VOCABERLIN is not making any profit off it!)
Program
7 PM (GMT+1) – Start
8 PM (GMT+1) – Double L performance
8:30 PM (GMT+1) – Koyuki Mizuno performance
9:30 PM ~ 10:20 PM (GMT+1) – "Phoenix out of the Ashes" VOCALOID theater play
10:30 PM ~ 11 PM (GMT+1) – Taboo: "VOCABERLIN Version" (card game)
11 PM ~ 0 PM (GMT+1) – vocal synth disco with the big hits of all vocal synths!
Find more information of the program and a site plan here. Be sure to also read the site rules!
Follow VOCABERLIN on social media.
VNN will also keep you up to date for more vocal synth news!
Links
VOCABERLIN website
VOCABERLIN twitter
VOCABERLIN facebook
VOCABERLIN discord
JAMBerlin website