Summer is fully above us, and Hachimaki surely knows how to hype us all: by announcing two new outfits for the ARIA sisters that will become merchandise products soon!
Ready to Sail!
Summer is a very special season to most of us all, but this also brings a very popular event most of the companies will attend, which is the well known Comic Market 96
【#IA & #ONE 新GOODSビジュアル公開】
IAちゃんとONEちゃんの新ビジュアルを公開します!
夏を感じさせる爽やかなマリンテイスト♪♪
グッズはコミックマーケット96のHACHIMAKIブース(青海展示棟B 2322)で販売予定!ラインナップはTwitterで順次公開予定です。お楽しみに♪#IA_ONE_MARINE pic.twitter.com/EIvOFAqfA3

— HACHIMAKI(1st PLACE Official Shop) (@1st_HACHIMAKI) July 10, 2019
Comiket 96 will be held starting August 9th until 12th, and Hachimaki will bring some new exclusive merchandise based off of a whole new outfit for IA and ONE!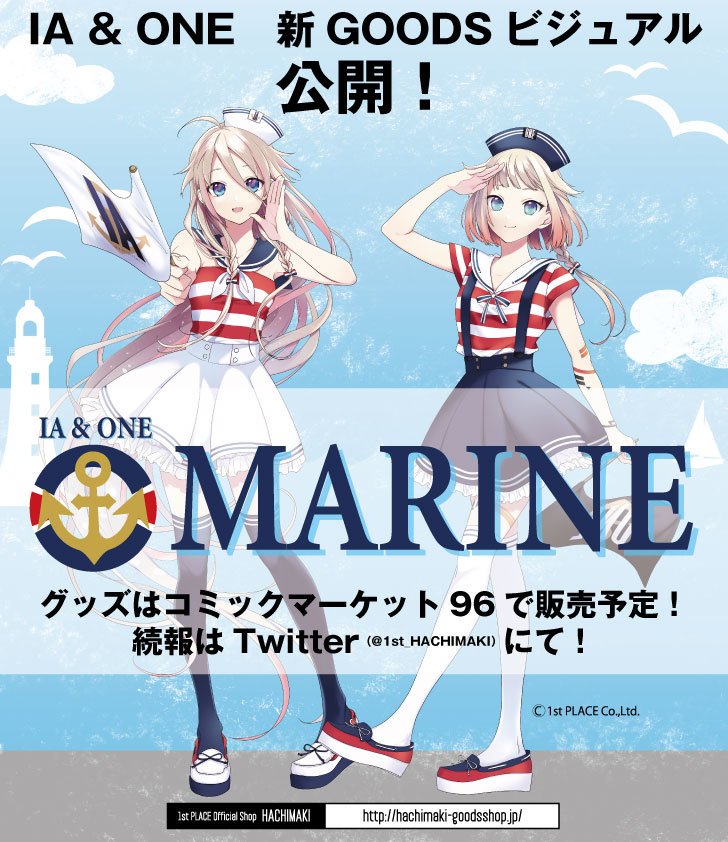 Aren't they adorable? Those sailor outfits look awesomely on them and we cannot wait to see their upcoming goods!
Source
Merchandise will be slowly introduced via Twitter so keep an eye on their account and this article, as we will update it as well!!
Stay tuned with us on VNN for more news about the ARIA sisters!
You can find 1st PLACE on Facebook, Twitter, Soundcloud, Youtube, a website and has a news blog
IA also got an international Facebook page herself and even a Bilibili channel now
Hachimaki is on Facebook as well (English), and on Twitter (English/Japanese)
Hachimaki Goods Shop (Europe/Japanese)