German VOCALOID fans can celebrate! Dokomi, the biggest convention in Germany, has announced some special vocal synth related guests for this year's convention! Both Joffrey from VoxWave and the well-known VOCALOID producer, BIGHEAD, are going to attend the convention, and hold workshops and panels during the weekend! The con takes place on June 3rd and 4th in Düsseldorf, Germany.
VoxWave
Joffrey, CEO of VoxWave, is hosting a workshop on Saturday that will be giving insight into VoxWave's production of virtual singers, like ALYS and LEORA.
European Virtual Singers: ALYS and LEORA
Inspired by the big Japanese virtual icons like Hatsune Miku, ALYS and LEORA are ready to take the hearts of European fans by storm! Discover this world together with Joffrey, the CEO of VoxWave, during our workshop.
Workshop Leader: VoxWave
Date: Saturday, June 3rd at 11:00 AM ~ 1:00 PM
Location: Messe Düsseldorf, Room 5
BIGHEAD
Another VOCALOID related person on site is going to be BIGHEAD, also known for the main theme song of MIKU EXPO 2014, "Sharing The World!" Along with a workshop on Sunday, he's going to be one of the DJs at the J-Disco on Saturday from 8:30 PM (MESZ) onward… but that's not all! Visitors of Dokomi will have the chance to grab a limited version of his first cassette tape exclusively produced for the convention, in addition to some of his previous albums and some shirts!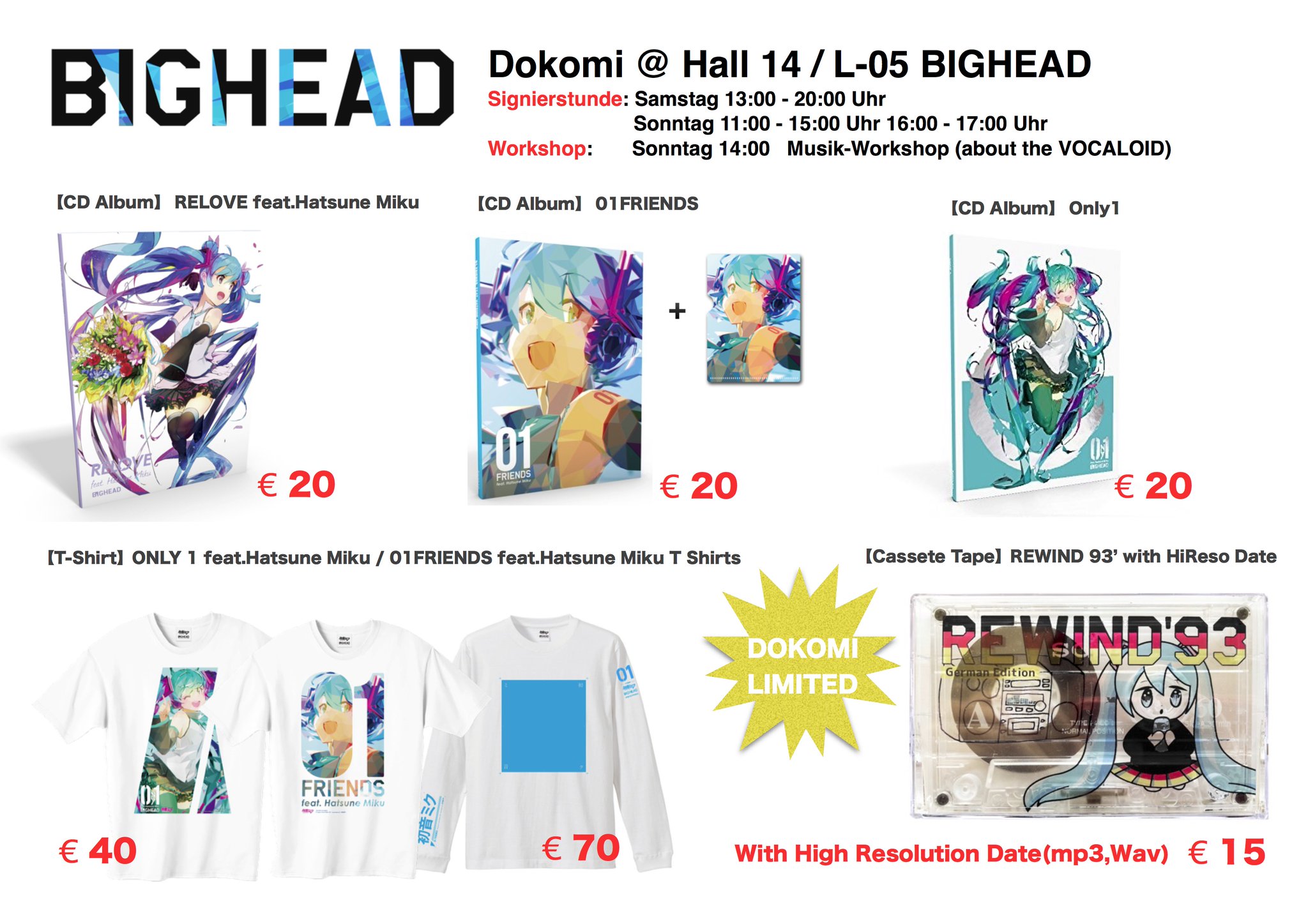 Music Workshop with BIGHEAD
With "Hatsune Miku" you can produce singing voices digitally with your computer. During this workshop, the musician BIGHEAD is going to showcase how this is being done with VOCALOID.
Workshop Leader: BIGHEAD
Date: Sunday, June 4th at 2:00 PM ~ 4:00 PM (MESZ)
Location: Messe Düsseldorf, Room 5
About the Album
BIGHEAD already announced his new album "REWIND 93" in April, which was also sold at the Japanese album release fair M3. Exclusively for Dokomi, BIGHEAD has created a "Dokomi version" of his cassette tape. The German design of the cassette was illustrated by chamy and contains a whole 6 tracks by BIGHEAD and RYOTA YOSHIZUMI to enjoy! To those who don't have a cassette player (anymore) don't fret! Along with the album, you'll receive a download card which enables you to download the high-quality WAV and MP3 files of the songs encoded in 24bit and 48khz for your current electronic generation!
REWIND 93′ Dokomi Edition
Tracklist
01. "Road Into Your Love"
02. "Register Girl"
03." AITAISEI RIRON"
04. "LAST DREAM"
05. "The Sound In You"
06. "ONLY STAR"
For those who wish to purchase a copy of the album, it will be available at BIGHEAD's booth at Dokomi in Hall 15/L-05 during his autograph sessions. Please note that the stocks of the cassette are limited, so be sure to grab one quickly! They will cost €15 EUR (about $17 USD) each.
Autograph Sessions
Saturday: 1:00 PM ~ 8:00 PM (MESZ)
Sunday: 11:00 AM ~ 3:00 PM and 4:00 PM ~ 5:00 PM (MESZ)
For more information about the performances, you can visit Dokomi's Facebook page. The program for the convention can be found here, but only a German version is available. Stay tuned to VNN for any news updates and for a report from our German team who will be on site for you!
Official Links