The live stream held by AH-Software a few days ago brought with it a plethora of information on upcoming plans for Yuzuki Yukari and the AHS VOCALOIDs. They will be holding two live concerts and fans can expect a lot of Yuzuki Yukari merchandise in the future.
Concerts
There are currently two live concerts planned that will feature all of the AHS VOCALOIDs as well as Yuzuki Yukari's voice actress. One is scheduled to happen in Japan while the other will be in Berlin.

Japan
AHS will hold a VOCALOID live concert featuring all of the AHS VOCALOIDs. It will be held in Japan on February 28th, 2016 and is titled "Songs Love".
The concert will take place at Kawasaki City Industries Promotional Hall 1F, Kanagawa, and the ticket price is 3,500 Yen. Ticket sales will begin on December 24th. You can find more information (in Japanese) here.
Berlin
The second live concert will be held in Berlin, Germany, at the Anime Messe Event on June 3rd, 2016. The official announcement can be seen on the official site.
In addition to the concert, Mr. Tomohide Ogata, the founder and CEO of AHS, will hold a panel at the convention to talk about how VOCALOID concerts work. The time and date of this panel are currently unknown but Anime Messe Berlin goes from the 3rd of June to the 5th.
---
Yukari Lin Figure
A lot of Yukari fans have been looking at the previous Yuzuki Yukari figure and stalking websites trying to find her up for a good price. Now they can buy a new figure based on Yukari's Lin design!
The 1/8th Scale figure will be produced by Pulchra and is set to be released sometime in 2016. At the moment, there are only pictures of the unpainted prototype available. The price of the figure will be 12,800 Yen.
---
Other Yuzuki Yukari Merchandise
In addition to the scale figure, AHS announced a ring based on Yukari's bunny logo, a Yuzuki Yukari themed bike, shoulder keyboard and merchandise featuring a new illustration made by Yukari's official illustrator, Juu Ayakura.
Bunny Logo Ring
The ring will be made of Silver 925 with Rhodium Plating. A Swarovsky Crystal will be on the rabbit's eye.
It will be available in several sizes: 7, 9, 11, 17, 19, and 21.
The price is 8,000 Yen before tax.
To order or get more information, click here.
Please note that we believe this product is only available in Japan. If you don't live in Japan and wish to purchase it, please contact AHS by email. They're sometimes able to help overseas fans buy Japan exclusive merchandise.
---
Yuzuki Yukari Bike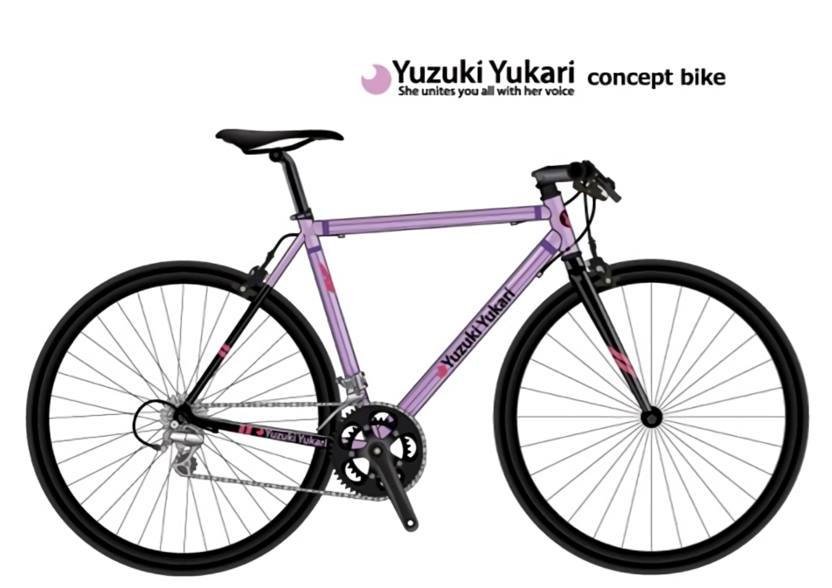 In collaboration with Kitsunezuka Bicycle Workshop, AHS is creating a bike based on Yukari's color scheme. The bike is available in several frame sizes and will be sold for 100,000 Yen. Expect reservations to open in January and end in early March 2016. More information can be seen on the official project page.
---
Yukari Shoulder Keyboard
YAMAHA and AHS are collaborating to create a Yuzuki Yukari shoulder keyboard. It's colored in purple, following Yukari's color palette. Ishiguro Chihiro and Ogata Tomohide (AHS CEO) gave a demo of the keyboard on the live stream.
Not only can you play music with it but also you can input song text into the keyboard and play Yukari's singing voice real-time using the keyboard's tuts.
The release date and price are still unknown.
---
Merchandise Featuring a New Illustration
A new illustration made by Yuzuki Yukari's official illustrator Juu Ayakura was drawn to commemorate Yukari's 4th anniversary. Called "Winter Beauty 2015 Collection" in the live stream, the illustration will be used for several new pieces of Yukari merchandise made by VOCALOMAKETS.
These include a tablet case and an etched crystal display called "Yukari Crystal" that comes equipped with LED lights to light it.
---
Yukari MMD Model by Mamama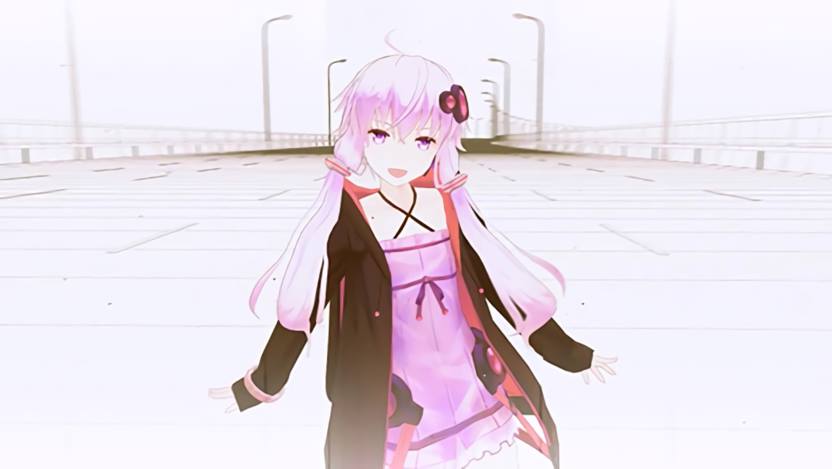 A new "Mamama Type" Yuzuki Yukari MMD Model will be released and distributed for free. It was shown at the live stream via a short PV made by Brother-P. The distribution date is currently unknown but it will be released as soon as possible.
---
Collaboration with Memanbetsu Airport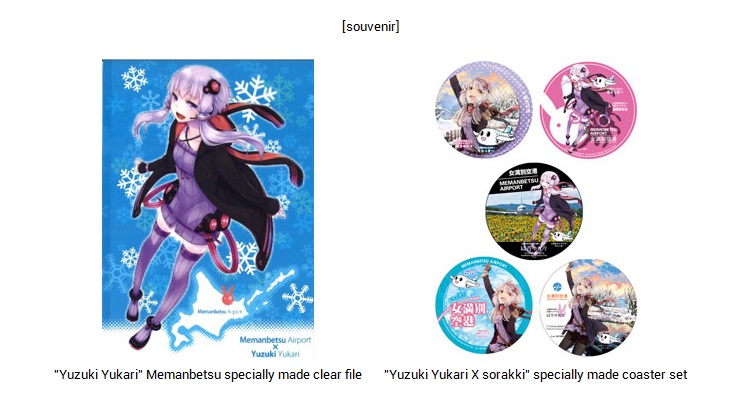 The live stream also has made mentions of the Yuzuki Yukari collaboration with Memanbetsu Airport, an airport located in Ozora Town, East Hokkaido. She is the airport's mascot.
There are several pieces of merchandise such as a clear file that people can buy at the airport and there's even a special coaster set which will be given to customers who spend 1,000 Yen at the restaurants there. For more information, check out the collaboration page.
---
A huge thank you to Vocaloid Lovers Indonesia for translating and watching the stream. We couldn't have done this article without our awesome Indonesian partners!
Sources: NicoNico live stream, UStream live stream, and VOCALOMARKETS blog