We are always ready for some nice event themed after Hatsune Miku and her friends, and why not organizing an Halloween tea party where we can also celebrate MEIKO's 15th Anniversary? Well, seems ETERNO RÉCIT is going to give exactly what we want!
A Tea Party and an Anniversary Celebration!
That's right! ETERNO RÉCIT is going to held an Halloween event themed after Hatsune Miku and, in the same day, they also plan to celebrate MEIKO's 15th anniversary!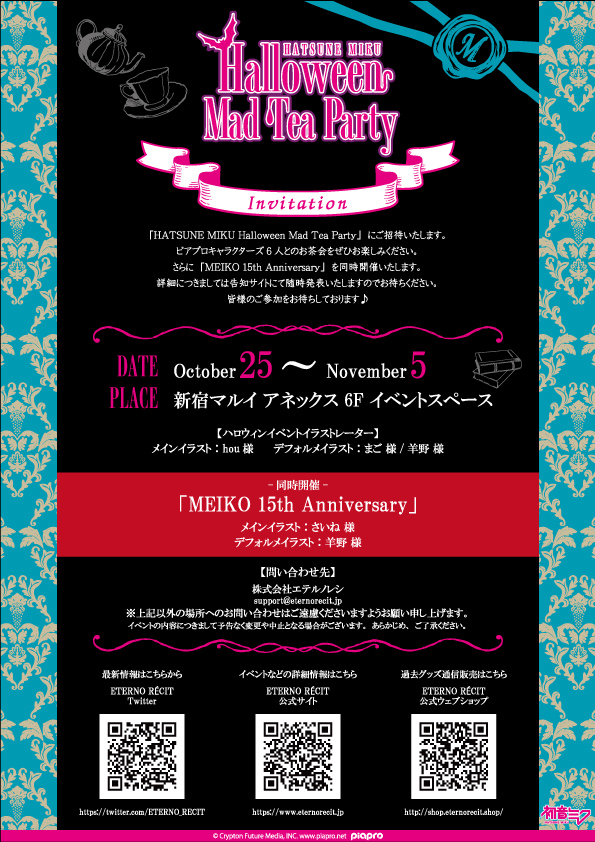 Both events will begin October 25th and last until November 5th! Location is Shinjuku Marui Annex's event space at the 6th floor. Below you can find the location.
Not much is know about those events at exception of their artists, which had been revealed to be
Hou
(main visual),
Mago
and
Youno
(both chibi visuals) for Hatsune Miku's Mad Tea Party. The latter will also provide chibi artworks for MEIKO's 15th Anniversary alongside
Saine
, which was chosen for its main visual.
Further details will be unveiled in the future. Keep an eye on ETERNO RÉCIT's social medias for updates!
Stay tuned with us on VNN for more virtual singers news!
Hatsune Miku can be found on Facebook (English and Japanese), Twitter (English and Japanese), Youtube and Weibo.
ETERNO RÉCIT is on Twitter and has an official website.
Official Event Page