Waiting for TAITO's Hatsune Miku Birthday 2019's prize figure we talked about time ago to come out later this month? Why don't we kill the waiting with an huggable version of Mogelatte's design in the meanwhile?
Snuggling a Cute, Celebrative Miku!
We all loved deeply this design back when it got revealed, and eagerly still wait for its release as prize figure happening this month. However there is still a bit of waiting for the prize figure to be released, so why don't we look at its plushie version too?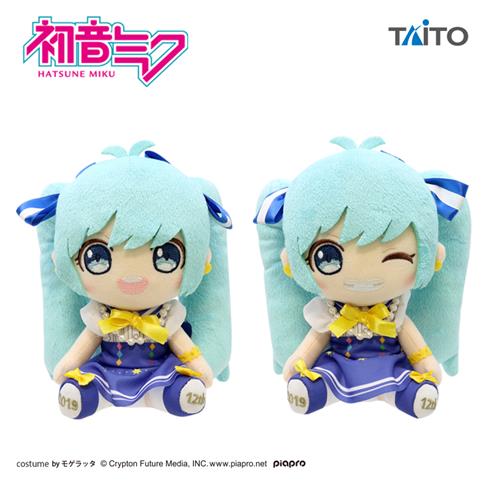 Adorable aren't they? Those plushies are currently available through many Japanese games rooms! With a size of only 16cm and two different variants available, those fluffy mascots will make your waiting for the prize figure feel lighter!
Check out the product page on TAITO's website, there you will find a list with all of the game rooms you can find this plushie!
And if you cannot go physically to any UFO catcher machine in Japan, no worries! There are many apps that allow you to play with those machines and win the prizes online, and just like any other prize product it is only a matter of time before you can find them at some stores, too!
Don't Forget About Her Figure!
But don't forget about the prize figure you are waiting for of course!
【速報!】モゲラッタさん描き下ろしイラストを使用した、
初音ミク12周年の誕生日を記念したバースデーフィギュアが2019年8月に登場決定!
細かな装飾や誕生日ケーキも再現しています!
今年の誕生日はフィギュアをGETして、ミクと一緒にお祝いしちゃおう♪#初音ミク pic.twitter.com/TnUVGfa2tF

— タイトートイズ (@Taito_Toys) May 9, 2019
TAITO's Hatsune Miku Birthday 2019 prize figure will be available in three different variants, with its appearance on Japanese games rooms set for August 31th!
Check its official product pages and prepare yourself to grab here once she is out!
Sources
While waiting for the prize figure and snuggling your new fluffy mascot, don't forget about us and follow VNN to never lose track of virtual singers' news!
Hatsune Miku can be found on Facebook (English and Japanese), Twitter (English and Japanese), Youtube and Weibo.
Follow TAITO on Facebook, Twitter and their website!
Hatsune Miku Birthday 2019 Ver. Prize Figure Official Page
Plushie Product Page