Continuing our look back at the many recent game collaborations featuring Hatsune Miku, here are even more of them to keep gamers and Miku fans glued to their mobile devices! (Click here for Part 1)
Hatsune Miku x Ange Vierge Collaboration Announced!
8/31 also marked the announcement of many new game collaborations for Miku! One of them was the collab with Ange Vierge ~Girls Battle~, a mobile battle RPG from Sega Games!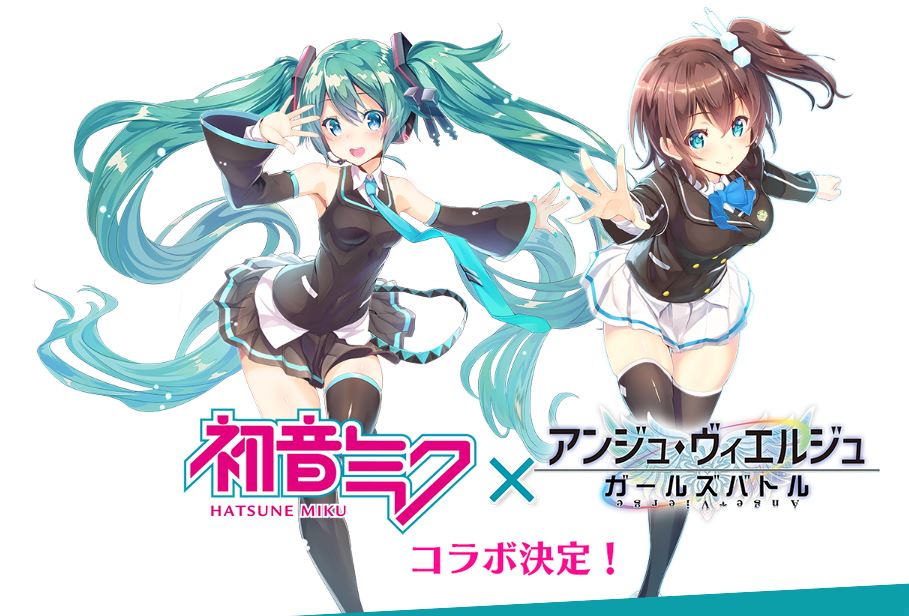 The visual of Miku wearing a Seiran Academy uniform from the game was provided by ササギコウシ (Kohshi Sasagi), the official illustrator for Ange Vierge. This and many more original artwork will be used during the collab, which is set to begin on 9/11. However, at Magical Mirai 2017, special stickers bearing the new visual piece were already being handed out at Sega's booth!
In the Sega Station September 2017 Edition livestream, Yuka Aisaka made a special guest appearance to announce that they'll be recording samples of Miku's voice to use in a brand new level in the game. Furthermore, just by logging in to the game during the collab period, players will automatically unlock the artwork of Miku in her Seiran Academy uniform, and a running, chibi version of Miku will be playable during the game's minigames as well.
Next, Aisaka announced that the collab will feature a Miku cover of "Love is My Rail," the opening song for the Ange Vierge anime series! An excerpt of the song can be heard in the special televised commercial shown below, while a full 90-sec version will be available for listening in the game. Afterwards, it was announced that the same stickers from Magical Mirai 2017 will also be handed out during the Tokyo Game Show from 9/21 through 9/24. Finally, Aisaka teased that it's not just Miku, but other VOCALOID characters who could be making appearances in the game! Who they are has not yet been revealed, but VNN will report as soon as more info emerges!
Download Ange Vierge from the App Store and Google Play!
Sources:
Sega's Official Site
Ange Vierge Official Collaboration Site
Dengeki Online
Ange Vierge Official Twitter
Hatsune Miku x Shoumetsu Toshi 2 Collaboration at Magical Mirai 2017!
During Magical Mirai 2017, players of Wright Flyer Studios' mobile action and drama RPG, Shoumetsu Toshi 2 ~The Other Side of Love~, got a special treat!

In the game, new quests called "Pure White Song," "Miku Cosplay Party!?" and even a returning quest called "Thank You Music!" were made available for play. Fulfilling certain objectives would net players special rewards like a 10th Anniversary Miku bike, and even HachiojiP's remix and Miku cover of the game's theme song, "Start New Things!"
New illustrations by iXima and comet were provided for the game's collaboration art, and the event also saw the return of much art from the game's previous collaboration with Miku.
To see more of the special unlocks, check out the video below!
Sources:
Shoumetsu Toshi 2 Official Site
Shoumetsu Toshi 2 Official Twitter
Hatsune Miku x Eki Memo Collaboration at Magical Mirai 2017!
Users of Fuji Games Inc's travel app and adventure game, Eki Memo (Station Memories), also got some incentive to log in during Magical Mirai. Throughout the three-day Miku convention, users could play to unlock all of the same artwork and other prizes from the app's previous collaboration with Miku!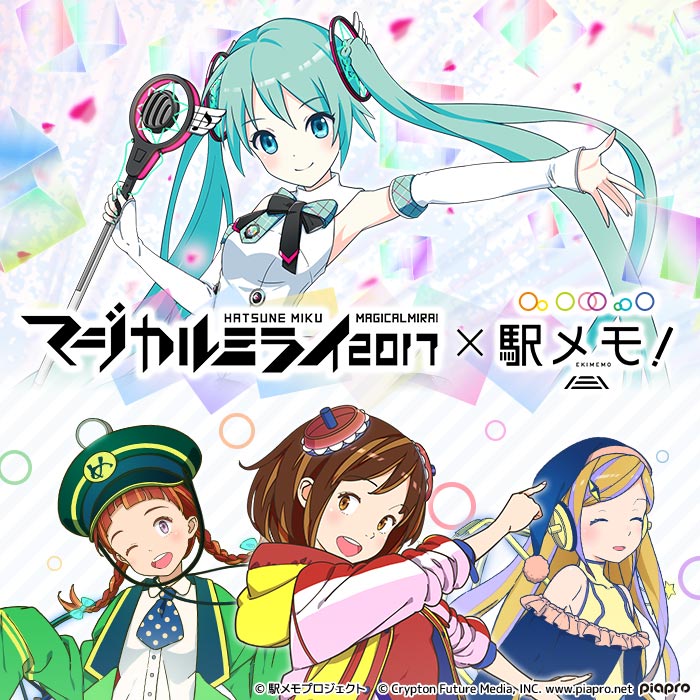 That's not all. Those who actually attended Magical Mirai 2017 at the Makuhari Messe would receive a special "Magical Mirai 2017 Miku" film for free!
Check out the videos below for Eki Memo's previous Miku collabs!
Download Eki Memo on the App Store and Google Play!
Source:
Eki Memo Official Site
Hatsune Miku x StraStella Collaboration Announced!
Finally, the collaboration with Nexon's mobile strategy RPG, StraStella, was also announced right on 8/31!
【重大発表!!】この度、あの人気バーチャル・シンガー「初音ミク」とのコラボが決定いたしました!
コラボの詳細な内容は公式サイトやこちらの公式Twitterにて随時お知らせして参りますので、ぜひご期待ください♪#初音ミク #ストステ pic.twitter.com/mVTNl31RVe

— StraStella公式ツイッター (@StraStella_nxj) August 31, 2017
[MAJOR ANNOUNCEMENT!!] The collaboration with a certain mega-popular virtual singer named Hatsune Miku has been confirmed! We'll be sharing details and other info on our official site and Twitter page in due time, so look forward to it♪
#初音ミク #ストラステラ
Besides the announcement that the collab is set to begin sometime this autumn, details are still scarce, but once they come to light, VNN will report them here. Until then, those who are curious about the game can enjoy the promotional video!
Download StraStella from the App Store and Google Play!
Sources:
StraStella Offcial Site
StraStella Official Twitter
This concludes VNN's look back at the many mobile game collaborations featuring Miku. There were certainly a lot in recent months in honor of her 10th anniversary, but they're unlikely to slow down. Stay tuned to VNN for more of Miku's future appearances in video games!