It's been quite the week for all things VOCALOID, and Hatsune Miku couldn't be the exception to that rule, following an official announcement made by the guys at Miku Expo Japan regarding the Hatsune Miku "Digital Stars" 2020 Japan Tour in Fukuoka and its artist line-up.
For those that don't know, "Digital Stars" is a club event centered on local DJs and creators who are actively influenced by the creative culture of the Internet, including Hatsune Miku.
To date, several sub-events for "MIKU EXPO" have taken place around the world like in Seattle (2016), San Francisco (2016), Los Angeles (2016, 2018), New York (2016, 2018), Taipei (2019), and Hong Kong (2019). In 2020, the next city will be Berlin.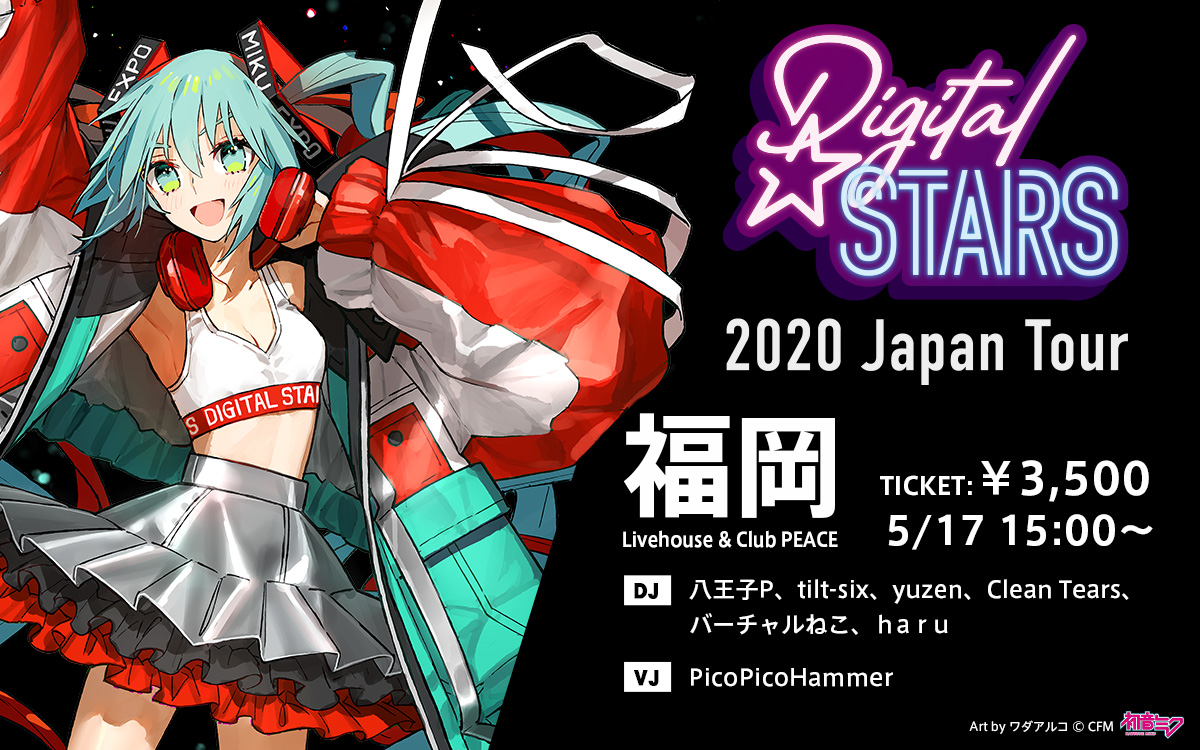 Artists
The artist line-up, DJs and invited special guests have been announced for the Hatsune Miku "Digital Stars" 2020 Japan Tour in Fukuoka and here at VNN we'll be showing you who those are up next!
八王子P (Hachioji P) & yuzen (BlueStar Remix)
Clean Tears (ラッキー★オーブ  aka Lucky ★ Orb Remix)
Virtual Cat (バーチャルねこ) (Decade Remix)
haru & PicoPico Hammer (Local DJs)
Show Information
The following information has been announced:
Venue: Livehouse & Club PEACE (1-9-22 Arato, Chuo-ku, Fukuoka City)
Date: May 17, 2020 @ 15:00 PM JPT
Ticket price: ¥ $3,500 (Info here)
More events are to be held in Osaka and Tokyo on May 22 and 23 respectively (amHALL in Osaka and SOUND MUSEUM VISION in Tokyo), and more information will be revealed tomorrow so stay tuned with us!
Sources