Hot off the heels of Magical Mirai 2019, we now know the release date, pricing, and a lot more about the features of Project DIVA MEGA39's! The game is slated to release exclusively for Nintendo Switch on February 13th, 2020 in Japanese, Traditional Chinese, Simplified Chinese, and Korean! The western release, titled "Hatsune Miku: Project DIVA Mega Mix" will follow later in 2020!  SEGA has also released additional information about the songs, gameplay, modules, a pre-order bonus, and more.
For the February 13th, 2020 release, there will be two editions of the game available: Standard Edition and Limited Edition. The standard edition of Project DIVA MEGA39's will be priced at 5990 JPY. The limited edition will cost 9990 JPY.
Project DIVA MEGA39's New Features
Project DIVA MEGA 39's will feature two modes of gameplay: "Arcade" and "Mix". The Arcade game mode will feature the classic arcade-style game play where you press buttons to the rhythm of the song. In the "Mix" game mode players will wave their JoyCon's left and right to the vertical scrolling prompts on screen. In this mode, you can feel like you are performing a glowstick routine at a concert.
For yet another way to experience the songs in the game, a playlist feature will be available. This feature will allow you to put songs you enjoy in a playlist, sit back, and enjoy watching the gorgeous animated PVs one after another.
Song Information
SEGA has also announced that of the 10 new songs for MEGA 39's, 5 will have new 3D model PVs new to the game, and 5 will use the original animated PVs for the songs. Dreamin Chuchu by emon(Tes.) is revealed to be one of the new songs, and the game will feature its original video by Mogelatte!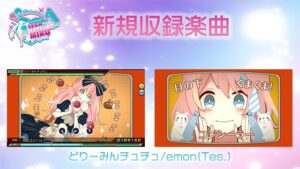 Additionally, there will be a DLC "Theme Song Pack" featuring 4 theme songs from the Hatsune Miku: Project DIVA series.  The two songs in this pack confirmed so far now are The Secret Garden and Yume Yume. Those who pre-order Project DIVA MEGA39's will receive a code to download this DLC pack before it releases for everyone else!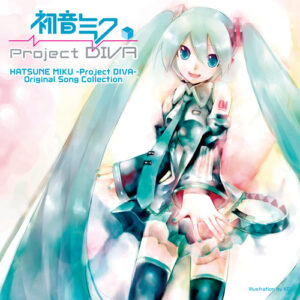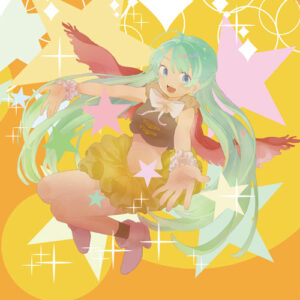 Finally, recent news about the Project DIVA MEGA39's theme song "Catch the Wave". The design for the module has been revealed and can be seen below! Also, due to an error where the song was not yet finished, the song has recently been re-published on nicovideo and YouTube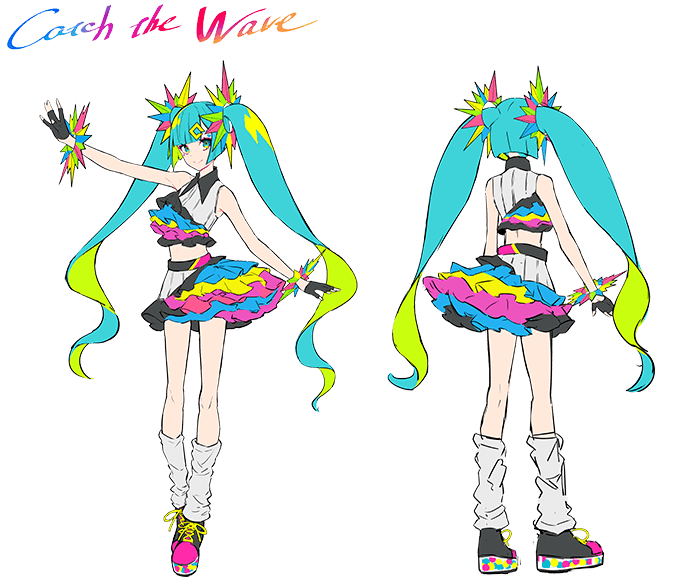 Project DIVA MEGA39's Limited Edition Information
Priced at 9990 JPY, the Project DIVA MEGA39's limited edition will come with:
A 5 disc CD collection of songs from previous Project DIVA games.
A CD track list booklet featuring illustrations on every page. The cover is illustrated by iXima
A SONOCA card that will let you download the theme song "Catch the Wave" by kz
All in a box illustrated by Miku's original designer, KEI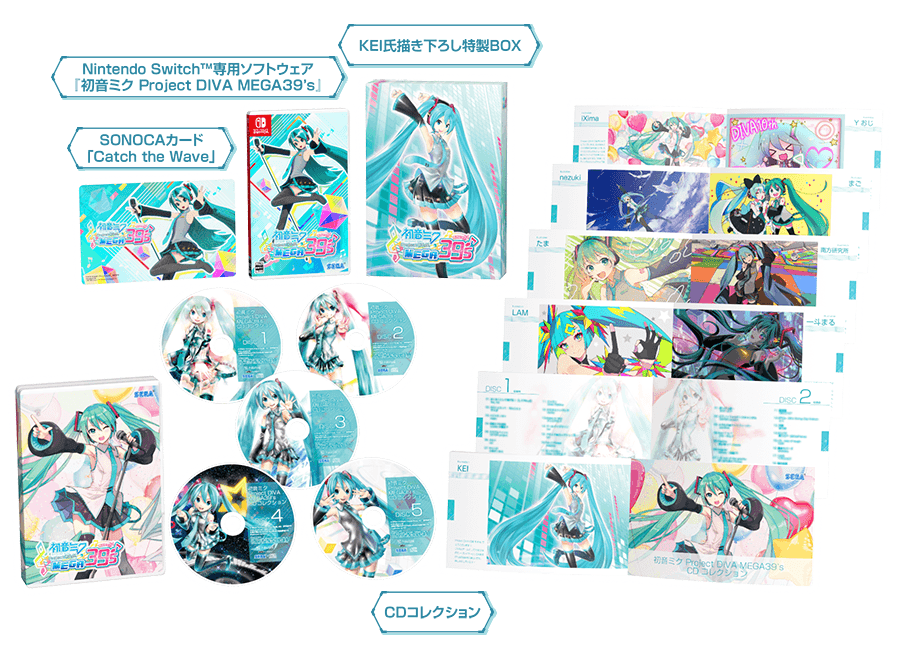 HORI Controllers

In addition to game news, dedicated HORI controllers for the Project DIVA series were revealed and will release in early 2020. The controllers will be available for each the PS4 and Nintendo Switch.  For fans of Project DIVA Arcade, you will find that the button layout resembles the arcade layout near exactly, which is a first for official Project DIVA controllers! These HORI controllers will be made-for-order only with orders open until 10am on 9/24 (JST). Those who purchase a Nintendo Switch controller will also receive an exclusive T-shirt module design.
Check out the HORI STORE here!
Project DIVA MEGA39's Website (Japanese)
Project DIVA Mega Mix Website (English)
Find the SEGA feat. HATSUNE MIKU project on their official website, Twitter, and YouTube
Hatsune Miku is on Facebook (English and Japanese), Twitter (English and Japanese), YouTube and Weibo
Be sure to take a look at Magical Mirai 2019's official website and Twitter!
Press Release