With Miku's recent appearances in Unison League and Mahoutsukai to Kuroneko Whiz (魔法使いと黒猫のウィズ), gamers have had no shortage of options for playing as Miku in RPGs for mobile devices. Soon, they will be getting yet another option thanks to the announced collaboration between Hatsune Miku and Alteil Chronicle!
About Alteil Chronicle
Alteil Chronicle is billed as a "Divine Sense Revolver Battle RPG" from online game developers, Coreedge Inc. and Gaya Corp. Characters in the game do battle with abilities that are selected at random in a fast-spinning revolver, and each bout lasts only about ten seconds long. Such a battle system leads to many tense, unpredictable, and strategy-crucial encounters that constantly keep the players on their toes, a far cry from the RPGs of old.
In the game's main Story Mode, you can tackle eleven chapters with ten quests each with the game's cast of (mostly female) characters. Nine out of the ten quests in each chapter are immediately available, but you'll have to clear Chapter 11 in order to unlock the tenth quest for each chapter. In Event Mode, you'll receive a special quest that is only available on its appointed day of the week. Finally, in Special Mode, players receive a one-time-only daily quest which, if they complete, can get them Magic Ores, which can be traded for special items or even with other players.
Alteil Chronicle features 13 different characters, each with their own set of skills and abilities, and whom you can equip accessories to in order to boost their abilities. You can then bring them into battle in Colosseum Mode, Tournament Battle Mode, or Free Battle mode with guild members and other players whom you have friended.
The game, however, is only available for Japanese mobile devices.
About the Collaboration
【続報】初音ミクコラボ開催日が4/18に決定♪さらに、コラボイベントで流れるオリジナル楽曲「瞬速☆最強理想論」のPVが先行公開!

【YouTube】https://t.co/PdaJPAaooS
【ニコニコ動画】https://t.co/RRIVYqOzKt#アルクロ pic.twitter.com/GE9RJj90HW

— アルテイルクロニクル 公式 (@Alchro_Official) April 11, 2017
Starting on April 18th, 2017, VOCALOID characters Hatsune Miku, Kagamine Len, and Kagamine Rin will all be appearing in Alteil Chronicle in the form of all-original artwork created by Akiyoshi (秋吉), Kurojishi (黒獅子), and MACCO specifically for the game, and will be adventuring in an all-original questline available only for the duration of the collaboration.
Some artwork for how Miku will appear in-game has also been revealed, even showing some of the other characters in the game dressed as her!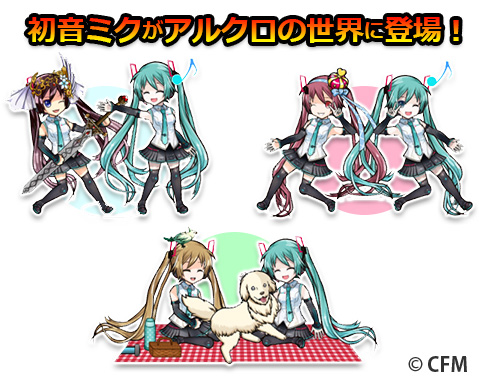 But that's not all! Famed VOCALOID producer, tilt-six, has been commissioned to write a brand-new Miku song to play as background music during the game's limited-time quest. The new song is entitled "瞬速☆最強理想論 (Shunsoku☆Saikyou Risouron)," which roughly translates to "Instant☆Max Ideal" and has already been published online!
And that's still not all! To coincide with the upcoming game update for Miku's debut, Alteil Chronicle is offering an amazing in-game deal for those who download and install the game for the first time: 9,999 karma stones (normally a ¥6,000 JPY/$60 USD value) completely free! That should get new players a good head start as they embark on their quest with Miku and the Kagamines!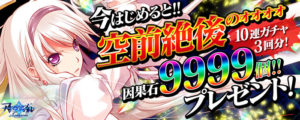 Once again, the game is only available in Japan, but if you happen to be there or plan on being there during the collaboration period, Alteil Chronicle can be downloaded for free on the App Store or Google Play.
Links
Alteil Chronicle:
Official Site
YouTube
Twitter
Akiyoshi:
Pixiv
Twitter
Blog
Niconico Mylist
Kurojishi:
Pixiv
Twitter
Homepage
tilt-six:
VocaDB
YouTube
Niconico
SoundCloud
Twitter
Piapro
Source