Yahoo! JAPAN will be hosting the "Yahoo! JAPAN Hack Day 2017" event at Akihabara this weekend in collaboration with Hatsune Miku!
"Yahoo! JAPAN Hack Day" is Japan's biggest hackathon event, which attracts over 300 programmers and designers and an audience of over 50,000 people each year. This year's event will mark their 10th anniversary!
Starting on Saturday, December 9th, teams will have exactly 24 hours to use whatever means at their disposal to create a new app or device before giving a 90 second presentation of their work to the public on Sunday, December 10th.
After the presentations, there will be an exhibition of all the works that were created in the past 24 hours, and a vote shall be held to decide on the winners of Hack Day, with an award ceremony taking place later in the day.
But where does Miku fit into all this, you might ask?
ともに10周年を迎えた「Yahoo! JAPAN Hack Day」と「初音ミク」がコラボレーションします!
10年に渡り、テクノロジーとエンターテイメントの世界にコンテンツを提供してきた両者の特別企画。テクノロジーを使ったセッション・パフォーマンスを開催!https://t.co/7kyXqa1j9z#初音ミク #hackdayjp pic.twitter.com/1Kv4x99sZh

— Hack Day (12/[email protected]秋葉原 ヤフー株式会社) (@hackdayjp) November 22, 2017
""Yahoo! JAPAN Hack Day" and "Hatsune Miku" will both be celebrating their 10th anniversaries in this collab! This will be a special event for both parties, who have been providing content to the worlds of technology and entertainment for ten whole years. We'll even be holding a jam session with the utilization of technology! https://hackday.jp/ #初音ミク #hackdayjp
Hatsune Miku will be performing live as part of the what they call "Yahoo! JAPAN Hack Day x Hatsune Miku 10th Anniv. Real-Time Jam Session with Masahiko Satoh" on December 9th. In this performance, they will be utilizing both 3D CG animation and sound capture systems – completely in real-time – in order to create this highly experimental jam session.
Masahiko Satoh is a famous jazz pianist who will be performing jazz arrangements of music from "Hatsune Miku Sings the Music of Osamu Tezuka and Isao Tomita Live," holding jam sessions using Mikutap, playing Christmas-themed songs, and commenting on the relationship between music and technology at the event. Also performing in the jam session will be percussionist Yoichi Okabe, and singer Rena Maeda. There will be three performances held throughout the day on Saturday, December 9th, which will last approximately an hour each. Nippon Columbia will also be selling CDs on-site during each performance.
The performance can be watched on YouTube and Niconico Live at the appointed time.
Key Visual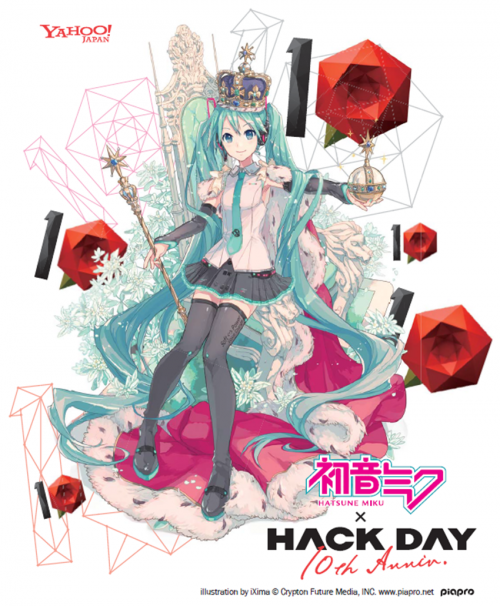 The key visual for Yahoo! JAPAN Hack Day 2017 was provided by iXima. It follows the same series of illustrations that shows the Crypton Future Media VOCALOIDs wearing crowns and sitting on thrones. The artist created this series of illustrations for albums that celebrate each VOCALOID's 10th anniversary: "Elegant Record feat. MEIKO," "KAITO 10th Anniversary -Glorius Blue-," and "Kagamine Rin and Len 10th Anniversary -LODESTAR-."
Merchandise
There will also be Miku x Yahoo! Japan Hack Day merchandise available at the event featuring the key visual piece.
Tote Bag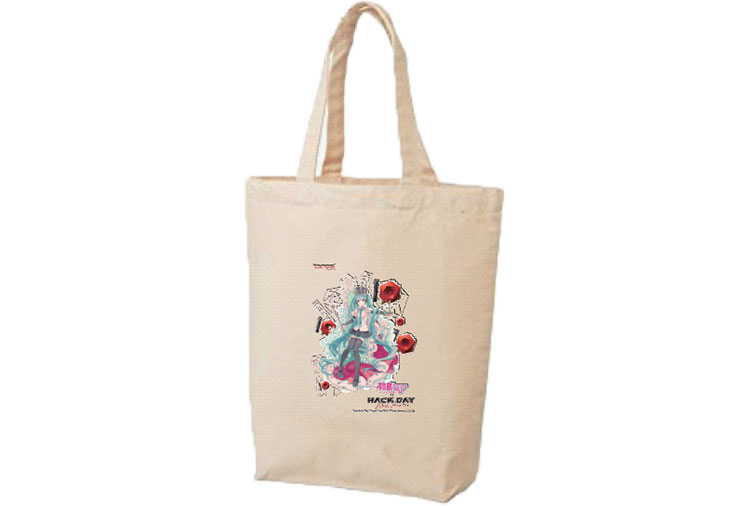 Clear File Folder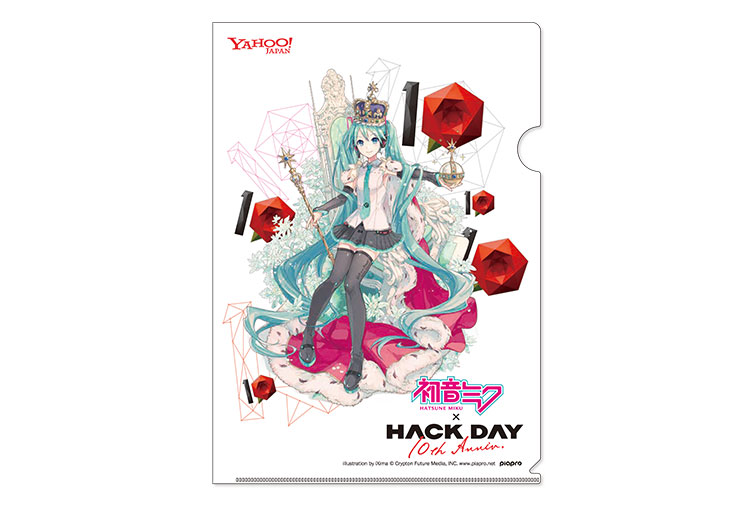 Stickers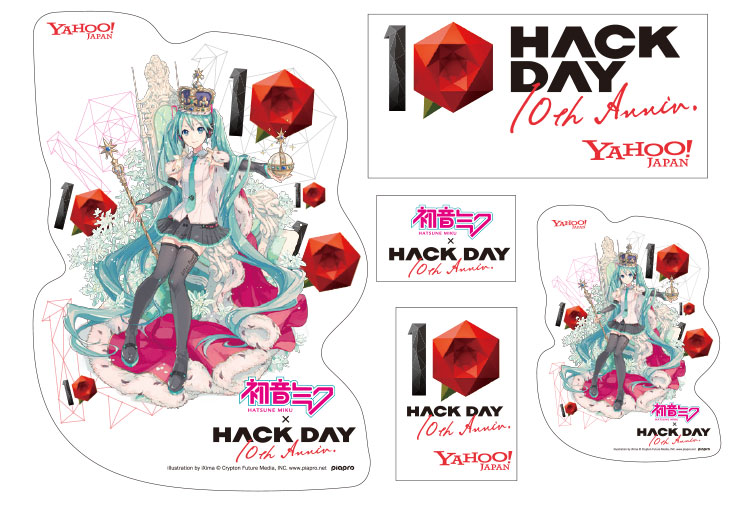 Memo Pad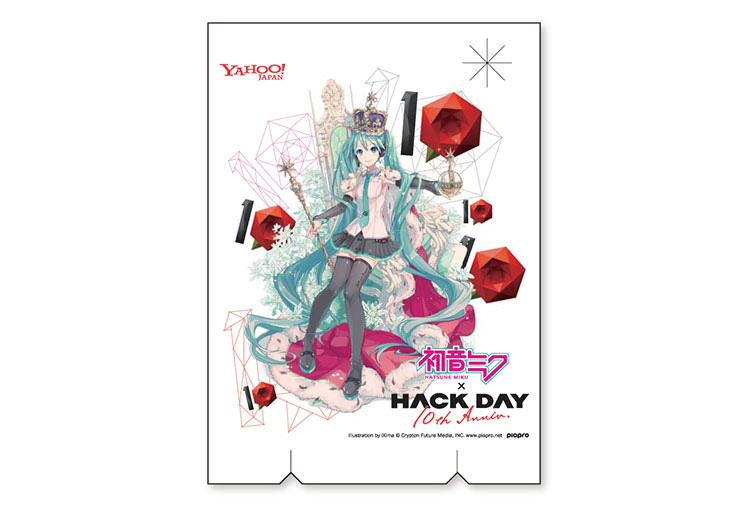 This merchandise cannot be purchased. It will instead be handed out on a first-come-first-serve basis to visitors on each day of the event after they answer a questionnaire, or post about the event on social media. It can also be awarded to lucky people who watch the team presentations and award ceremony on Niconico Live on December 10th (JST), which you can access here.
Those who don't have premium Niconico accounts can still watch the event live on YouTube, although they will unlikely be eligible to win any of the merchandise.
Event Details
Note: All time periods listed below are JST.
Date: Saturday, December 9th ~ Sunday, December 10th
Opening Times: 12:00 to 19:00
Presentation Times: 12:30-16:15
Work Exhibition Times: 13:00 – 17:00
Awards Ceremony Times: 17:15 – 18:00
Venue: Akihabara UDX 2F "Akiba Square"
Admission: Free
Yahoo! JAPAN Hack Day x Hatsune Miku Real-Time Jam Session
Date: Saturday, December 9th
Show Times: 14:00, 16:00 and 18:00 (40-60 minutes each)
Venue: Akihabara UDX 2F "Akiba Square" indoor stage
Admission: Free
Please note that although the event is free to attend, tickets are required for visitors to this session. Tickets are only available via lottery.
Once again, those who wish to watch the performance online can do so on YouTube and Niconico Live.
Information Source
Yahoo! JAPAN Hack Day official website, Facebook, and Twitter