Miku's 10th anniversary is still more than a month away, which leaves plenty of time for more collaborations! The latest is Hatsune Miku x Shimamura, bringing fans some sweet gear that they can wear. There are bags for men and women and even a pair of shoes! This collaboration includes some must-have items for Miku fans.
The Items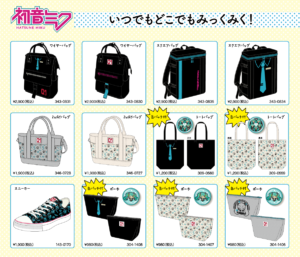 Wire Bags
There are two wire bags available, each costing ¥2,900 JPY (about $26 USD). One features a teal blue tie and Miku's trademark "01," while the second opts for a teal blue strap with the "01" taking the spotlight, including some pink zippers as accents.
Square Bags
The next two items are rectangular bags priced at ¥2,900 JPY (about $26 USD). The first has blue zippers and a blue highlight with "Hatsune Miku" written in pink. The second also has blue zippers but instead has a printed design of Miku's shirt, collar, and tie.
Two Way Bags
Priced at ¥1,900 JPY (about $17 USD) each, these super cute two way bags are a steal! You can carry them by their handles or strap them over your shoulder! They feature Miku's trademark "01" near the top of the bag, and a repeating pattern of an adorable illustration of Miku with more "01"s and "Hatsune Miku"s on the rest of the bag. They are available in grey and what appears to be a beige color.
Tote Bags
There are also two tote bags available, priced at ¥1,200 JPY (about $11 USD) each. The first featuring the same shirt, collar, and tie design as one of the square bags, while the second is a beige-like bag with the same print as the two way bags. Both tote bags also come with a free can badge (shown in the image)!
Sneakers
The sneakers simplify the design of the two way bags, making it all teal blue on a black background. There's a big "01" on the tongue of the shoe that really makes it feel super Miku-fied! They'll cost you ¥1,900 JPY (about $17 USD) a pair.
Pouches
And, last but not least, are three cute pouches perfect for putting in those Miku bags! They'll cost ¥980 JPY (about $9 USD) each. The first one is black featuring the same Miku shirt collar and tie design as several of the other products. The second is a beige-looking pouch featuring the same design as the two way bags. And finally, there's a grey pouch featuring a larger version of the illustration used on the two way bags with "First Sound of the Future" written on it as well. On the back is Miku's trademark "01." All three pouches come with special can badges as well (shown in the image)!
Release Date & Purchasing
All items will be available for purchase on July 15th. At this time, there's no word on if overseas fans will be able to grab these items without a proxy.
More Information
For more information, be sure to stay tuned to VNN! You can also check out the official website for the collaboration here.