Got a sweet tooth for eating macarons or supporting charities? Well, if you enjoy both, you'll be delighted to hear that Crypton is currently holding a "Hope Macaron 2017" charity event as part of Macaron Day! With the permission of the producers, they will be selling three album singles showcasing some of the sweetest VOCALOID songs. Their slogan, "Spread Happiness Through Macarons," is sure to not disappoint!
What is Macaron Day?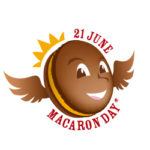 Macaron Day (French: Jour du Macaron) is a French charity event sponsored by Pierre Hermé Paris and its founder, Pierre Hermé. Held every year to fund treatment for kids with incurable diseases, the concept started in 2005 from humble beginnings at Hermé's own store, later eventually expanding to become a huge charity event with immense support from various members and organizations of the association, Relais Desserts.
With the rising interest in macarons and development of bakeries in Japan, Hermé teamed up with partners within the country to hold their own "Macaron Day" on the summer solstice (June 21st of this year). Complete with limited sales of macaron-related gifts and items, an exhibition of artwork by Mamiko Tanaka, and plenty of free macarons to munch on, the charity works hard to create a space where shared moral values and a deep appreciation for the traditional macaron can cooperate in aiding children for a good cause.
The Albums
At the moment, the albums are available for purchase on KARENT and Mikumoba. There is also an unlisted crossfade video available on KARENT's official YouTube channel, which you can view below.
Albums/Tracklist
The albums will be on sale from Thursday, June 1st ~ Wednesday, June 21st. All proceeds will go to the National Children with Incurable Diseases Support Network, an NPO group that works to improve the quality of life and promote awareness for the needs of such kids.
If you would like to purchase any of the albums or learn more about the charity event itself, check out the links below.
Official Links
"Hope Macaron 2017" KARENT
"Hope Macaron 2017" Mikumoba
Macaron Day Charity Event Website