The results of the 28th Biannual ProRegi Awards are in! As we previously reported, nominees in the Best Creator Tool category included IA Talk, VOICEROID 2 Yuzuki Yukari, and Otomachi Una Talk Ex. Of course, in the end, there can only be one winner, and creator tool that came out on top is IA Talk!
好評発売中の「IA Talk」がVectorプロレジ大賞にて「クリエイター部門賞」を受賞しました!応援ありがとうございました!受賞記念の特価セール開催中です!
【第28回Vectorプロレジ大賞:https://t.co/eh6Bej00W4】#IA #ONE #IATALK pic.twitter.com/NGpdffumWL

— 1st PLACE Co.,Ltd (@1st_PLACE0302) August 17, 2017
The critically acclaimed "IA Talk" has won the "Best Creator Tool" category in the Vector ProRegi Awards! Thank you all so much for your support! In honor of this occasion, we are now holding a special sale!
28th Vector ProRegi Awards: http://n.shop.vector.co.jp/service/special/award/ #IA #ONE #IATALK
1st Place was quick to announce the results on Twitter, and thank voters for their support! Additionally, they announced that IA Talk, ONE, and their respective starter packs will all be on sale on the Vector PC Shop until August 31st!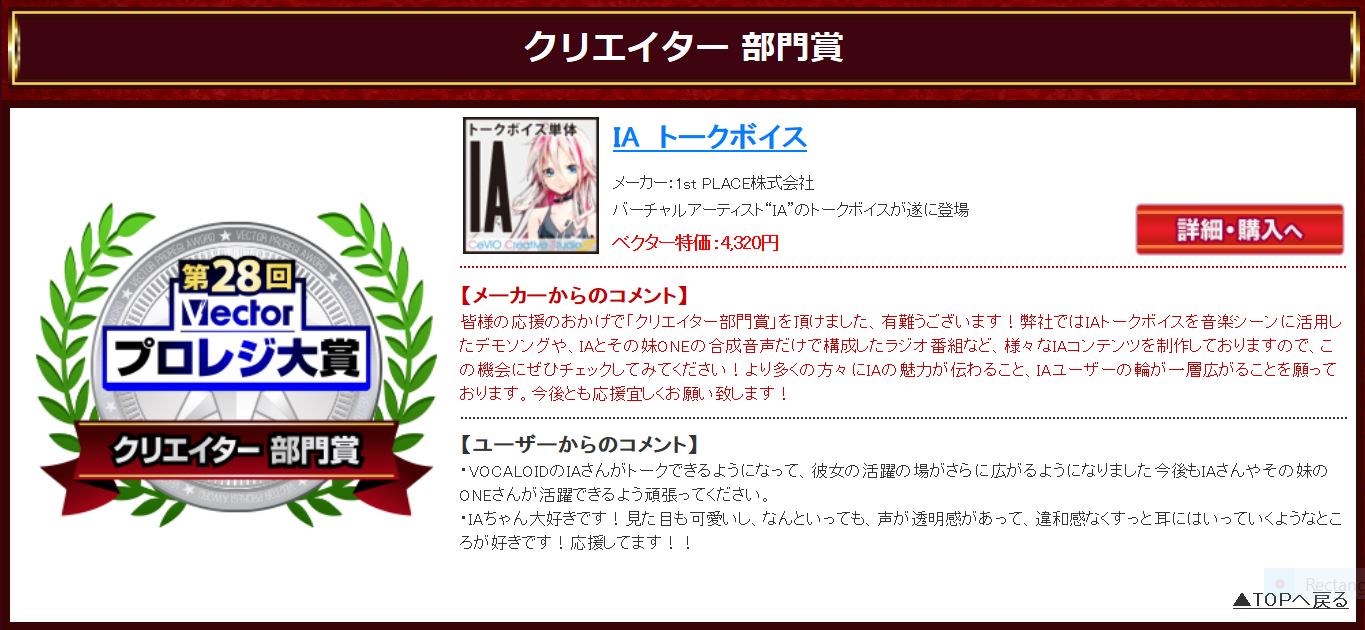 Furthermore, they had this to say about the award and recognition:
"It was thanks to everyones generous support that we were able to take home the Best Creator Tool category award. Thank you all so much! When you have the chance, be sure to check out all the IA-related content that we create, such as the demo song using IA Talk, and the radio program narrated entirely by both IA and her sister, ONE! We'll keep on promoting IA to as many people as we can, and continue to grow her circle of users, so we look forward to your continued support!"
Here are also some user comments:
"Now that the VOCALOID IA can even talk, her field of influence and activity has expanded even further. I hope that everyone can become part of both IA and ONE's activities from here on out."
"I love IA-chan! Not only is she adorable, but I just love how that 'transparent' feel of her voice that soothes me down whenever it enters my ears! She'll forever have my support!!"
Information source