"Just how do the legends of the VOCALOID world write their music, protect their publication and developmental rights, and maintain the necessary mental state to keep it all up?"
That's the question that author Atsuhiro Nihei asks, and seeks to answer, in his latest publication, Book of Secrets to Becoming a VOCALOID Producer in the Internet Age (ネット時代のボカロP秘伝の書, NET Jidai no VOCALO-P Hiden no Sho). In this book, Nihei interviews four legendary VOCALOID producers, as well as Hatsune Miku's creator, Wataru Sasaki of Crypton Future Media, and promoter of the Bookmark of Demise Project, さとP (SatoP) of Victor Entertainment. The goal of this publication is to provide an informational guidebook for anyone who aims to become part of the next generation of VOCALOID producers!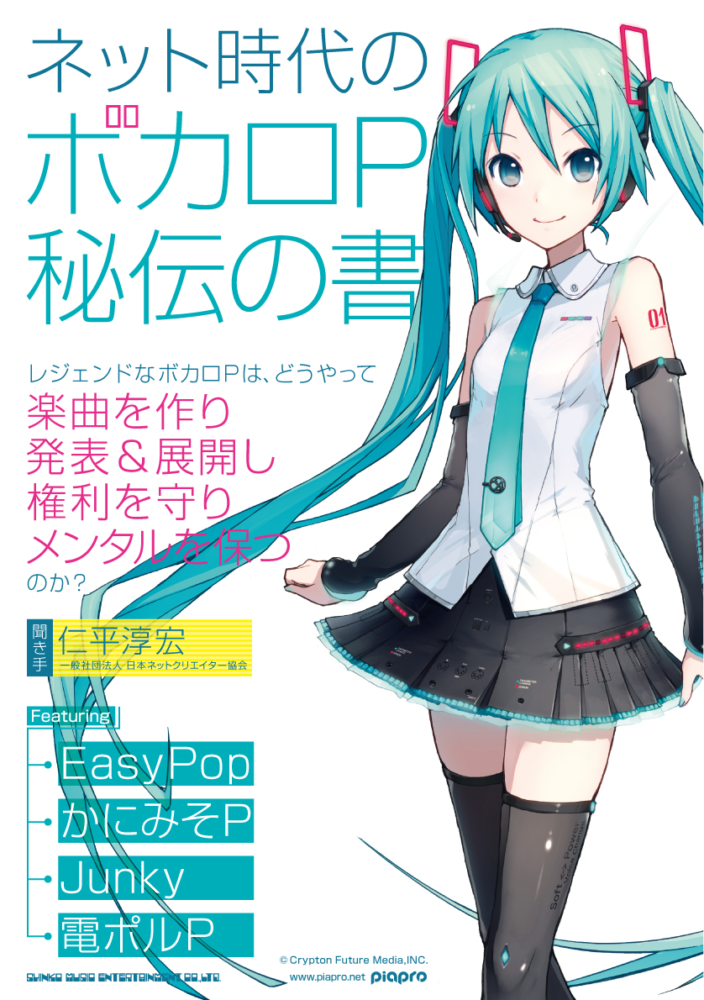 Note that the publication is entirely in Japanese, so readers must have a good grasp of the language in order to get the most out of it.
The Producers
Also known as BETTI, EasyPop started creating computer music in 1998, and became a VOCALOID producer in 2009. They're most well-known for songs like "Happy Synthesizer," "Girls," and "Hi-Fi Raver." Some of their albums like "Very Easy" and "Web Dance" received critical acclaim on iTunes.
Also known as mathru, KanimisoP is both a VOCALOID producer and a game programmer. Their breakthrough VOCALOID hit was "Dancing☆Samurai" in 2008, and they went on to create other hit songs like "Episode.0" for GACKT himself, as well as "Bacterial Contamination" and its subsequent novelization. As a game programmer, mathru is well-known as the creator of the smartphone game Beat & Magicians.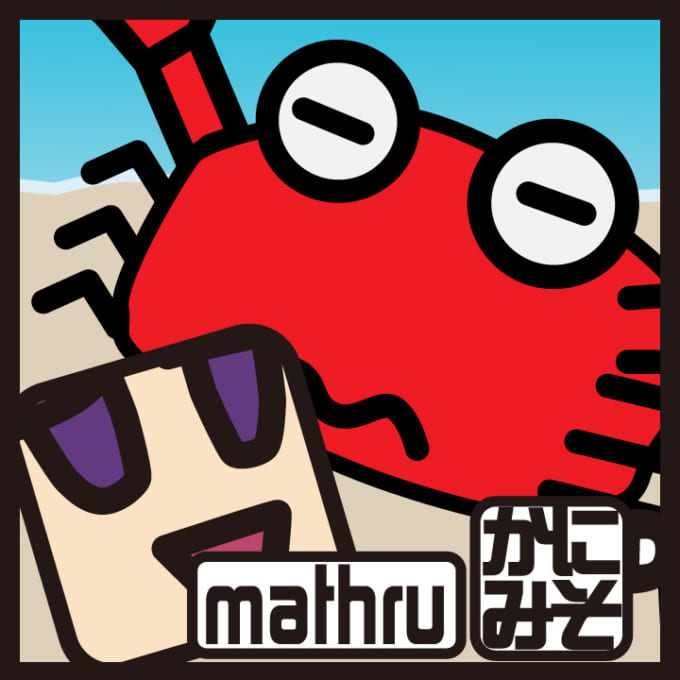 Junky is a producer who can write in a wide variety of music styles. They uploaded their first VOCALOID song, "Jiyuu," in 2009, and followed up with their first million-hit video on Niconico, "Melancholic," less than a year later. Nowadays, Junky writes and provides music and theme songs for singers like Choucho, √5, and Appare! Harajuku, voice actresses like Mika Ayano and Rie Murakawa, video games like BeatStream, and anime series like Mikakunin de Shinkoukei.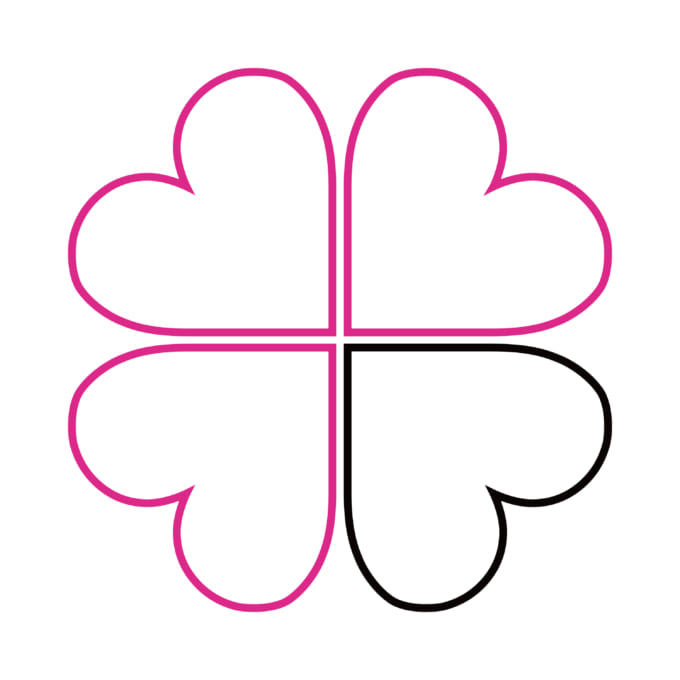 Also known as koyori, DenpolP is a producer who specializes in rock and pop songs, and made their VOCALOID song debut in 2009 with "Oto no Kotoba." Some of their other hits include "Hitorinbo Envy," "Aimai Retsujou Lover," and "Sainou Sampler." To date, they have released six solo albums, one major record, and continue to work with and provide music for a number of singers and other creative minds.

Table of Contents
Intro
"Getting together with friends and band mates, practicing music, performing at clubs, releasing albums, getting scouted and contracted by a record studio, and getting promoted on radio, television, and print media…"
Such is the traditional process by which bands and singer-songwriters would start their careers. But for the VOCALOID producer, their roots are more in the style of:
"Writing songs at home, inputting each sound on your PC, having a VOCALOID sing it, uploading the completed song on Niconico and YouTube, announcing it on social media, watching its view count soar, and selling your CD at events like The [email protected] [email protected] and Comic Market…"
Produced in such a fashion, VOCALOID songs are infused with their respective producers' own individual musical style and know-how. This publication aims to serve as a guide for aspiring VOCALOID producers, active VOCALOID producers who wish to heighten their skills and recognition, and even bands and singer-songwriters who wish to challenge themselves to something new. Read and take in the words of wisdom straight from the mouths of legendary producers themselves.
Chapter 1: How to Create Songs
Adding Your Own Flair, and Keeping Volume Over Vocals: EasyPop
Thinking Ahead in Terms of Album Arrangement (e.g. song order) While Writing Music: KanimisoP
Demo-Song-to-Final-Product: When It Feels Like Your Piling Drafts on Top of Drafts: Junky
Anything Goes: How You've Got to Include That One, Killer Phrase: DenpolP
Review and wrap-up: measuring the "heat value" of each VOCALOID producer's song
Chapter 2: How to Present Your Song
How I Can Keep My Activities Going Strong Thanks to the Illustrator: EasyPop
How I Get More and More of My Songs Featured in Music and Rhythm Games: KanimisoP
Drawing Out Your True Self, and Getting That "I Just Made Something Really Cool!" Feeling: Junky
Giving Your Song a PV to Boost Its View Count: DenpolP
Review and wrap-up: the ability to self-produce is a VOCALOID producer's hidden gift
Chapter 3: Promotion and Development
Why You Can't Just Simply Come Up With Your Song's Message: EasyPop
If You Try to Manage Everything Yourself, You're Likely to Fail: KanimisoP
Why I Like to Purchase a Hotly-Anticipated Song Before Anyone Else: Junky
Getting That Sense of Satisfaction When Completing a Requested Job: DenpolP
Review and wrap-up: there is much that you have to think about when developing and promoting a song
Chapter 4: Managing Suggestions
If You Want To Make Music, Then You Have To Commit Your All To It: EasyPop
Review and wrap-up: after a long and arduous process, you'll be able to properly manage your VOCALOID song rights
Chapter 5: Having Fun
Seeing Things Through to the End, Even If You Have to Remake the Song From Scratch: EasyPop
Why It's Beneficial to Attend Events, Concerts, and Other Offline Gatherings: KanimisoP
Making the Song You Want to Make: Why It's So Difficult: DenpolP
Review and wrap-up: never forget the expressions of gratitude from fans for uploading your song
Chapter 6
Videos, CDs, Novels, Comics, Events, and Goods: SatoP
In the End, How the Listener Feels When They Hear Your Song is Most Important: Wataru Sasaki
Hatsune Miku's 10th Anniversary Draws Near
Where to Purchase
Book of Secrets to Becoming a VOCALOID Producer in the Internet Age is a publication of Dwango Co. as well as the Japan Net Creators Association (JNCA), a group dedicated to supporting VOCALOID producers, Utaite, artists, animators, game programmers, novelists, and other online creators. The book is 176 pages long and costs ¥1,800 JPY.
Information Source