miEarlier this year on Miku Day (March 9th) 2018, Kazuhito Tsukui (a.k.a. SOSOSO), a writer for Japan's premier virtual reality media news site, Panora, had the chance to interview BIGHEAD, the VOCALOID producer known for creating many hit Hatsune Miku V3 English songs, appearing at many international events like DoKomi, and even collaborating with many Western VOCALOID producers.
See here for the full interview in Japanese, and read on for an abridged English translation.
———————————————————————————————————-
Today is March 9, 2018, meaning it's Miku Day. Already we have seen the release of Hatsune Miku VR on Steam, further expanding the horizons for the popular virtual singer to numerous countries around the world.
And that's only scratching the surface of all the different xR (extended reality) projects that Miku has been involved in recently, both in professional- (PGC) and user-generated content (UGC). For instance, on the PGC side, there were the "Miku☆Sanpo" AR app from KDDI, the Playstation VR game "Hatsune Miku VR Future Live" from SEGA Games, the 360-degree music video app "VROOM" from au Uta Pass, and the RICOH THETA SC Type HATSUNE MIKU 360-degree camera from RICOH. On the UGC side, we have seen a self-made PC which Miku can dance in, the Oculus Rift compatible "Mikulus" from GOROman, and much, much more.
The amount of xR content that involve Hatsune Miku is so innumerable that she's no longer just a virtual singer, but arguably the poster child for all of modern technology. There are even many virtual YouTubers who called Miku their "senpai."
And perhaps you have seen one name in particular that keeps showing up in all these different xR projects: the VOCALOID producer, BIGHEAD.
But what's curious is that BIGHEAD rarely uploads his works onto Niconico. Always taking different approaches from other producers in Japan, it can perhaps be said that BIGHEAD represents the next generation of VOCALOID producers.
Our writer, Kazuhito Tsukui (a.k.a. SOSOSO) – who himself is an accomplished VOCAOID producer – has had the chance to interview this enigma known as BIGHEAD. In this interview on Miku Day, he delves deep into all activities carried out under the name BIGHEAD, the VOCALOID producer who's leading the others into the future!
Discovering Miku During the Most Unrewarding of Times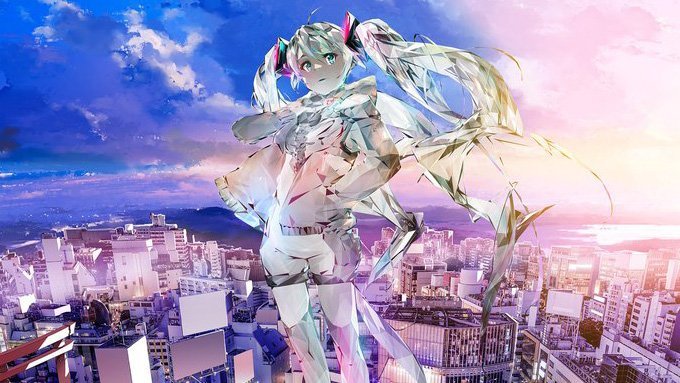 ――First, I'd like to ask something that came up while I was looking through your personal history. It says that before you started making VOCALOID music, you worked for a music company and wrote music for TV commercials. Would you say that these were your first forays into professional music creation?
BIGHEAD Well, my main job was to handle recording and arrangements for Sapporo-based bands like A.F.R.O., and creating commercial music was something that I did just a bit of. When I was with the company, A.F.R.O. was still in their indies phase, and I was still a no-name. But when they finally made it into the big leagues, that's when the name "BIGHEAD" started to garner attention, since I was in charge of arranging the songs in their album "7th," released in 2015.
▲Crossfade for A.F.R.O.'s album "7th"
――Even nowadays, I see that you've been assisting other people in making both VOCALOID and non-VOCALOID music alike.
BIGHEAD I wasn't able to find permanent work with A.F.R.O. or anyone else in Sapporo. However, I've been doing what you mentioned in hopes that the name "BIGHEAD" would grow, and that I can someday find work in the same field as them.
――I see. So you feel like you are trying to catch up to them.
BIGHEAD Yes, exactly! I am really happy to have been given the chance to arrange music for them. I may have been a no-name was back when I was working for the company, but now I feel like the effort has finally been rewarded.
――Pardon me for putting it like this, but during those "unrewarding" times, what made you consider creating VOCALOID music?
BIGHEAD Before working at the company, I played the drums and handled recording for my own band. At one point, we were contacted by a Sony-affiliated company that specializes in recruiting and rearing artists. We thought it could be our big chance at making it in the big leagues, but we ultimately failed at that.
We didn't exactly break up, but our mood was clouded over with the feeling that we would never get our big break. As a result, our vocalist eventually moved away, far enough so that we could not continue on with our band activities.
Since I could only play drums and arrange music, losing our vocalist left me feeling helpless. I called myself a musician, yet I didn't have a single piece of work created under my name. I'm seriously bad at singing, you see. (laughs)
――Ah, I can totally relate. (laughs)
BIGHEAD It was during that time that I discovered Hatsune Miku on the internet, and thought that she could serve as our vocalist.
――So it was like, when you desperately needed a vocalist, there Miku was.
BIGHEAD Yes, precisely.
How BIGHEAD Almost Gave Up On Miku
――So then you adopted the name "ElekiP" and began your activities as a VOCALOID producer, creating a cover of a Daft Punk song. It didn't occur to me that this was an extension of your band activities. Is there anything more to the story that I'm not aware of?
▲Official audio for Daft Punk's "One more time"
BIGHEAD Well, our band was mainly an electronic music band. We'd use MTR and 2MIX to create synth music, I would play on drums, and we'd need a vocalist to sing… and probably other things that I don't really understand myself. (laughs)
――That's pretty interesting to hear!
BIGHEAD Yea. (laughs) We were kind of an obscure band that was trying to be like m-flo, and made quite a lot of electronic music. Much of our music was created with synths.
▲Official music video for m-flo's "come again"
――So it must have been especially rough for a band like yours to lose its vocalist.
BIGHEAD It sure was. Despite all my best efforts, there was nothing that I could do, and I lost a lot of motivation. Plus, searching for a new member would require a lot of energy that we didn't have, so our band just broke up after that.
――So then you utilized your skills in making electronic music, brought in Hatsune Miku to provide vocals, and re-introduced your music to the world. Was that how ElekiP came to be?
BIGHEAD I suppose so. However, even before making the Daft Punk cover, I was using Miku to make covers of Japanese songs that were originally sung by humans.
――Really?
BIGHEAD Yup. I've never officially released them, but they were made during a time when I was trying to get Miku to sound as human as possible. I'd make one song per week, editing the vocals all the while. They came out pretty well, but there was something about them that rubbed me the wrong way.
――I think I can understand how you feel. (laughs)
BIGHEAD I'm sure you can. (laughs) I couldn't put my finger one it, but there was something that didn't fit, something that I actually hated hearing. I even almost gave up on editing Miku completely.
――It sure is tough trying to edit a VOCALOID to sound human.
BIGHEAD At one point, I even thought that there must have been an error or glitch in the program. (laughs) The more I fiddled around with it, the worse her voice sounded, making me want to cringe. So I finally decided to give up on that direction, give up on trying to make Miku sound human while singing Japanese songs.
――Is that why you focus your efforts on techno music and other genres which you can utilize your music editing skills in?
BIGHEAD That was my feeling at the time, yes. I'm quite partial to vocoders and synths.
――When you first used Hatsune Miku as the vocals for electronic music, did you ever imagine that it would grow and spread as far and wide as it has now?
BIGHEAD Not at all! (laughs) When I first released "Story Rider" in 2013, I had no idea that it would get this ridiculously big! (laughs)
The "Spam" Mail That Would Change BIGHEAD's Life
――Upon releasing "Story Rider" and the Daft Punk cover, you were then contacted by Crypton Future Media who told you out of the blue that they would like to feature your song in New York, right?
BIGHEAD That's right.
――How did you feel when you heard that Crypton Future Media would like to bring your creations with them to New York?
BIGHEAD Hmm… the message that they relayed to me was "[Mr. Hiroyuki Itoh] will be hosting a panel [at the New York Comic Con], and would like to use your song." When I read those words, no particular thoughts or feelings came to mind, except maybe "What's a panel?"
――Is that so? (laughs)
BIGHEAD I lacked even that much knowledge, so I just thought "So my songs will be playing in New York, huh." I mean, the message wasn't marked as spam, so I was wondering if this really came from Crypton. (laughs).
――It does seem very sudden and suspicious-sounding! (laughs)
BIGHEAD Sure was. (laughs) And since this was no small request, I imagined that Crypton was pretty desperate, too. At first, our only means of communication was through Facebook Messenger since they didn't have my email address. So when the message came through Messenger, I just nonchalantly thought "Yeah, I suppose it'd be nice if they use my song…"
――That's quite the development that would eventually lead to your later endeavors under the name "BIGHEAD."
BIGHEAD If you had asked me, I would have thought that this would only be a one-time thing, and didn't think much of it. But then "Story Rider" was later used in an opening act to Lady Gaga's North American tour, and "Sharing The World" was aired on a CBS program to all households in America. So looking back on it now, the New York Comic Con event was a very important beginning for me.
――You have done a lot of collaborative projects with Crypton, so much so that I personally see you as something of an official employee of Crypton.
BIGHEAD It was quite an honor to see so many of my songs used at the Magical Mirai and PPP-Party in Aeon events last year, and at the Snow Miku event this year!
▲SNOW MIKU 2018 Official Theme Song "四角い地球を丸くする (Shikakui Chikyuu wo Maruku Suru)" BIGHEAD REMIX
――I guess I should have known that you would feel that way.
BIGHEAD I think you misunderstand me. If I could, I'd take back what I said. (laughs)
――You mean you don't like being thought of as an "official employee" of Crypton?
BIGHEAD I wouldn't like it if people thought "I can make better songs than him, so why did he get picked?" After all, when I started using Miku, I also thought that all those producers who were picked to do official work with Crypton must have needed connections or luck to get where they are. I myself have been jealous of famous VOCALOID producers before.
――Ah, yes, I've also been misunderstood that way before. (wry smile)
BIGHEAD Getting official requests from Crypton makes me really happy, and I leap for joy every time it happens. However, in reality, I'm always nervous wondering "But if all these requests stop coming, then what do I do?" That's why I wouldn't like being misunderstood as officially being part of Crypton.
How World Travel Helped Expand BIGHEAD's Horizons
――You've certainly earned many opportunities to create and share music from Sapporo to the rest of the world. But how did you react to those kinds of opportunities?
BIGHEAD Well, thanks to Crypton being around, I feel that even if I stayed in one place, I could still be connected to the rest of the world through them. Of course, if Miku didn't exist, then I would have had a much harder time forming such connections.
But in Japan, it's the recording companies who converge in Tokyo that put out top-notch music, and I feel like I could never produce the same results or stand on the same stage with them by my own abilities. I'd first have to level myself up, and leave my mark in the world. Of course, I'd have to abide by copyright and distribution laws.
――Last year, you indeed accomplished all sorts of activities without being limited to staying in Japan.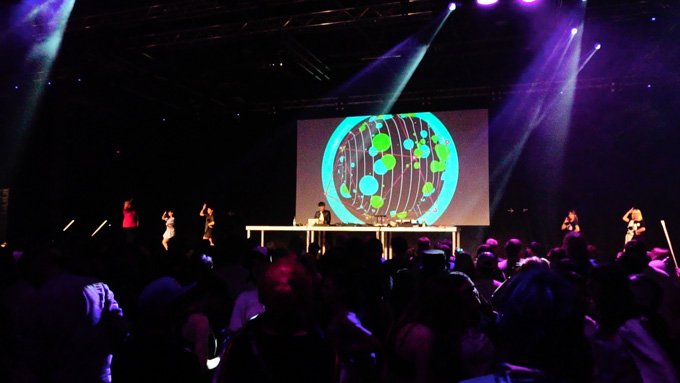 ▲BIGHEAD at Germany's largest anime convention, DoKomi
BIGHEAD Last year, I went to DJ in both Germany and America, and was sure surprised by all that I saw. Seriously, it was all thanks to Miku.
Something else that I've come to learn is that if you release a song on iTunes or Spotify, it can easily reach 700,000 listens in America alone; it'd be really hard to reach that many listens just in Japan. 
The fact that one can just release a song to the world and watch it reach a super high number of listens, even without paying a fortune for advertising, is very appealing to me. That's why I decided to write songs that feature foreign singers, adhering to songs formats that work abroad, and release them to a worldwide audience.
――By "worldwide audience," that includes listeners in Japan as well, right?
BIGHEAD Of course. I still like Japan the most, and my chief goal is to get everyone in the world more aware of music from Japan.
The "Experiment" That Bewilders CD Manufacturers
――I'd like to asked about your third album, "World Is Wide," released just last month. I was dumbfounded when I learned that in one album purchase, you don't get 2 CDs with different songs, but rather 2 completely identical CDs with the exact same content! (laughs)
▲BIGHEAD's 3rd album "World Is Wide" containing 2 CDs
BIGHEAD Ahahaha! That was my doing as well! (laughs)
――It even includes instructions for something called "SHARING THE MUSIC" in which you ask buyers to give one of the CDs to someone. That's not normal! (laughs)
BIGHEAD Yeaaah… that is kind of weird, isn't it? (laughs)
――I'll say! (laughs) So then, how did you arrive at the idea of a "sharing CD?" This is actually what I've wanted to ask the most in this interview.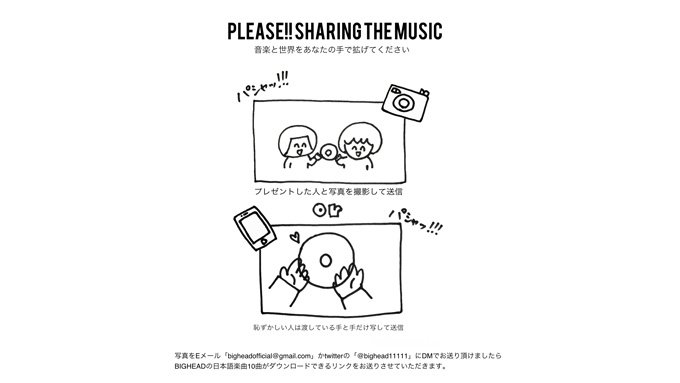 ▲Instructions for the "Sharing CD"
BIGHEAD We now live in a digital age where services like Spotify enable people to listen to whatever they want, whenever they want, and practically for free. Furthermore, a person can easily send a song link from YouTube to a friend saying "Isn't this song awesome?" and that friend will be able to open the link and listen for free. With all that in mind, a CD release seems kind of "worthless," doesn't it?
Perhaps they can find some small value in the sight of the jacket visual, or the feel of the paper pamphlet in their hands. For people who have bought my album for those reasons, I figure why not give them another one as thanks? (laughs)
――That's a really bold idea!
BIGHEAD I have limited ability when it comes to distributing my music, so I thought it'd be great to have buyers introduce it for me to people whom they are close to. Of course, it also makes CD manufacturers wonder "Was there some mistake? There are 2 of the exact same thing in here…" (laughs)
――So that means even manufacturers were bewildered. (laughs)
BIGHEAD Back in the 90's, I remember lending CDs to my friends, and giving cassette tapes and MDs to them as gifts. But now that we're in the digital age, those kind of experiences are probably long gone.
Therefore, I thought how nice it would be if people could actually meet in person, and the receiver could listen to music that they were given by someone whom they're close to, over and over again. That would mean that my music becomes part of their relationship and memories.
――So through your music, their circle of communication would expand.
BIGHEAD Indeed. Even if I could play just one small part in that communication circle, I would be honored. I think that not only will the listeners of my music have their world expanded, but so too will my own world expand when they purchase and listen to my CDs. And when those listeners give the sharing CD to their friends, their world would expand was well, and so on and so forth. Thus, the "World Is Wide!"
――And the experiment results have proven to be a success, haven't they?
BIGHEAD I guess it has been pretty successful. I'm surprised by how much it has spread.
I asked some my friends, "I'd like to give this a try. Do you find it an interesting idea? But do you think it'll be hard for people to get?" Responses that I got went, "I think it'd be a good thing to do, but the revenue that you earn will naturally be cut in half, wouldn't it?" (laughs) But since the concept is to expand people's worlds, I told them that this is something that I just had to do. (laughs)
Since I don't work for a major recording label, this is something that I was able to decide for myself. This is one of the beauties of VOCALOID itself, letting creators make almost anything that they want. Even if I don't know how this "experiment" will turn out, the will to carry it out forms the very nucleus of this project; losing that would be terribly tragic, which is why I knew that I had to go through with it.
I'd like to pursue this ambition with a sense of haste to it, telling myself "if I fail, I quit; if I succeed, I continue on," an option that I wouldn't have if I worked for a major recording label.
▲Crossfade for "World Is Wide"
Making Content To Be Viewed In 360-Degrees!
――Finally, please share with us what your future plans are from here on out.
BIGHEAD I guess my first "dream" is to see the album "World Is Wide" reach and be heard by people all over the world, and help everyone in the entire world to expand their horizons. Yes, I'm dreaming big.
Another one of my "dreams" would be to see a crystal bust of Miku [as she appears on the "World Is Wide" jacket illustration by apapico] collected and displayed at the MoMA and other museums in the world.
That way, we would get to leave her mark on the world as a piece of art. If a museum collection proves to be impossible, then hopefully she can be displayed someplace else as a piece of uniquely Japanese art, which I would like to try making a reality first. Whether it's by 3D printer or as a glass carving, I want to this idea to be physically manifested in one way or another.
This scale of this project means that it will probably require some crowdfunding, but I first wish to put this plan into action.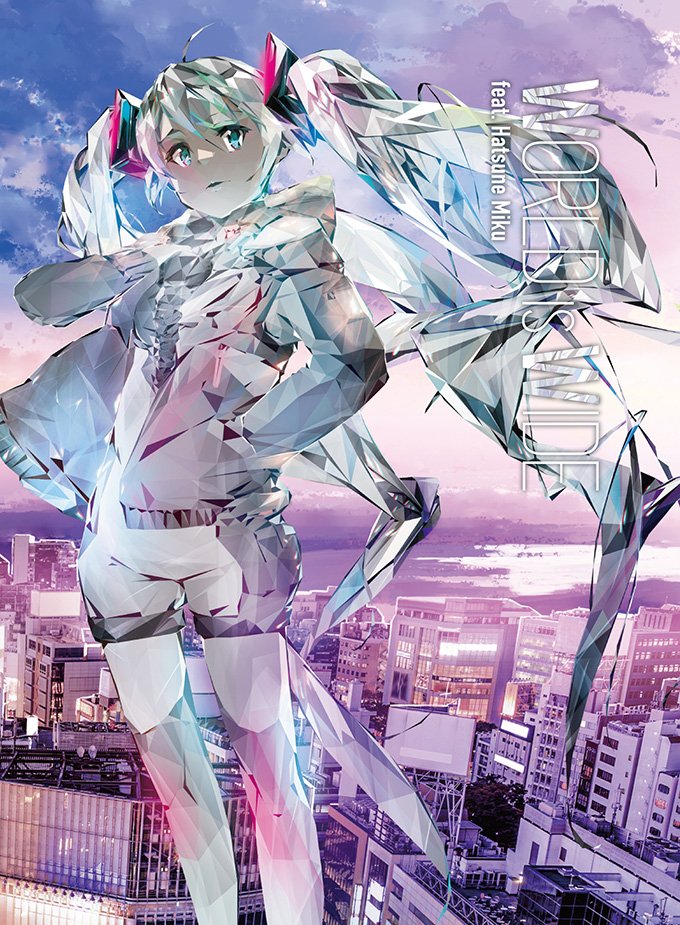 ▲Jacket illustration for "World Is Wide"
――You sure know how to tell an ambitious story with such a calm and cool composure (laughs)
BIGHEAD I guess you're right about that. (laughs) Next is a third "dream" of mine. Although I call it a "dream," it's actually something that I've already made some headway in.
I'm already in the process of constructing a system that's capable of producing VR-compatible sounds. Progress on that is proceeding very smoothly. I'm making this because I'd like to be able to create and release PVs for songs on my own. When I think about the future, I think of 360-degree videos and sound.
I once released such a video whose sound would change depending on whom you're watching; for instance, when you focus the camera on the guitar-player, the guitar track gets louder. I would like to make a new 360-degree, sound-changing video next.
▲anckor feat.Hatsune Miku [360 Music Video ] 3D Surround Sound Mix
――I look forward to all the activities that you'll be partaking in! Thank you so much for today!
BIGHEAD Thank you very much!
Purchase "World Is Wide" feat. Hatsune Miku
●Related Links
・BIGHEAD's Official Site
・BIGHEAD's Twitter
●About the Author
Kazuhito Tsukui, a.k.a. SOSOSO (そそそ)
Musician, arranger, VOCALOID producer, and writer. Made his debut as a VOCALOID producer in 2007, making him one of the eldest producers around. Alongside making music, he also began working as a writer for video game news in 2011, and began working at Panora in April, 2016. He is also in charge of the music for our gameplay reports, "Daibu VR" and "PANORA VTuber Music."
・Twitter: @sososo291
・Blog: sososo activity
●Latest Virtual YouTuber (VTuber) News
http://panora.tokyo/vtuber/
●Panora Homepage
http://panora.tokyo/