While YAMAHA says that KAITO was released on February 14th and Crypton says he was released on the 17th, fans don't care. If anything, this means even more celebrations! Some even opt to celebrate it on the 14th all the way to the 17th. No matter when you choose to, the big day for KAITO goodies is the 17th, and this year's KAITO anniversary celebrations held quite a few.
Free Wallpapers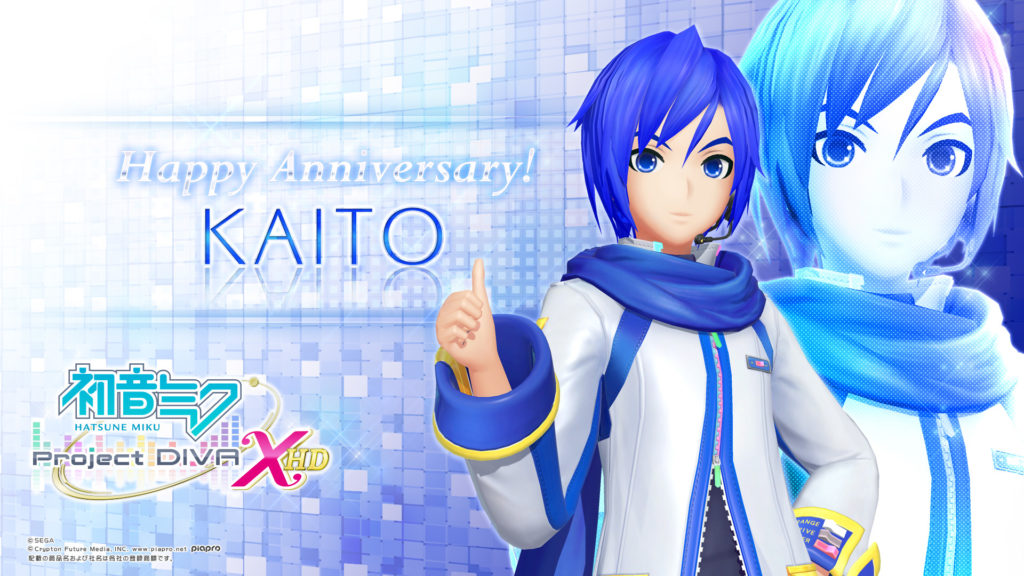 As always, SEGA celebrates Crypton VOCALOID birthdays with some sweet wallpapers. There are two wallpapers available, both featuring KAITO V3 modules. One features the module from Project DIVA X HD while the other features the Future Tone and Arcade module. Both are available in desktop and phone sizes. Grab them on SEGA's website!
Song Recommendations
Crypton celebrates VOCALOID birthdays with music! KARENT has a page dedicated to some catchy KAITO songs and put together a crossfade as well.
Hoshi's Recommendations
While I'm in no way affiliated with Crypton, I'd like to give a few suggestions as well to KAITO songs fans can grab.
[nnd src=3349197] "
Old Radio
" by
MakaaP
While it's not available for digital download, it's an amazing song on a lovely compilation album released last year. EXIT TUNES PRESENTS Kaitonation feat. KAITO is a must-have album for KAITO fans. Honestly, just getting an album with "Old Radio" on it is an amazing thing. The song is so good but was incredibly unloved!
You can find it on CDJapan, AmiAmi,and Amazon Japan.
"Anonymous" by EmpathP
EmpathP uses KAITO V3 English incredibly well here. Enjoy the feels. You can grab a physical or digital version of the album it's featured on over at Bandcamp.
[nnd src=10512919]
"Clockwork Lullaby4" (also known as "Heartbeat Clocktower (FOREST VERSION)") is a classic by the famous producer mothy. Just listening to it brings back memories! It's available on the Evils Forest album or alone. If you want, you can also pick up Evil's Theater and Evil's Court.
[nnd src=6875060]
"時忘人" (also known as "Time Forgotten One" or "The One Forgotten By Time") by 仕事してP
This is one of the first KAITO songs I've ever listened to. Can you believe this features KAITO's VOCALOID 1 voice bank? Even now, it stands the test of time and sounds amazing. While I personally got a high quality copy from the sold out KAITO 10th Anniversary -Glorious Blue- album, fans can grab a digital download alongside many of 仕事してP's songs or alone.
It's also available on EXIT TUNES PRESENTS Vocaloanthems feat. Hatsune Miku.
KAITO Themed Piapro Blog
The Piapro blog sported a KAITO illustration to celebrate his 11th anniversary. They're also holding a survey with prizes ranging from KAITO's voice bank, to KAITO figures, and other KAITO merchandise. However, it's only open to Japan as far as we can tell.
Happy birthday to KAITO!
---
Sources: KARENT, Piapro Blog, Project DIVA Official Website