The artists line-up for the KSL Live World 2020 REFLECTION BLUE Summer show has been announced officially and is shaping up to be an incredible experience!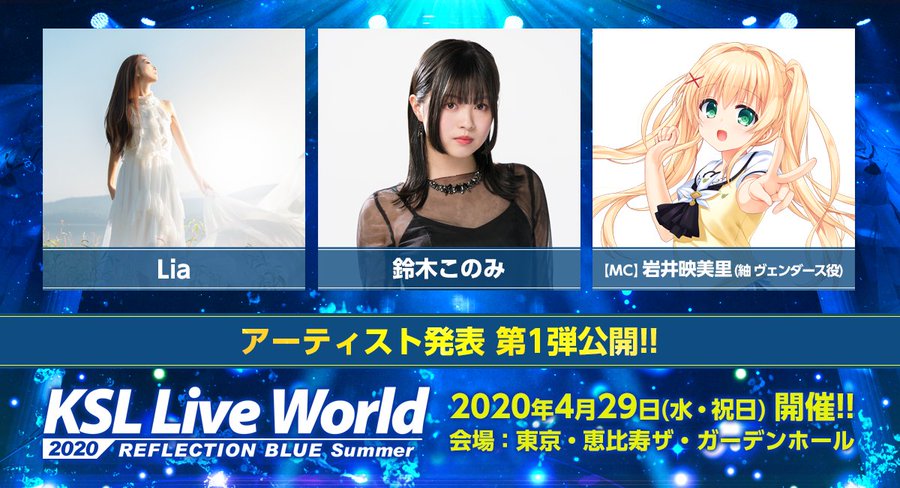 Artists Line-Up for KSL Live World 2020
As the announcement dictates, we'll be able to see many familiar faces perform at the event and these include:
Lia
Konomi Suzuki
Emiri Iwai (MC)
And many more that haven't been introduced just yet!
Important Information
The show is organized by the all-time favorite Japanese game and anime company VISUAL ARTS alongside Key as the planners. As for the venue, the KSL Live World 2020 event will take place at YEBISU GARDEN PLACE (4-20 Ebisu, Shibuya-ku, Tokyo) on April 29, 2020 with TWO shows for everybody to enjoy.
Considering the show will occur during a holiday and knowing how busy it will be, the following official instructions on behalf of the organizers should make your experience a lot easier:
Yebisu Garden Place has limited parking lots. Holidays can be particularly crowded, so use other means of transportation whenever possible. Never park illegally on nearby roads.
There is a limited number of coin lockers in the venue, so please come as lightly as possible.
Refrain from attending in cosplay. Only staff and related parties can do so.
Smoking is prohibited on the premises. If you would like to smoke then use the designated smoking area.
During the live performance, recording using cameras, tape recorders, audio players, laptops, mobile phones, smartphones, etc. is strictly prohibited.
How cool is the line-up though, guys?! Let us know how excited you are in the comments below!
Sources
KSL Live World 2020 Official Website (JP)