Life-size figurine maker, FIGUREX, has just opened pre-orders for the life-sized figure of Yuzuki Yukari Police ver.!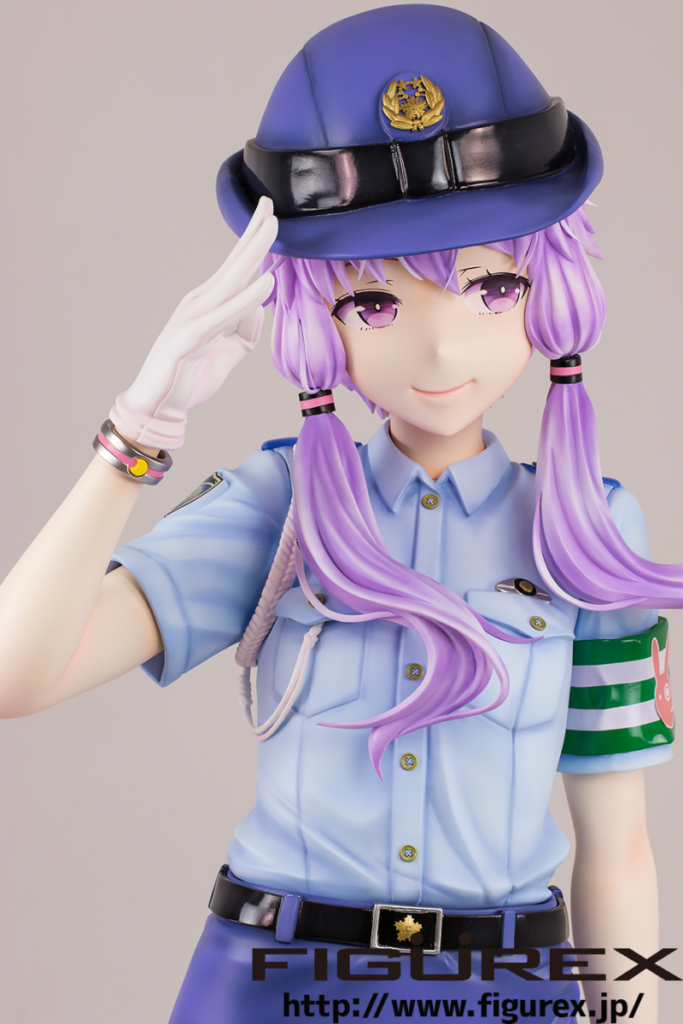 As with FIGUREX's previous life-sized Yuzuki Yukari Kappōgi ver. figure, the prototype model was created from a 3D scan of a human body, which was then meticulously touched up with minute details like hair flow and clothing wrinkles before being sent to a 3D printer. Once printed out, the model was coated with a layer of all-natural PLA (as opposed to synthetic and potentially cancer-causing FRP) and then painstakingly airbrushed all over, down to the finest detail. She comes with a removable police cap and a Bluetooth-enabled pedestal with a speaker for playing back any audio recording.
For even more pictures of the Yuzuki Yukari Police ver. life-sized figure, check out the official blogs for FIGUREX, Castoff Tengoku, and Dengki Hobby Web!
Figure Details
Dimensions: About 35 cm (L) x 60 cm (W) x 162 cm (H)
Maker: FIGUREX
Prototype Model: be-full
Material: FRP-free polylactic acid
Production Limit: None
Price: ¥1,280,000 JPY (about $12,800 USD)
Release Date: Around the end of April 2018
Shipping Details
A special pre-order period will take place between June 27th at 12:00 AM and July 27th at 11:59 PM (JST).
Domestic shipping will cost ¥150,000 JPY (about $1,500 USD). However, those who pre-order the figure within the first month (from now until July 27th, 2017) will have their shipping charges waived, so anyone who wishes to save an extra ¥150,000 JPY would do well to pre-order soon!
Pre-orders are open on FIGUREX's online store here!
There is not yet any word on international shipments from FIGUREX, but VNN will keep you updated as details become more clear.
About Yuzuki Yukari Police Ver.
Yuzuki Yukari Police ver. was originally illustrated by Juu Ayakura, and made her debut in the crime-prevention app Digi Police, subsequently receiving a 1/8th scale figure from Pulchra in April of this year. Soon afterwards, FIGUREX then unveiled the unpainted prototype model for her life-sized figure at the Yuzuki Yukari-centered Koe Tsuki convention in May.
石黒千尋さんに同じポーズをとってもらいました!(;ω;)アリガトウゴザイマス#石黒千尋 #声月参 #結月ゆかり pic.twitter.com/DC24eWkAZR

— FIGUREX (@figurexjp) May 4, 2017
Chihiro Ishiguro-san striking the same pose for us!(;ω;)Thank you so much!
Yuzuki Yukari Police ver. is now easily one of the most popular designs for the already immensely popular VOCALOID and VOICEROID character, and this author personally cannot wait to see more merchandise created from her!