Our beloved Luo Tianyi is collaborating and appearing in a lot of places these days! Now it seems that she will also be at the Lizhi Voice Festival alongside many other internet personalities on May 18th!
A Virtual Idol at Lizhi Voice Festival!
Lizhi Voice Festival will be held on on May 18th and is hosted by Guangzhou Lizhi Network Technology Co., Ltd.
There will be a lot of special guest there, specifically popular personalities from the Chinese online scenes and, alongside them, we can clearly see Tianyi being teased as the sole "Virtual Idol" attending this event!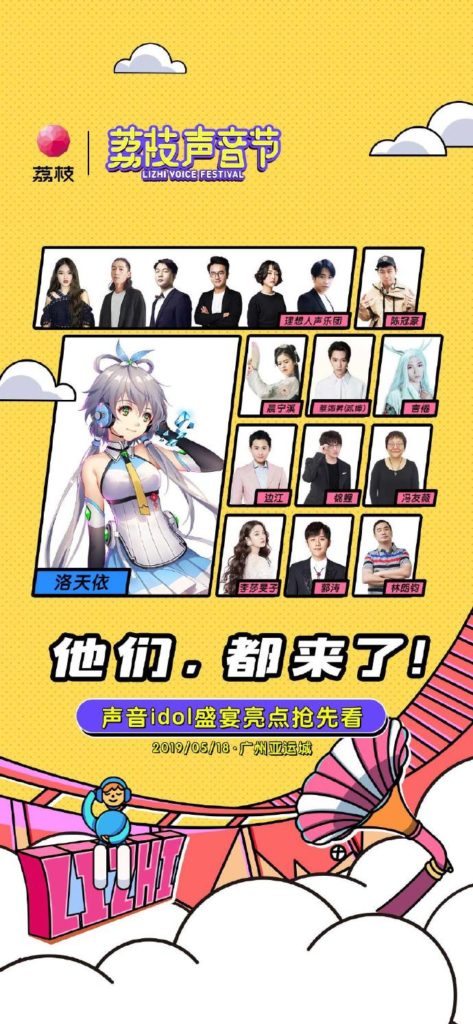 The event will be held at the Guangzhou Asian Games City's Multiple-use Gymnasium. You can find a map of the location below!
Tickets are free of charge! You can get yours by clicking here.
There also seems to be an "After Party Ticket",  however, we are not sure if Tianyi will attend this as well.
Source
We are really so glad Tianyi is getting much more attention lately, bringing some awesome events to Chinese fans, and we cannot be happier about that! Do you plan to attend? If so we hope you will have lots of fun of course!
Don't forget to stay tuned with us on VNN for further news about virtual singers!
Luo Tianyi is on Facebook, Twitter and Weibo
Vsinger also is on Facebook, Weibo and Youtube
Lizhi Voice Festival Official Website
Posts on Weibo by 荔枝APP and Luo Tianyi's Weibo