Giving our support to talented artists is somehow VNN's own personal mission, and today we would like to give Lystrialle's first album "You, in the Endless Starlight" a spotlight.!
This marvelous album will be a very loved jam for any MEIKO and KAITO fans and will be released on May 23rd!
Crossdemo and Tracklist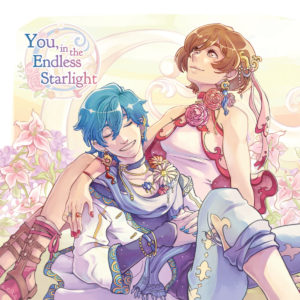 Showing off an enchanting cover art drawn by Syrahde and a design made by asa+kari, alongside a tracklist filed with lovable songs performed by the older duo of Piapro's crew, this album will tell you a story about connections between people.
Lystrialle's music is somehow very peculiar, and you all probably already heard her songs around. We were personally so happy to see this producer finally debuting their first album and, if you are a fan of MEIKO and KAITO, you will surely fall in love with this tunes! Let's check them out together!
Tracklist
Philia (Instrumental track)
Sentinel (Covered by MEIKO)
Thank You, It Was Fun
From the City of Lost Dreams (Instrumental track)
All of those songs are absolutely memorable and we cannot wait to listen to its exclusive instrumental songs as well!
The digital version of the album is available as pre-order via Bandcamp for 6 USD, iTunes for 7,92 USD, and near in the future on Amazon as well!
By purchasing it from the first option of the three you will get access to an unlimited Bandcamp streaming, alongside the tracks in higher quality in both MP3 and FLAC format!
Limited Physical Edition
This album will also be getting a limited physical edition of it, of course!
This edition is priced 10 USD will only be available in a limited amount of units via pre-order on Bandcamp, so you may need to pre-order yours fast before it's too late!
This same version will be in sale during the doujinshi event Vocaloid Paradise Extra Edition held in Nagoya on May 19th. If you are attending it, this might be your chance to get your hands on this awesome album!
Did we spark your interest?
If so, we eagerly wait for your comments about this album! We sure liked it a lot and cannot wait for its release!
Don't forget to stay tuned with us on VNN to not lose any news about your favorite virtual singers and various talented artists revolving them!
You can find Lystrialle on Twitter, SoundCloud and Youtube.
"You, in the Endless Starlight" Album Product Page on Bandcamp and iTunes.