Vsinger announced on Weibo that the Luo Tianyi VOCALOID 4 update is official. They confirmed that they already made an appointment with her voice provider ShanXin for her V4 voice bank recording. Although leaks and rumours about Tianyi V4 had been spreading in the Chinese fandom since 2015, this is the first time Vsinger has made an official announcement about the update. Vsinger engineer 人形兔 had also hinted that she will receive an append voice bank as well.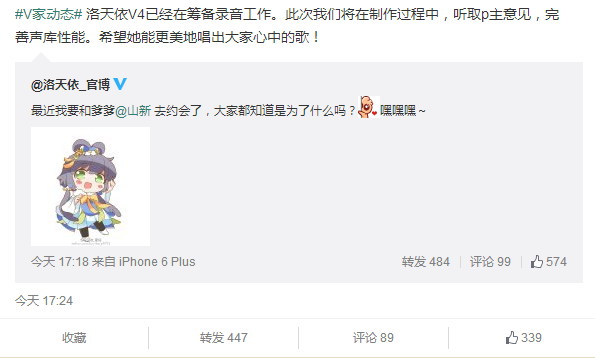 Translation:
Luo Tianyi_Official: I'm gonna have a date with my beloved mommy ShanXin. Guess what will happen? Teehee~

Vsinger_Official: We are now prepared for Luo Tianyi's V4 recording. We will take into consideration the advice given by VOCALOID producers and make improvements for her voice bank quality. We hope she can perform songs in your heart even more perfectly.
Being the first Chinese VOCALOID voice bank, Luo Tianyi is the most frequently used VOCALOID in the Chinese fandom. Yet, her imperfections such as a limited vocal range, unclear pronunciation, etc. had always brought challenges to her users. Vsinger's promise to improve her voice bank quality will be the best news for Luo Tianyi's fans. She is also the first non-Japanese voice bank to receive an update.
As we know, YueZheng Longya will still be Vsinger's major focus for now. Therefore, Tianyi V4 will most likely happen in 2017. Now fans are left to wonder "Will she get a new design?" or "Will Vsinger ever consider releasing her canceled Japanese voice bank in her next update?". We will have to wait for more information.
---
Source: Vsinger's Official Weibo