It's been more than six months since Tianyi had her chance to star on TV, where she sang "花儿纳吉" with the Chinese singer 杨钰莹 during the 2016 Hunan TV New Year Gala. On October 15th, Tianyi had the opportunity to perform again at China's 11th Golden Eagle Art Festival, this time she singing "权御天下" and "刀剑如梦" with 圈9 and 付辛博。

She appeared on TV by using AR technology. Her performance was quite impressive as she entered by riding in a warship while wearing a suit of armor, singing "权御天下" by WuGui, one of her most well-known songs. They chose to use the original tuning by 挨批熊, however, they did not reveal who the tuner was in her next song, "刀剑如梦".
A day before the Goldern Eagle Festival, Luo Tianyi's official Weibo uploaded a photo showing they were undergoing rehearsals.
#Luo Tianyi at the Golden Eagle Festival# Tomorrow will be the Golden Eagle Festival, and I assume we will be rehearsing until late night again, live broadcasting always scared me a little. This time I will be singing my favorite song, and there will be quite a lot of senpai's watching my performance too, what if I screw up? So nervous. Anyway, I am getting more chances to practice, and hopefully I'll do better on my own stage next year.
Many believe they are hinting that she will finally be getting her own live concert next year, but we will wait for the official announcement from Vsinger. VNN will surely deliver the good news if this is revealed.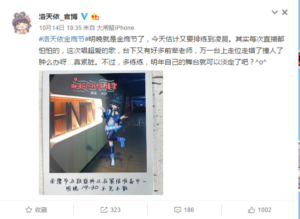 Golden Eagle Festival
China's Golden Eagle Television Arts Festival is one of the ceremonies for the China's TV Golden Eagle Award. It's the first local TV award ceremony where the winners were nominated and chosen by the audience.
You can watch the full performance below. Head over to 54:25 on the video to view Tianyi's performance.