Our beloved CV03 and Piapro character Megurine Luka's growing one year older! In fact, we'll be celebrating her 10th anniversary on January 30th! Time truly flies fast,  doesn't it? Of course, Luka and her fans will be more than happy to celebrate their favorite pink haired diva with some events and goods from her Birthday Party in Shibuya Marui!
About the Event
If you're in Japan right now and plan to be during January, know that the Megurine Luka 10th Anniversary Birthday Party in Shibuya Marui will be held from the 25th to the 31st of the month on the 8th floor of Shibuya Marui, and lots of merchandise will be available there! If you're interested, here's the location!
During the event, lots of goods will be available, including a special message board where you can wish Luka a happy birthday!
Merchandise
Of course, there will be a lot of special merchandise, illustrated by Haru Aki and Youno, available during the event, starring all of Piapro's characters including Luka, of course. There are so many kind of products that we are sure you will find something you like!
Pricelist
A1 Tapestry (Haru Aki): 3,780 Yen
Can Badge (18 types): 540 Yen (Each)
A4 Clearfile set (Haru Aki or Youno): 1,404 Yen
Acrylic Stands (Haru Aki): 1,620 Yen
Acrylic Stands/Keychains (Youno): 864 Yen
Acrylic Passholders (Haru Aki): 1,944 Yen
Megurine Luka 100mm Can Badge (2019 Anniversary ver.): 756 Yen
Megurine Luka Acrylic Keychain (2019 Anniversary ver.): 1,296 Yen
Megurine Luka A4 Tapestry (2019 Anniversary ver.): 1,620 Yen
Megurine Luka Postcard (2019 Anniversary ver.): 216 Yen
For every 1,000 JPY spent buying goods, starting January 28th, you will also get a special illustrated birthday card. Those are limited and won't last forever, so be sure to grab yours!
Coin Pendant
There will also be a special Coin Pendant on sale, inspired by Megurine Luka and priced 10,800 JPY. We still don't know it's design, but will feature a cubic Zirconia and will be made in Silver 925.
Lottery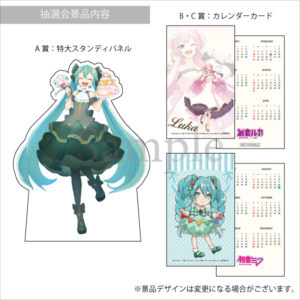 During the event there will also be a special lottery for everyone that spends at least 3,000 JPY using credit cards such as "Epos Card" and the Hatsune Miku MasterCard and VISA cards. Some exclusive goods will be available:
Special prize: Coin Pendant (Pink Gold ver.) – 1 available
Prize A type: Cardboard Cutout (extra large) (6 types)  – 6 available
Prize B type: Calendar Postcard complete set (12 different types) – 10 available
Prize C type:  Calendar Postcard (chosen randomly from 12 different types)
As for now, overseas customers can't buy these goods, but we will keep you updated in case some international reseller offers them in the future. Let's give Luka all the love and support she deserves on her 10th anniversary!
Sources: Vocaloid Buy Blog and ETERNO RÉCIT