Gynoid's latest addition to their vocalist cast, Meika Hime and Mikoto, took the fanbase by storm with their leak on Amazon JP a few hours ago. Now, the two are officially announced by the company, alongside their demo songs on the VOCALOID5 engine!
Downloadable Content
With their official reveal, Gynoid also shows us not only their full bodies drawn by Miwashiba, but also a pair of MMD model of them made by mqdl and a set of standing poses materials drawn by Niijima Akiichi!
Those free downloadable materials will be released on their website on March 30th, so stay tuned!
Extra Voice Pack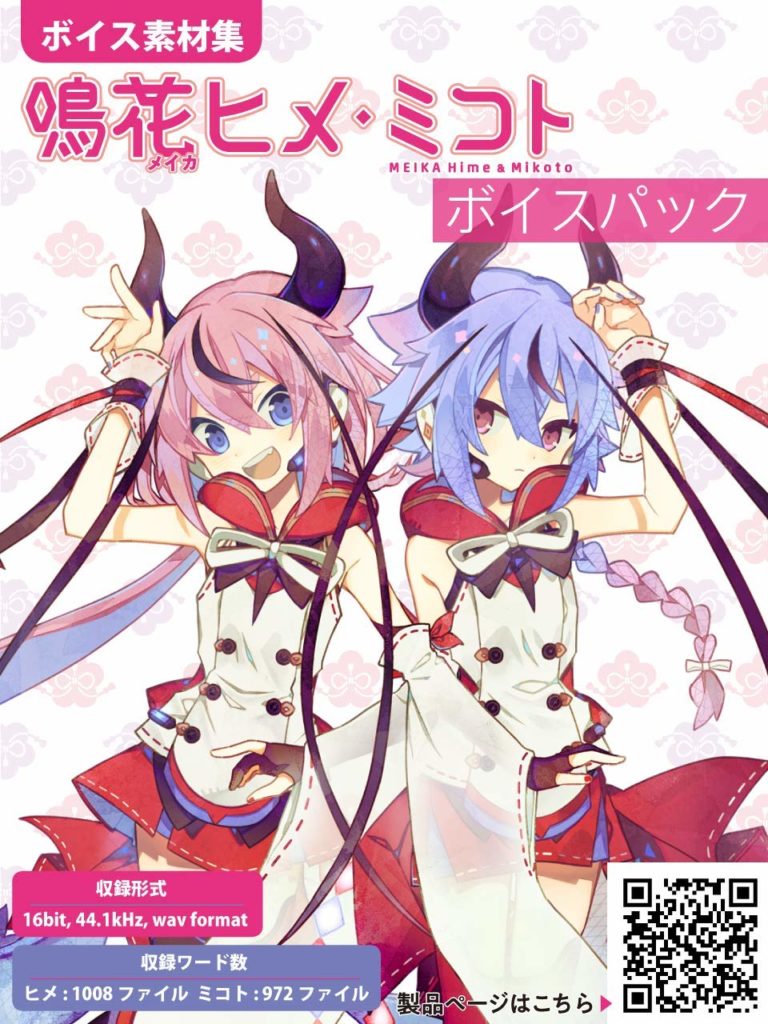 You will also be able to buy an extra voice pack of both Hime and Mikoto on Amazon JP! This voice pack features 2000 voice samples (1000 for each character).
Click here to go to its product page.
Demo Songs
Thanks to the addition of their product pages on Gynoid's website, we can now discover a lot more about these two new virtual singers appearing to be themed after plums! The most important update, however, comes with their VOCALOID5 official product page: where we can now listen to their demo songs, all composed by talented producers! Check them out below!
Special Girl by rerulili, featuring Meika Hime and Mikoto (duet)
Angel by Kairiki Bear, featuring Meika Mikoto
Buglug by seeeeecun, featuring Meika Hime
Meika by Koiwai Kotori, featuring Meika Hime and Mikoto (duet)
Thanks to those demos, we are finally able to hear both of Hime and Mikoto at their finest! We can also hear their speech samples at the very beginning of the videos, which appear to be quite HQ!
You can check their official page on Gynoid's website by clicking here.
Their VOCALOID voice libraries are available in both digital and physical versions via Amazon JP
Gynoid Talk
Hime and Mikoto are the first known character to possess their own speech voicebank on this engine and its official of course!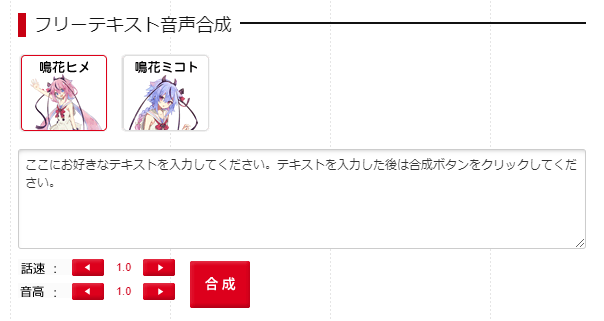 Although there is no demo for their talking banks, you can test them out by using the textbox above on their Gynoid Talk product page! Select one of the two characters, write a sentence, and press the red button to hear them talk!
Their Gynoid Talk software is available in both digital and physical versions via Amazon JP
More Information
We can pretty much confirm all of the details we wrote on our previous article about Hime and Mikoto's Amazon leak, so if you missed it and want to know more about the new virtual singers from Gynoid, you should really check it out!
While we wait for their release on March 30th, stay tuned with us on VNN for more updates on your favorite Virtual Singers!
Leaked Two New VOCALOID5: Meika Hime and Mikoto!
VOCALOID5 Meika Hime and Mikoto Product Page on Gynoid's Website
Gynoid Talk Meika Hime and Mikoto Product Page on Gynoid's Website
Gynoid Official Twitter Account
Official Press Release
Reveal Tweets