Exciting news! Virtual Cast, Inc. and Gugenka Inc. recently announced details for the winter event at the official Hatsune Miku virtual amusement park, "MIKU LAND β SNOW WORLD 2021"! It is set to open soon, as of this February 6-7, 2021. Users from all across the world will be able to visit throiugh the VR live communication service, Virtual Cast, or the AR app HoloModels (with free admission!).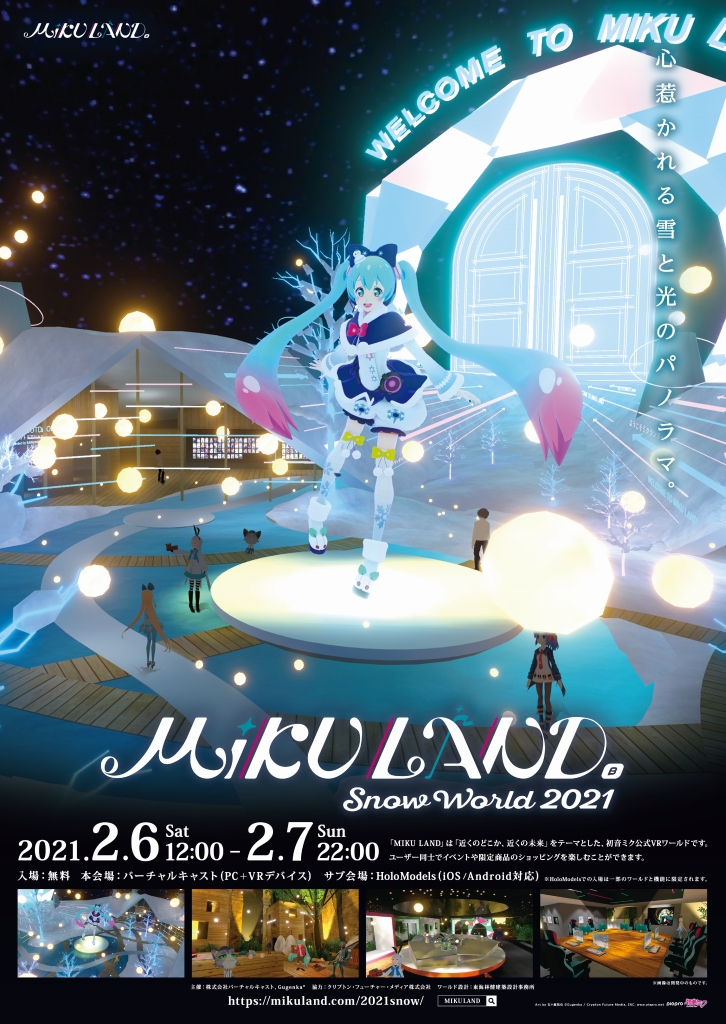 MIKU LAND is an amusement parked themed after Hatsune Miku and hosted through Virtual Cast, a VR communication services operated by Virtual Cast, Inc. With previous success of the opening of MIKU LAND GATE β that was available for a limited time in August 2020, this update will introduce a beautiful winter-themed area called "Snow Globe Illumination". It will feature new attractions and activities for both Miku fans and VR enthusiasts to partake in safely.
Photos from the previous MIKU LAND GATE: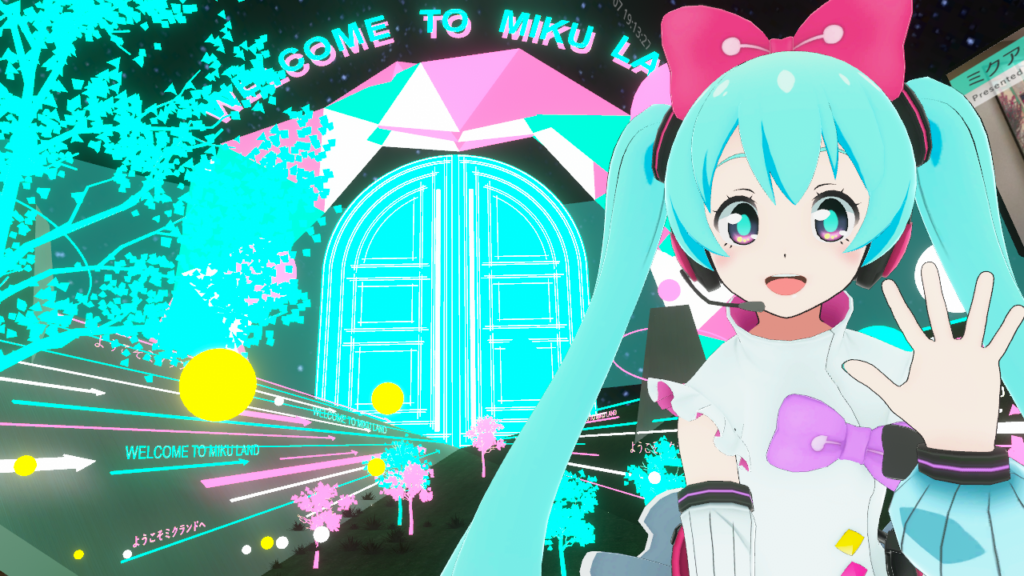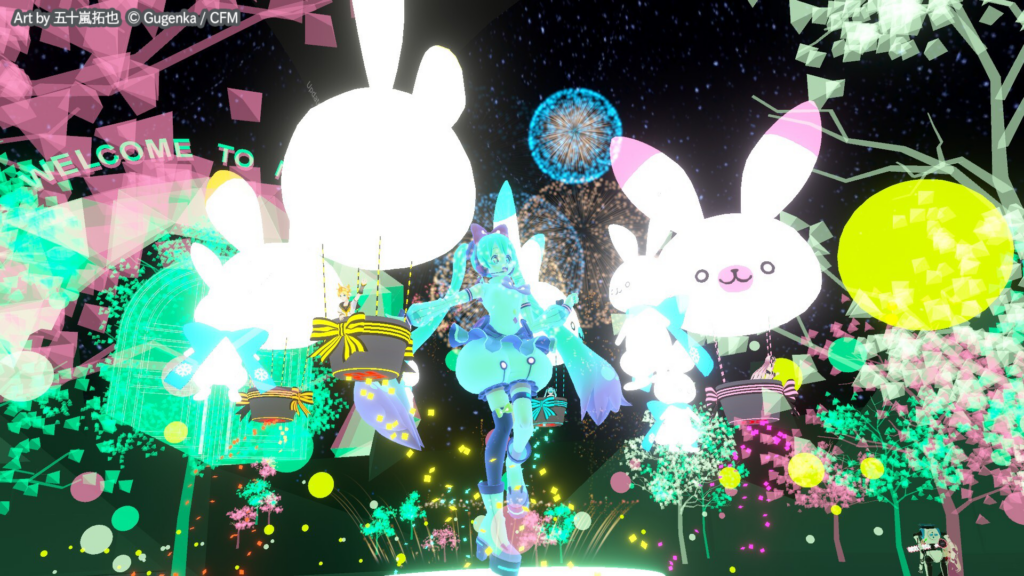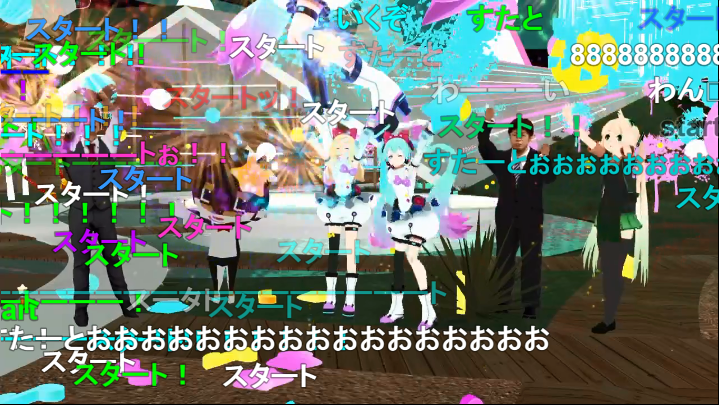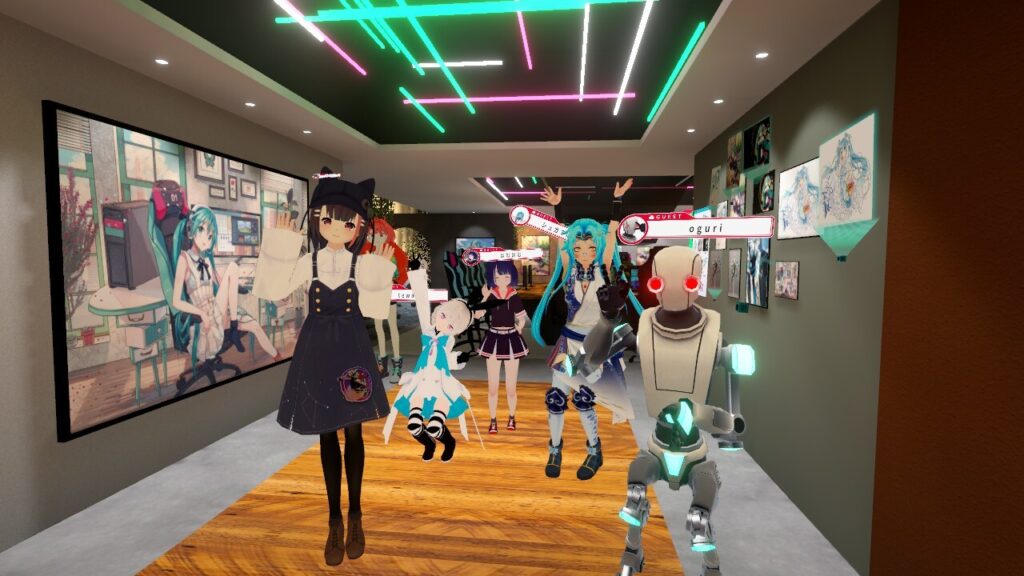 Snow Globe Illumination Activties!
Sky Night Walk
A walk through-attraction that features a scenic tour around the Snow Globe Illumination. It's inspired by the gorgeous night views of Hokkaido, Japan, and is coupled with some neat special visual effects!
VR Snowball Fights
With the use of "Snowball Fight Gloves", a virtual item that you equip, users can create and throw snowballs from their avatars' hands! You'll be able to enjoy a fun snowball fight with multiple players using the dedicated snowball fight stage, which boasts its own snow forts. The best part – you won't get cold doing it!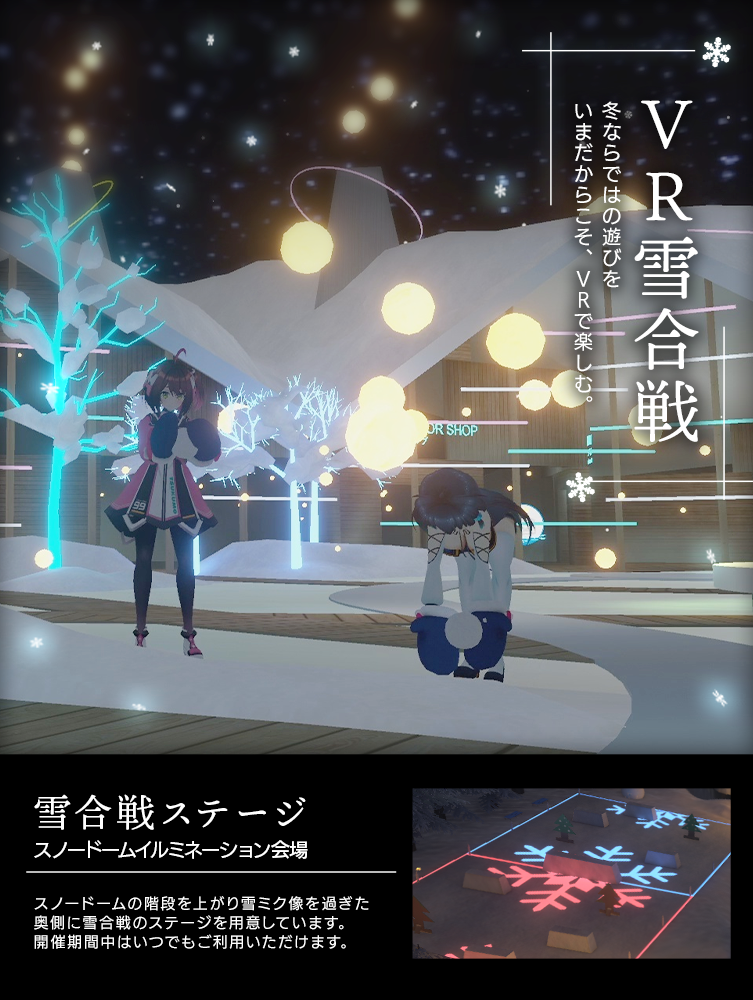 Character Meet and Greet
Ever wanted to take a photo with a popular character, like Hatsune Miku? You'll be able to find them at the central plaza and take group selfies!
Piapro Snow Sculpture Exhibition
Entries that were selected from the completed Piapro Fan Snow Sculpture Contest will be displayed within the venue. You'll be able to take a look at virtual snow sculptures that have been designed skillfully by users!
Merchandise
For merchandise enthusiasts, you'll be delighted to know that there is a wide variety of event-exclusive merchandise, both virtual and physical. Many of these can be used without logging out! Among them: Snowball Fight Gloves, Yukine Rabbit themed VR drones that can fly around the area, and portable rhythm game machines (which include 3 songs: "Melancholic", "Day & Night", and Miku Land theme song "Happy Coaster).
There will also be many variations of popular digital figurines, including the poseable life-size Snow Miku (2021 Ver.) and plushie-sized Hatsune Miku and Shinonome Megu figures that visitors can use to decorate their personal space! Merchandise that was sold at the previous MIKU LAND will be available as well.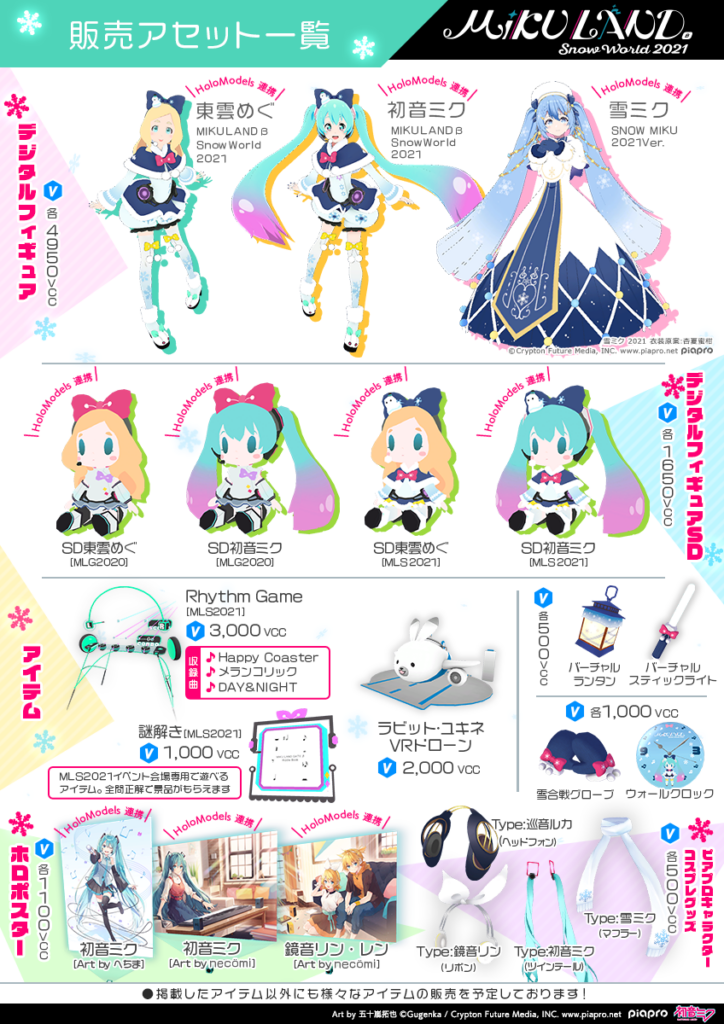 Sapporo Snow Festival 2021 Collaboration
During the duration of the MIKU LAND β SNOW WORLD 2021 event, a virtual replica of Sapporo Snow Festival's Snow Miku snow sculpture will be displayed inside the Snow Globe Illumination area for everyone to enjoy! In addition, the shop area inside Snow Globe Illumination will showcase pictures of other snow sculptures displayed at the snow festival. It really makes you want to see them in person one day when the right time to do so comes around!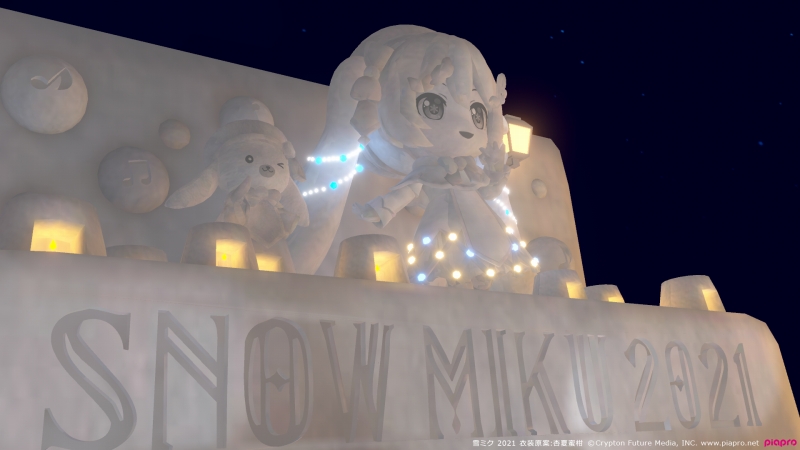 Live-Streaming
You'll be able to catch live-streams of the event, including the Opening Ceremony and Closing Ceremony on Niconico or Youtube!
Day 1: Feb. 6th, 2021, 11:30-22:00 JST (Opening Ceremony: 11:30-12:00 JST)
Niconico
Youtube
Day 2: Feb. 7th, 2021, 12:00-22:00 JST (Closing ceremony: 12:00 JST)
Niconico
Youtube
More Links!
Download Links:
Virtual Cast (Steam)
HoloModels (App Store)
HoloModels (Google Play)

Those on PC can visit MIKU LAND β SNOW WORLD through Virtual Cast and those without PC/VR equipment can participate through the smartphone app Holomodels provided by Gugenka.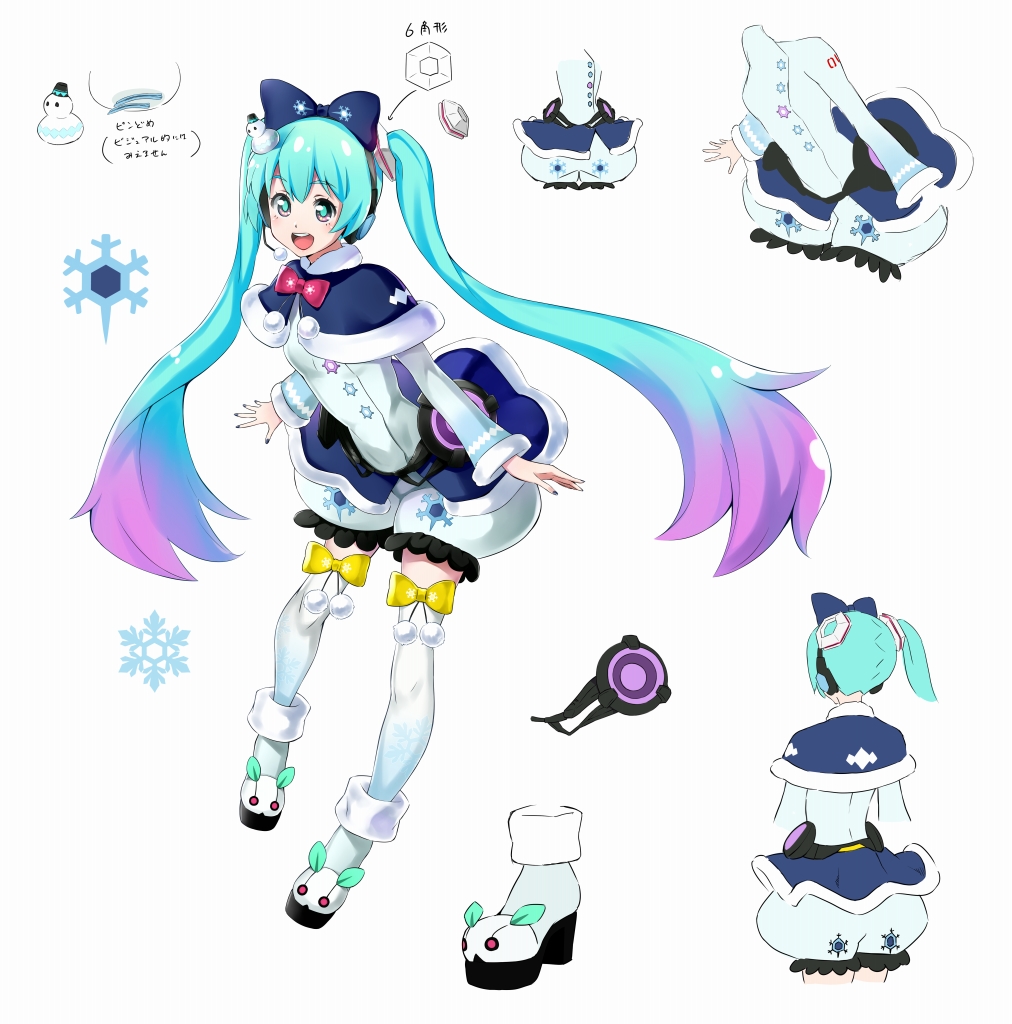 And a bonus for our readers! The design for MIKU LAND β SNOW WORLD's Hatsune Miku! Will you be visiting her this event? Let us know!