We hope your summer has been going well! It was announced recently by Virtual Cast, Inc. and Gugenka Inc. that Miku Land, a Hatsune Miku themed amusement park hosted in virtual reality via the Virtual Cast application, will be having its summer event titled "Miku Land 2021 Summer Vacation"! The event will take place during August 27, 2021 – August 31 – 2021. Users may remember the spring event also held in Miku Land, which we looked into in our previous article here.
A Summer Vacation to Remember
Brand new summer-themed areas are one of the highlights of this event! You'll be able to explore an underwater concert stage, a tropic beach, and a mysterious haunted house…
In addition, the central plaza has been transformed into a Japanese summer festival venue! Visitors can experience Bon Odori, a traditional Japanese festival dance, with Hatsune Miku.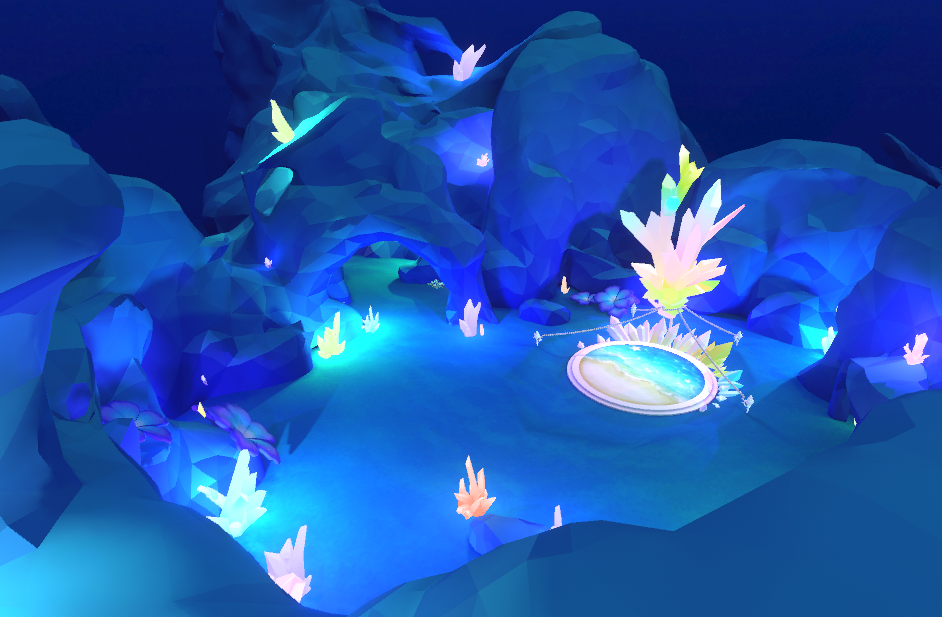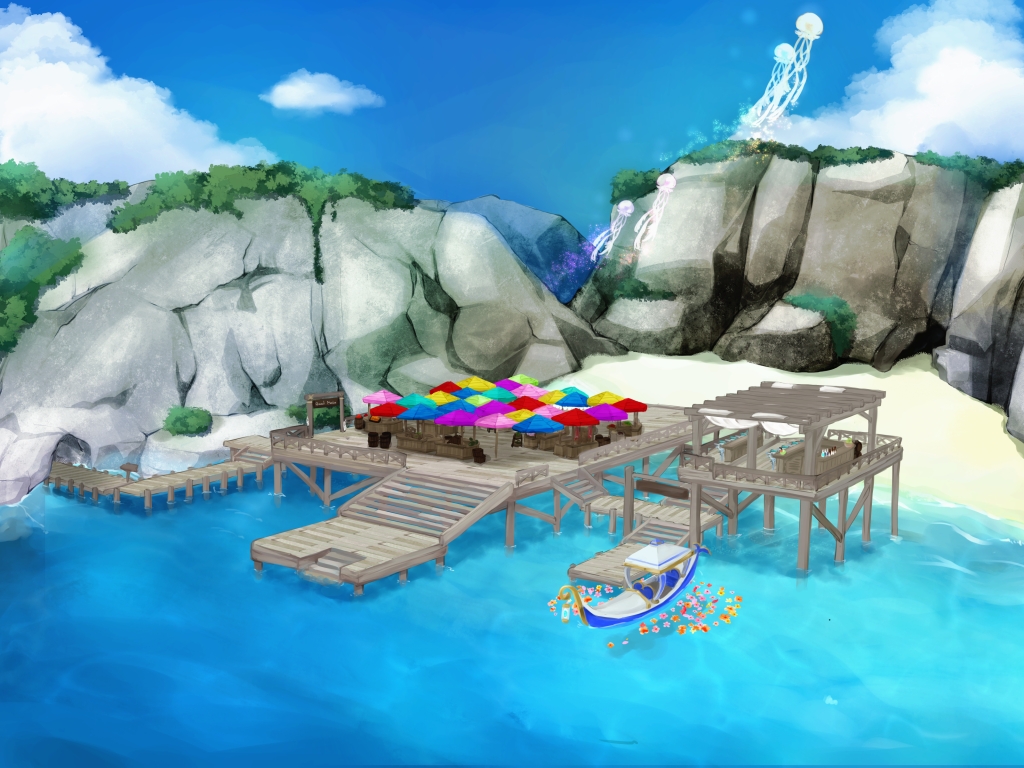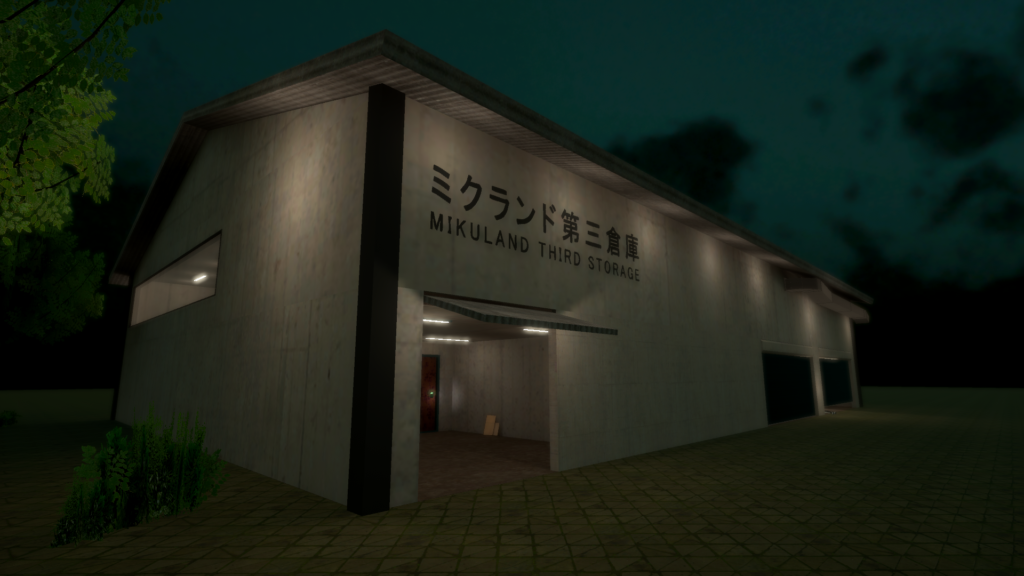 Meet and Greet featuring New Characters
One of the main attractions of Miku Land is the ability for you to take pictures with Vocaloid characters – including Hatsune Miku, Kagamine Rin & Len, Megurine Luka, and popular idols. For MIKU LAND Summer Vacation, you will be able to see special guest Tokino Sora from VTuber agency Hololive! Additionally, the idol group produced by Square Enix, GEMS COMPANY, as well as VTuber Shinonome Megu, are making an appearance once more. And to top it all off, Mikudayo and Snow Miku's pet character Rabbit-Yukine are part of the meet and greet events!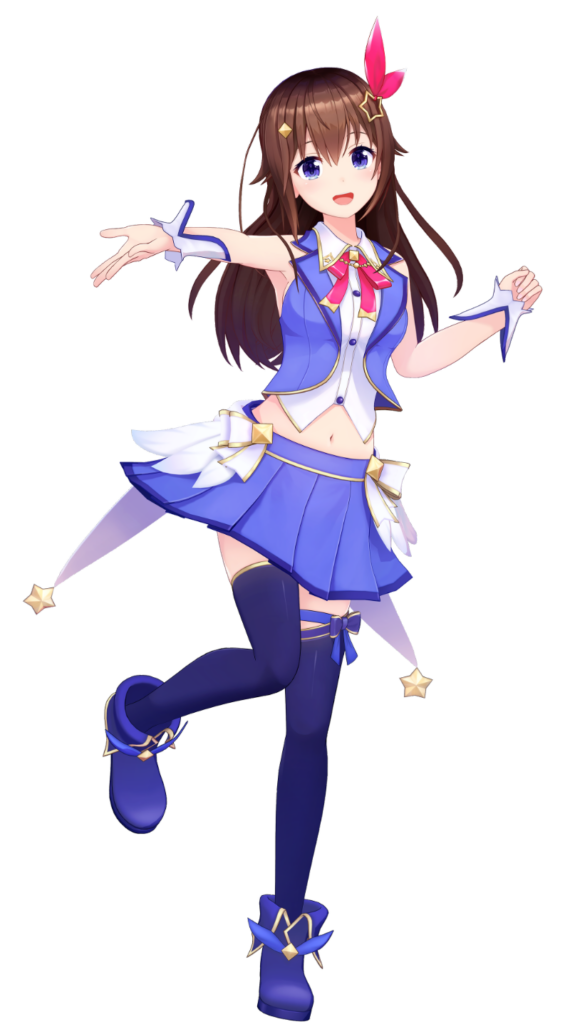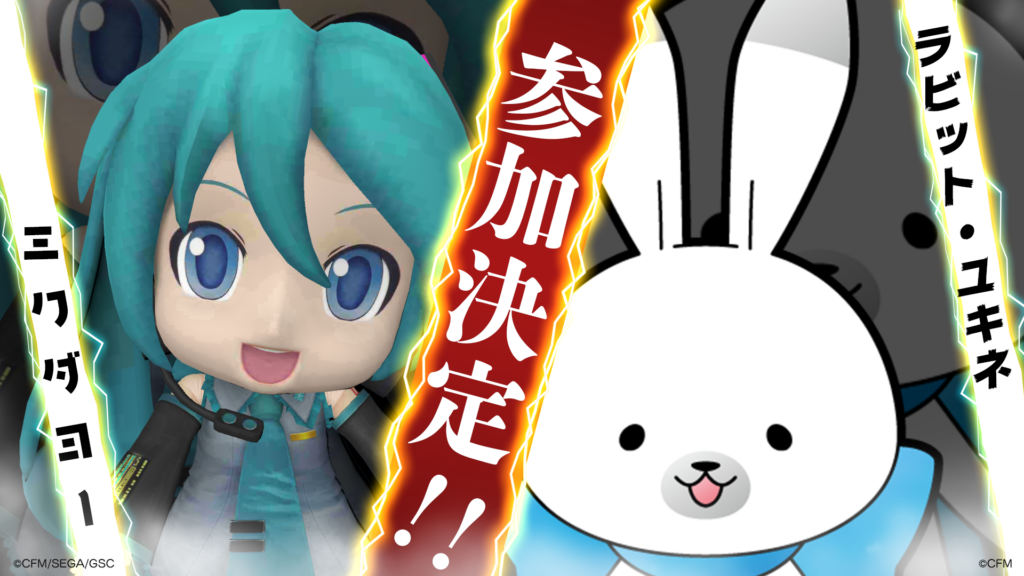 VOCA COLLE VR Night in MIKU LAND, Celebrating Hatsune Miku's 14th Anniversary
Taking place on August 31st, from 17:00-21:00 JST, this clubhouse event will be taking place! It features Vocaloid songs ranging from popular classic to new trending songs from The Vocaloid Collection. This special event is going to celebrate Hatsune Miku's 14th Anniversary, and it will stream live on Niconico. Guest performers include Tokino Sora, GEMS COMPANY, Shinonome Megu, Mikudayo, and Rabbit-Yukine.
Live-Stream Link: https://live.nicovideo.jp/watch/lv333042154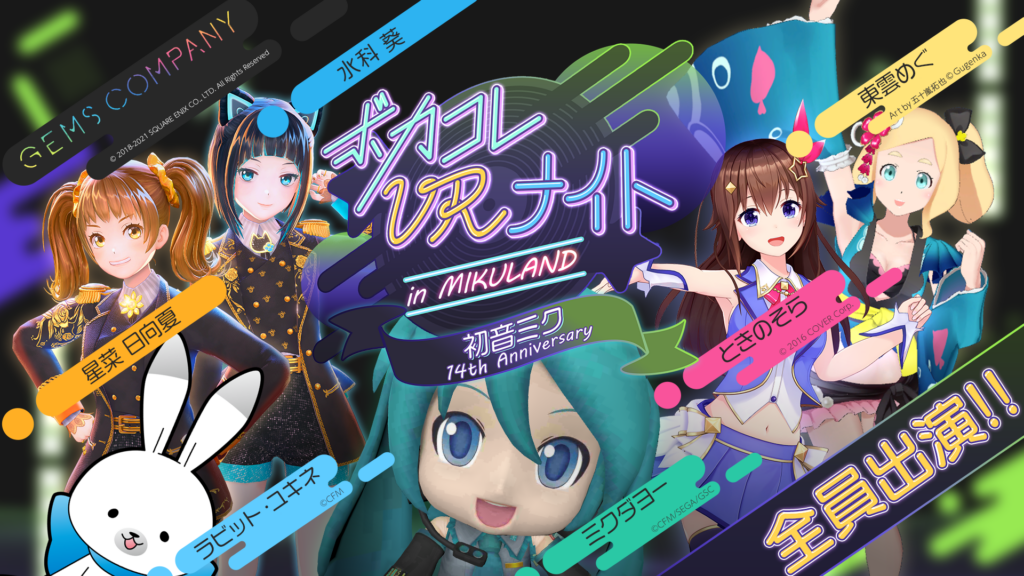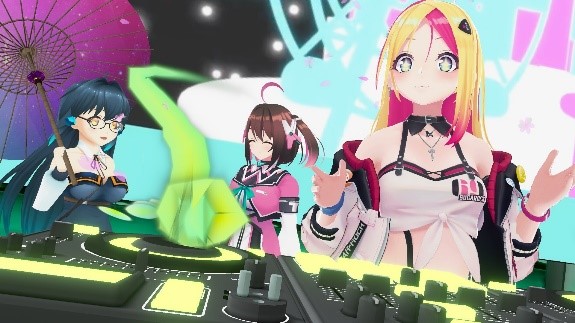 Hatsune Miku & Shinonome Megu Acoustic LIVE Event
We are excited to let you know that both Hatsune Miku and MIKU LAND's official ambassador, Shinonome Megu, are performing a virtual concert at the MIKU LAND Mermaid Stage. Hatsune Miku will be on vocals and Shinonome Megu on chorus and guitar! The duo will cover songs such as MIKU LAND's theme-song Happy Coaster [music/lyrics: emon(Tes.)], and Shinonome Megu's original song Happy Free! Live streaming of the concert will be available to those who cannot attend in the VR space.
Tickets: 1650 Yen (tax included)
Submission Form (Lottery): https://docs.google.com/forms/d/e/1FAIpQLSc2w1VUrITIiWPiM-R-4CQtbnXZqhN9mrQNAqiJYQrblabFkw/viewform?usp=send_form
Submission Deadline: August 23 (Mon) 23:59 JST
Concert Schedule:
August 27 (Fri) 20:30 – 21:00 JST
August 28 (Sat) 19:30 – 20:00 // 21:00 – 21:30 JST
August 29 (Sun) 19:30 – 20:00 // 21:00 – 21:30 JST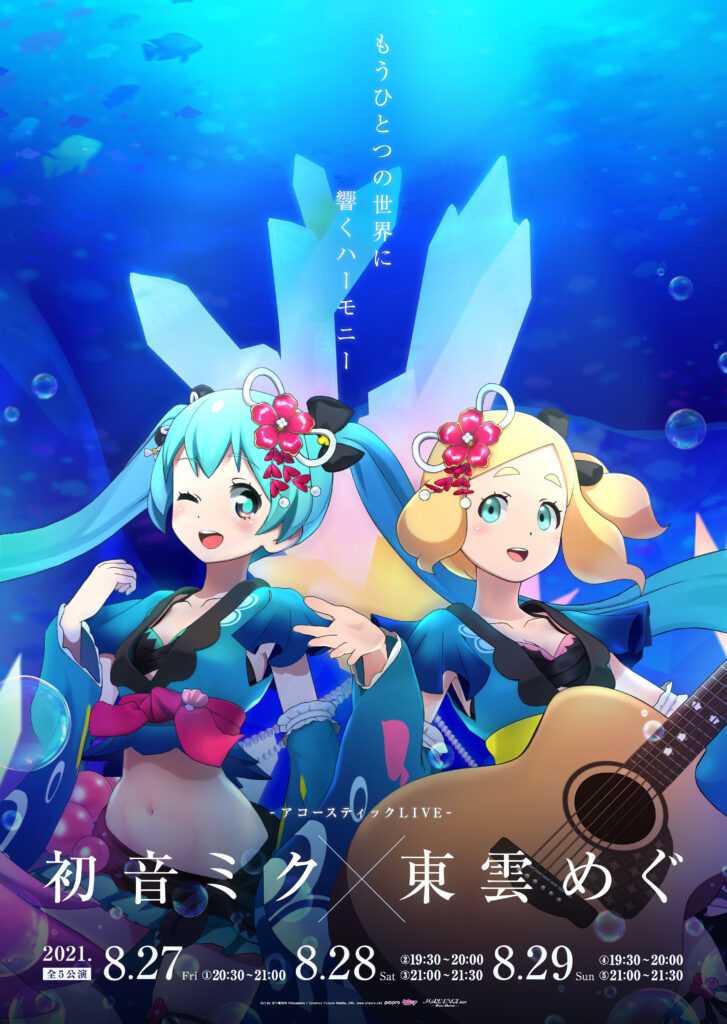 Exclusive Vocaloid VR Merchandise
Like previous MIKU LAND events, you'll be able to purchase event-exclusive merchandise. These new virtual items are inspired by popular Vocaloid songs including the paper mask featured in ROKI (Music: Mikito P / Art : Rocoru) and the school backpack from Shoujo Rei (Music: Mikito P / Art: Katou Rei). These items can be worn by avatars in Virtual Cast.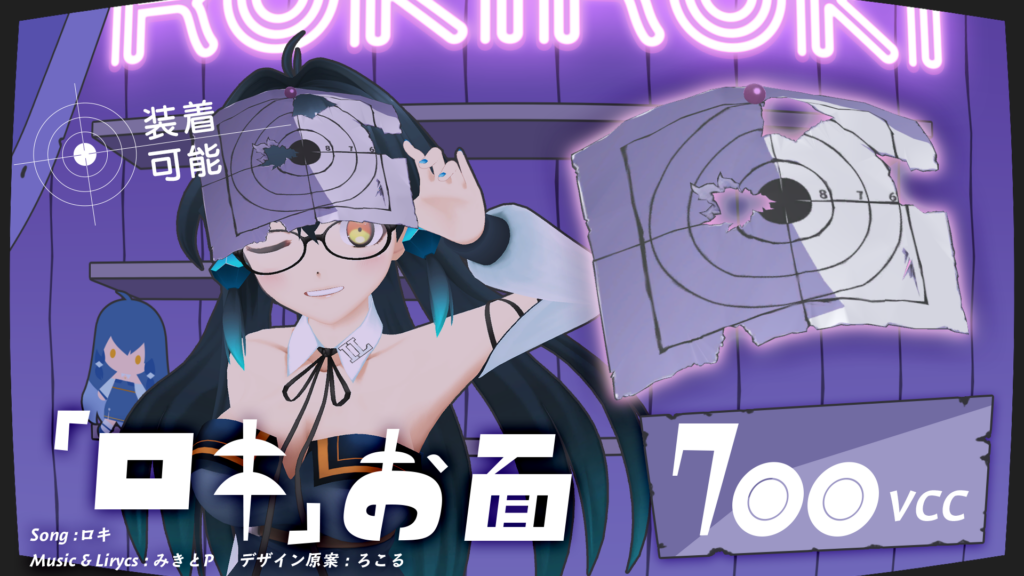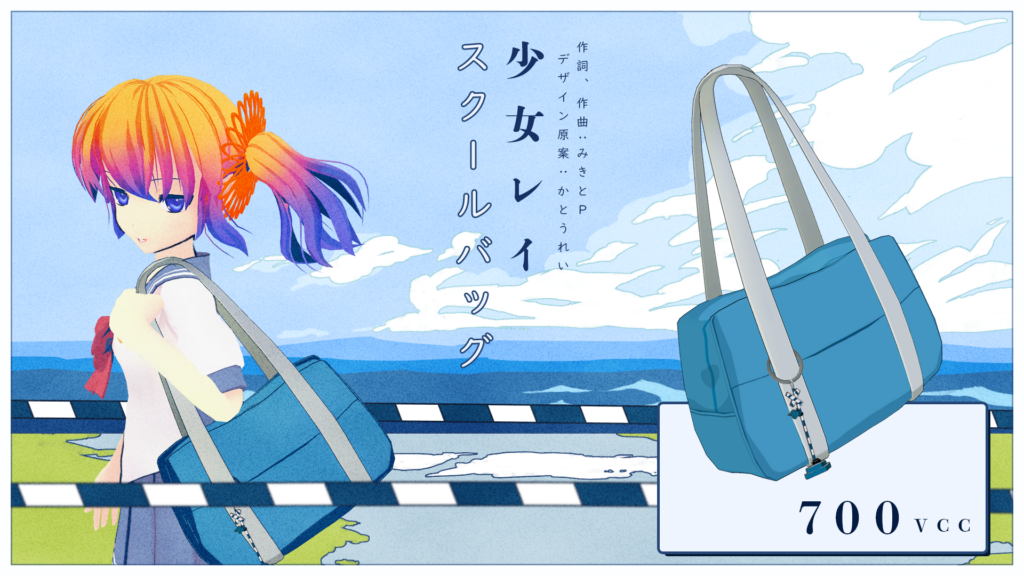 We're really excited about the seasonal items introduced for MIKU LAND Summer Vacation – parasols, fireworks, and a Suikawari (watermelon splitting game)!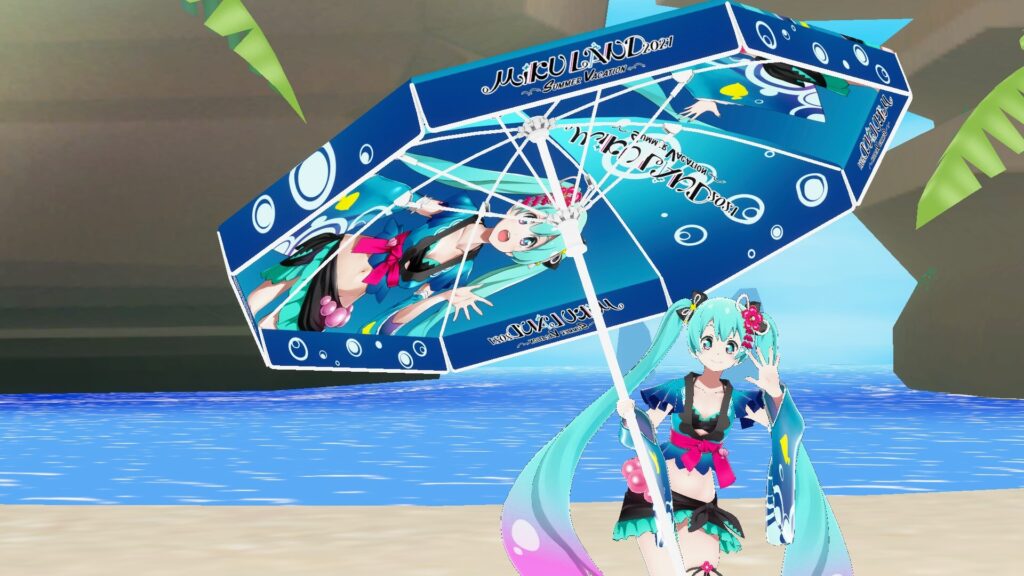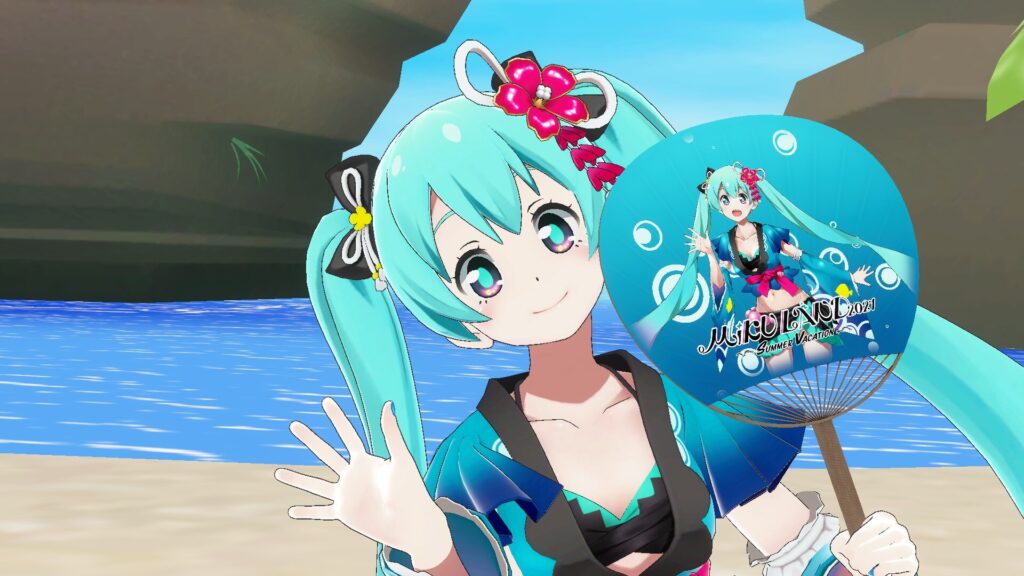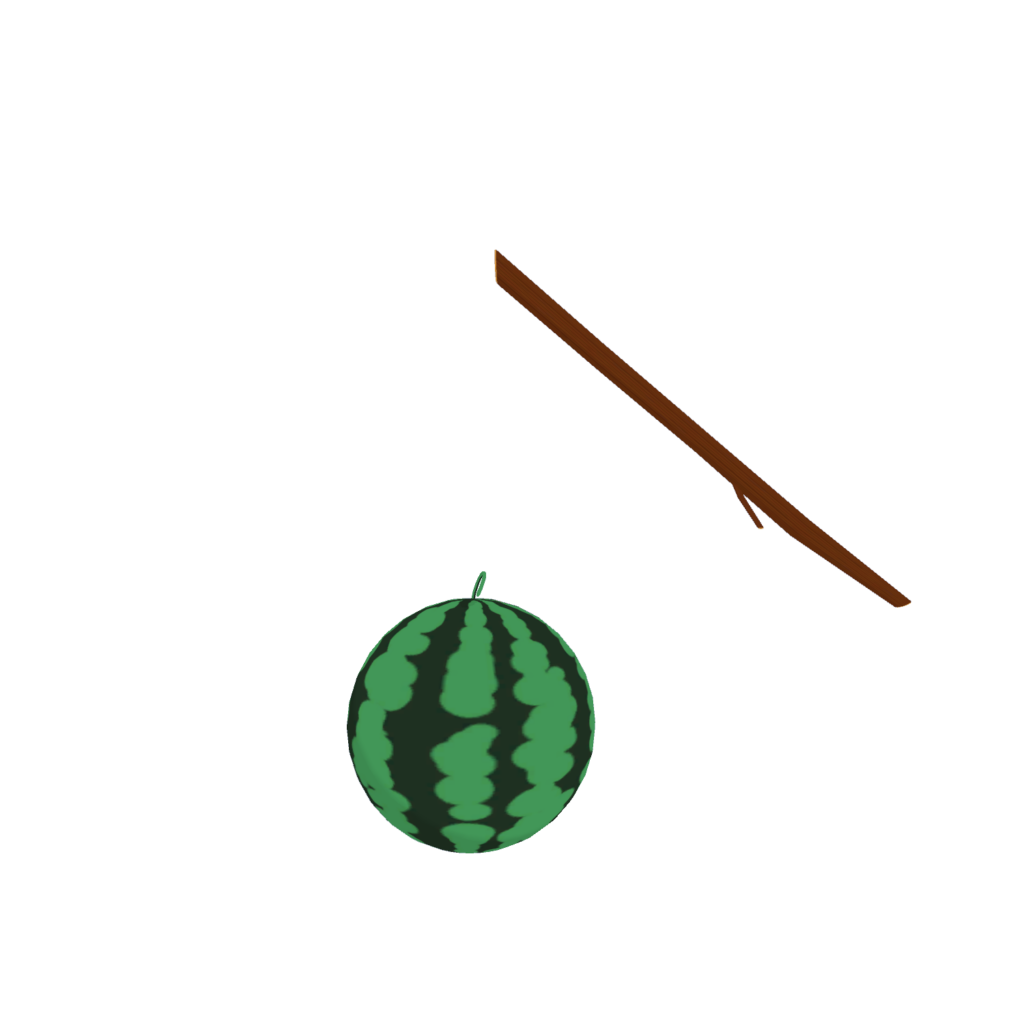 Live Streaming Dates
Introduction to MIKU LAND
Dates: August 23, 2021 (Mon) 19:00 – 20:30 JST
Niconico: https://live.nicovideo.jp/watch/lv333159160
Youtube: https://www.youtube.com/watch?v=7_912ezWi2g
DAY 1 Live Streaming (Fixed Camera View)
Dates: August 27, 2021 (Fri) 19:00 – 23:00 JST (Opening Ceremony: 18:30 – 19:00 JST)
Niconico: https://live.nicovideo.jp/watch/lv333159442
Youtube: https://www.youtube.com/watch?v=MPPm82jjOo4
DAY 2 Live Streaming (Fixed Camera View)
Dates: August 28, 2021 (Sat) 19:00 – 23:00 JST
Niconico: https://live.nicovideo.jp/watch/lv333159522
Youtube: https://www.youtube.com/watch?v=ObeE4NSps40
DAY 3 Live Streaming (Fixed Camera View)
Dates: August 29, 2021 (Sun) 19:00 – 23:00 JST
Niconico: https://live.nicovideo.jp/watch/lv333159606
Youtube: https://www.youtube.com/watch?v=t_PFzrLZW4w
MIKU LAND 2021 Summer Vacation Details
Dates: August 27 (Fri) – 31st (Tues), 2021
Venue: Main Venue — Virtual Cast (PC), Sub Venue — HoloModels (iOS/Android)
Host: Virtual Cast, Inc., Gugenka Inc
Cooperation: Crypton Future Media, INC.
Official Website: https://mikuland.com/
Twitter: https://twitter.com/Mikuland_info