Nobody can ever resist to plushies' cuteness, and seems Moeyu knows it very well, as their last introduced product is an adorable Nesoberi plushie of our beloved Stardust!
Hug Me or Take Me with You!
If you ever dreamed of a cute Stardust plushie to hug and cuddle with then this product is exactly what you've been looking for! It even comes in two different variants: Plushie size and Pendant size!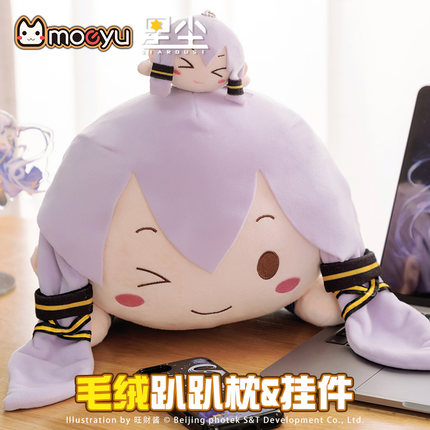 Those adorable products comes in two different sizes, each with a different expression on its face, and are waiting for you to take them home!
Mega Size Stardust Nesoberi Plushie
Having a size of 25x25cm in head width and height, but also 40cm of length, this plushie is the best choice for anyone in need of sweet cuddles and hugs from our favorite Quadimension virtual singer! It is priced 256 RMB (in sale for 128 RMB right now) and made entirely in Super Soft Crystal Velvet Fabric, filled with PP cotton!
Isn't she extra cute? I would love to bring her home as well!
Pendant Plushie
Showing herself in a funny face in this 10x6x8cm plushie pendant, Stardust will gladly accompany you anywhere you may decide to go, bringing a little spark of happiness to you and, possibly, your bags and keys! It is priced 78 RMB (now in sale for 39 RMB) and made of the same materials as the previous one.
Both of them will ship on July 9th. You should grab yours before pre-orders close!
So what are you waiting for?
Those little cute items are waiting for you! To pre-order them, you only need to click here! Remember that those products are only available in China, so you might need an agent to be able to purchase them!
Stay tuned with us on VNN for more news, updates, and of course merchandise for you to enjoy!
Quadimension is on Youtube and Weibo
You can also find Stardust on Weibo, Twitter and Youtube
Moeyu's TMall store and Weibo account
Product Page