The Nendoroid Hatsune Miku: Lion Dance Version figure was announced during the Miku Expo in Taiwan. Much like Halloween Miku and Harvest Moon Miku before her, she was made as a small homage to one of the Miku Expo locations. She was only available on Good Smile Company's online shop and I (Hoshi) was lucky enough to be able to grab her! And boy is she a keeper.
Unboxing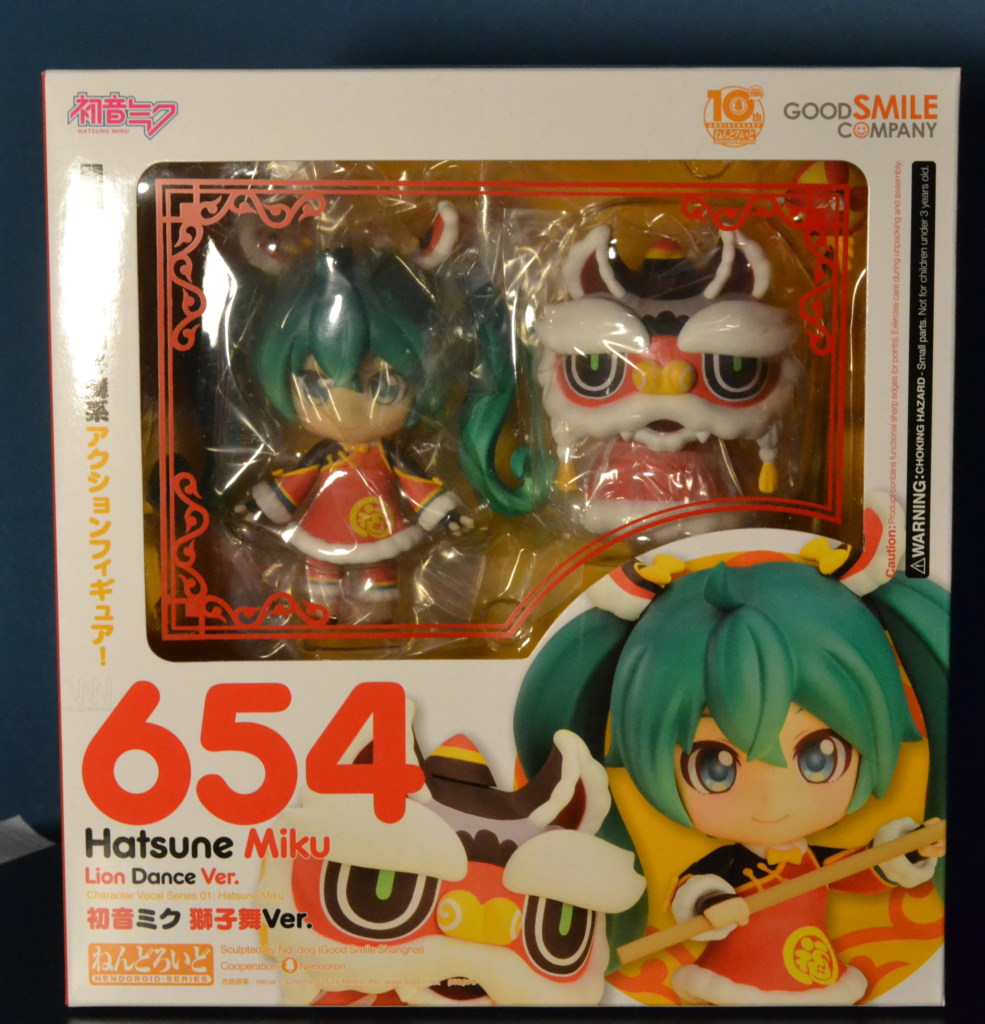 The first thing you see when you receive the figure is, obviously, the box. The box itself is a standard Nendoroid box designed to fit the Nendo inside.
However, that doesn't make it any less adorable. You can clearly see Miku as well as her Lion Dance lion very clearly, framed by a very well decorated panel that fits the atmosphere of the figure.
And the lion even poses with her on the front box picture! All Nendoroid boxes sell the adorableness of the figures but this one really takes the cake so far. I actually wouldn't mind displaying the box itself.
But Miku is way too cute to leave her in there!
When you open the box, you're greeted with a small number of extra parts below Miku and the lion as well as a staff.
While she doesn't have as many parts as some Nendoroids, I'd say it's a pretty standard number. They definitely didn't rip us off or anything. There's one bent leg part as well as special arms for holding the staff and another set for holding the dumpling. And of course there's the dumpling as well as a staff.
She also comes with three facial expressions: A standard happy face, a winking happy face, and an eating face. The eating face is super cute! And since Nendoroid parts are interchangeable, you could have any Nendoroid you want chowing down.
Out of The Packaging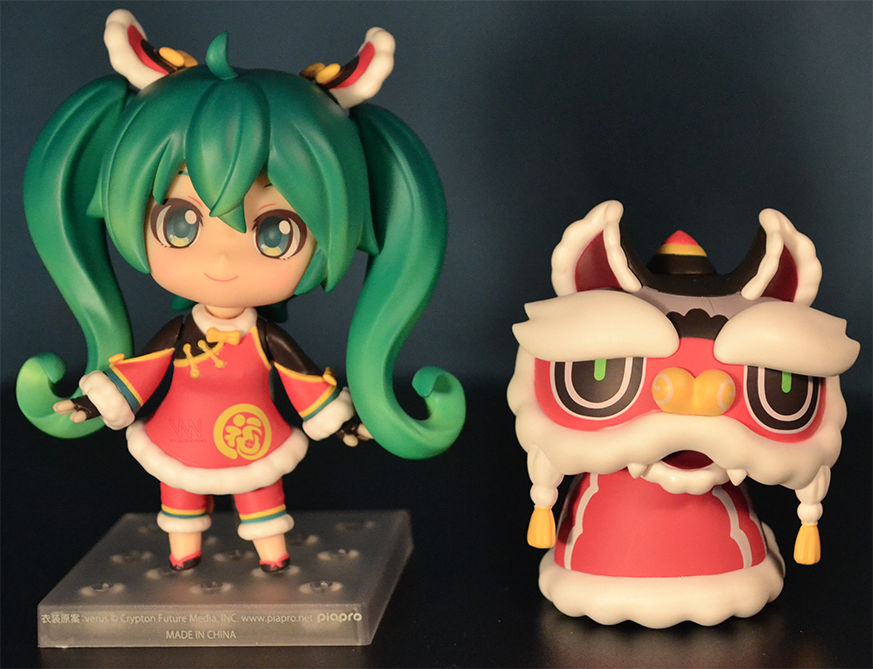 So cute! Miku's already looking incredibly adorable right out of the box. With very minimal effort, you have a ridiculously cute Nendoroid to brighten your day. Honestly you could stop right here. Forget about unboxing the rest of the stuff this pose is golden!
But of course we won't stop here. There's actually a bunch of other cute poses for you to try!
Eating the Dumpling
This is a small detail that I can really appreciate. In some figures, it's hard to pose them with their extra items. The item is there and the hand part to hold it is there but there's no extra support. The dumpling actually has a little hole that a peg in Miku's hand can connect into, ensuring you won't have a runaway dumpling lost forever. Because, let's face it, Nendoroid parts are hard to see if they run away off the shelves.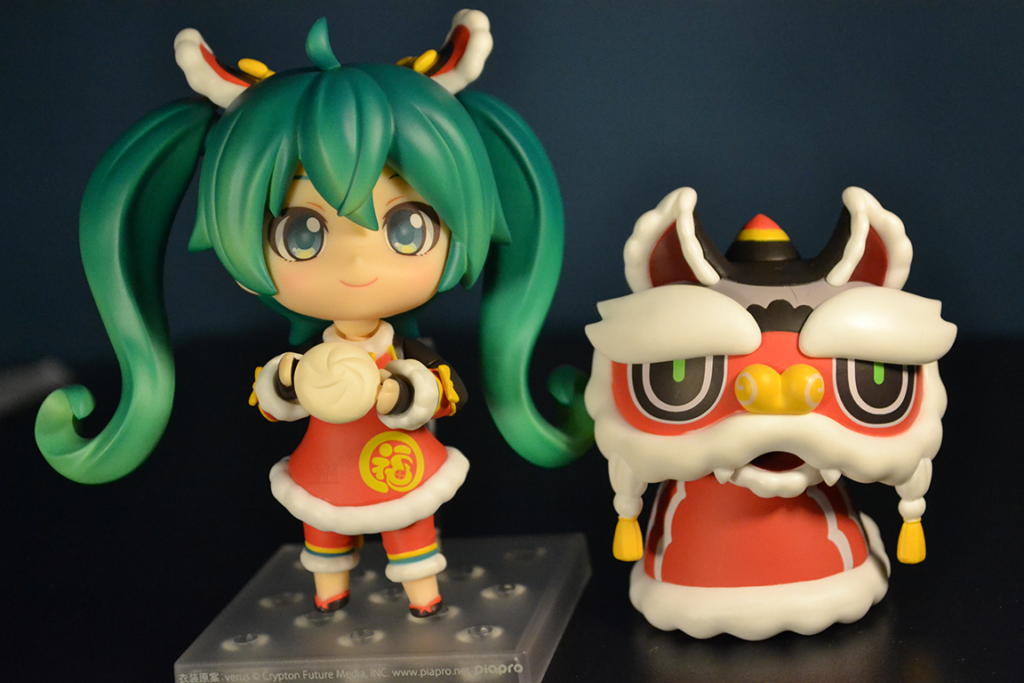 Just look at how cute she is!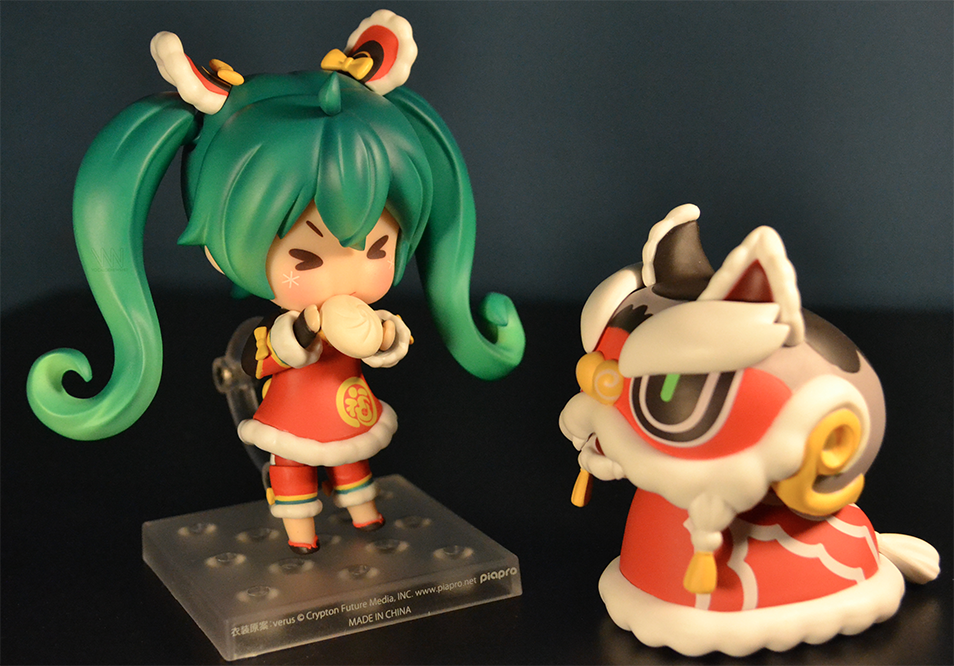 You should probably share, though, Miku. Look at how angry the lion is! Which leads us onto the next nice addition: The lion's eyebrows are movable!
The Lion
The eyebrows have quite the range of motion, allowing for a lot of different emotions to show. The lion can look neutral, angry, or even sad if you pose his eyebrows right.
And that's not all our lion can do. His head is removable, allowing you to put it on Miku's head! (Remember to remove the mouth piece of the lion and Miku's ahoge) Some people have said that they worry about the paint rubbing off, as there's nothing to protect Miku and the lion head does have to be forced on some. I personally didn't have any paint rub off but I wouldn't suggest constantly putting on and removing the accessory.
If you're wondering how Miku's twintails fit, it's really simple!
The lion actually has a hole in each side of its head. These holes are just the right size to put the joints of Miku's hair in! This leaves her hair perfectly poseable as well, leading to even more possibilities.
If that's not enough for you, her other accessories liven her up even more!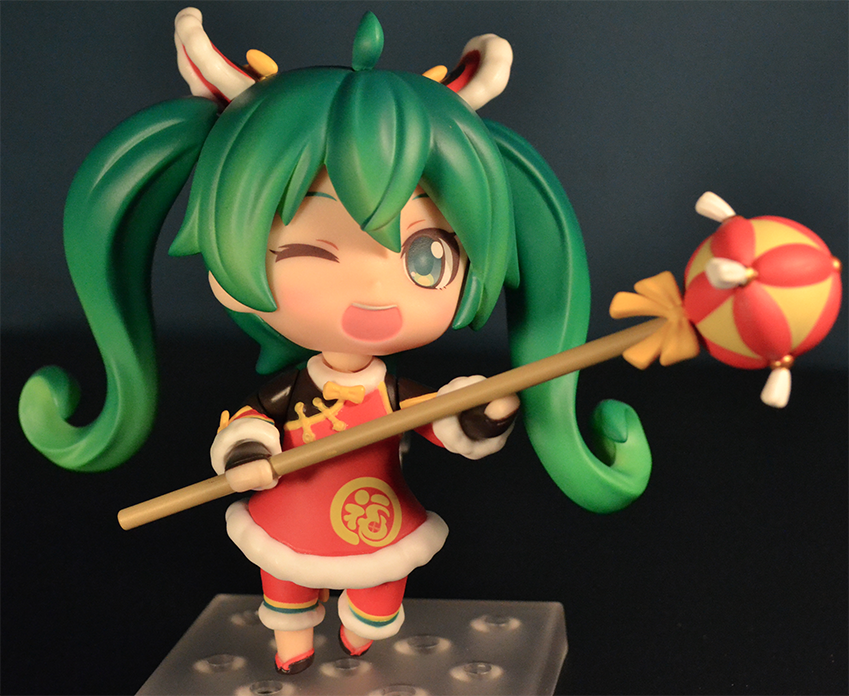 Details
And finally, we have what I believe ties the whole figure together. The amount of details on Nendoroid Hatsune Miku: Lion Dance Version are incredible. Everything from the bows on her outfit to her staff and even her shoes are well crafted to the point that'd you'd believe the figure was actually a standard figure, not a poseable one!
While all Nendoroids are of incredibly high quality, some of them just come out looking beyond amazing. This is definitely one of those Nendos. If you're a casual collector who doesn't grab all the Mikus but looks for the ones that will stand out the most, this is a must-have. She's absolutely perfect in every way. From her sculpt to her accessories and even the lion, this is honestly a steal in my opinion. While she's no longer available on GSC's online shop, you can follow other websites
Bonus
As a small side note, I wanted to mention the tassel on the bell on Miku's back is on a ball joint! It can move to add even more dynamicness to your shots!