With Racing Miku 2018 taking center stage this year and her Nendoroid already being up for pre-order, Nendoroid Racing Miku 2017 is retiring. However, that doesn't mean she's gone yet! There are still a few Racing Miku 2017 Nendoroid to grab over on Tokyo Otaku Mode as well as other figure websites. And considering how adorable she is, she's definitely a must-have! I (Hoshi) have a full review of the figure!
Note: While this article isn't sponsored, VNN uses affiliate links and gains a small commission from purchases.
First Impressions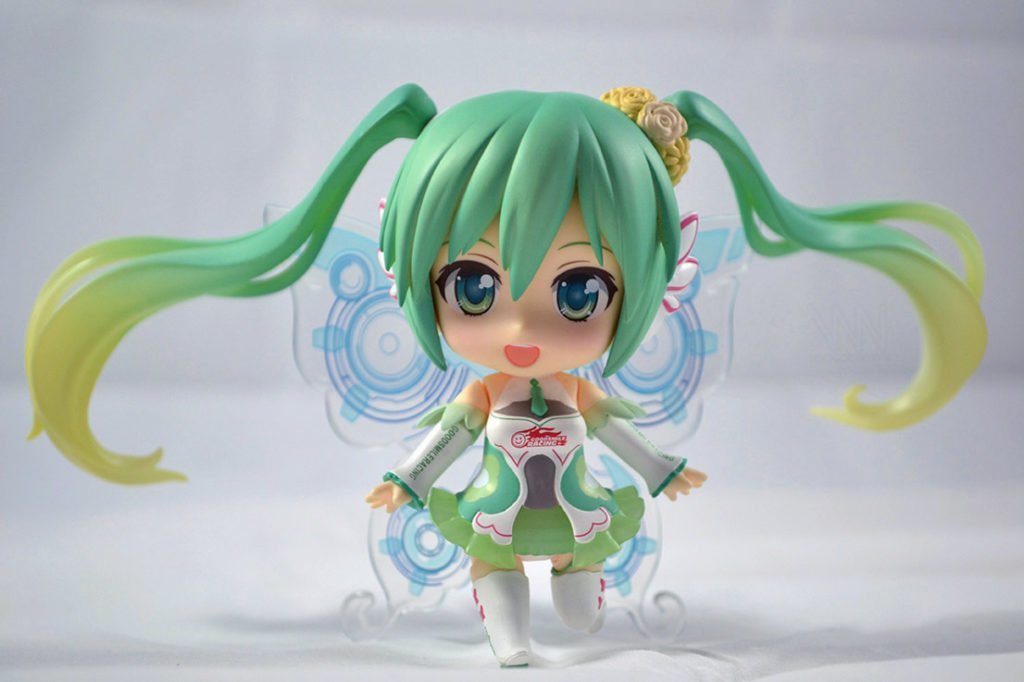 I knew that I wanted this Nendoroid the moment I saw the Racing Miku 2017 design, honestly. She was absolutely adorable and just pure perfection. And the Nendoroid definitely doesn't disappoint. Right out of the box, she's super cute. She's honestly one of the cutest Miku figures that I have in my ever growing collection!
Accessories
Nendoroid Racing Miku 2017 comes with about the standard amount of accessories for a Nendoroid: Two face plates, a leg bent at the knee, various arm parts, a few extra hands, a trophy (congrats on winning the 2017 SUPERGT Championship!), and a bouquet of flowers. In addition, she also has a nice little race car! The car comes without decals, so prepare to put them on yourself. I'm personally too much of a perfectionist and haven't tried my hand at the decals yet.
The Car
To fit Miku in the car, just remove her lower half and stick her upper body in the car on the peg provided. She comes with a steering wheel and arms and hands to hold the wheel. Just be careful of what angles you photograph her from! The wheel isn't connected to the car, so you have to make sure she's photographed from an angle that doesn't show this. Unless you're going for a comedy shot, of course.
The Figure
As mentioned earlier, the figure is adorable. And thanks to her wings, she doesn't even need a Nendoroid stand! (Which worked out great for me since my stand came missing a part.*) The Nendo itself feels very high quality and overall doesn't have any glaring issues whatsoever. Her one arm is slightly loose as is her lower body at times, but it was nothing that couldn't be worked around.
*Note that if you contact GSC about a product that you bought from them or a partner shop, you'll likely receive a replacement part for anything that came broken. However, they use Registered SAL to ship the parts, and SAL is currently a little bit slower than usual, so the part may take a few weeks to arrive.
Details
It seems like every little detail from the original illustration was preserved in this tiny little chibi! The circuit board design of the wings is so crisp and clear it's absolutely amazing. All of the logos for GSR and their sponsors are also perfect. And the sculpting and painting for Miku's hair and accessories is astounding! Each flower looks to be carefully sculpted and the gradient in her hair is just beautiful. Her headphones look just as superb as well. I'm usually the first to find faults with a Nendoroid, but this one doesn't have many.
The only thing I'd complain about is her skirt and the green ruffles of her shirt. They're this kind of transparent-but-not type of material that can look incredibly odd in certain lighting. While a light box setup fixes these issues, natural lighting doesn't always compliment the material.
Bonuses!
Tokyo Otaku Mode is selling the Personal Sponsorship versions of the Nendoroid and figma, so you get bonuses with them as well! I personally bought the 8,000 yen version because I didn't need all the stuff that comes with the 15,000 yen version. Both come with a Personal Sponsor Card, a Ticket Holder, the Nendoroid Racing Miku 2017 Ver., the Nendoroid Racing Miku 2017 Ver. Acrylic Keychain Vol. 1, and the Nendoroid Racing Miku 2017 Ver. Acrylic Keychain Vol. 2. The 15,000 yen version comes with a hand towel and mini pouch as well.
In addition to their intended purpose, the acrylic keychains can be used as decoration as well! They come with little stands that you can place the keychain in so that it can stand up on its own.
Final Thoughts
She's cute. You need her. In all seriousness, though, she's definitely a product that I would recommend! Grab her before she's gone for good!
Where to Buy
You can grab both of the Sponsorship Courses from Tokyo Otaku Mode!
8,000 yen Course: $108.99 USD or $89.37 USD with Premium (Note: Only ten are left as of when this article was written!)
15,000 yen Course: $203.99 USD or $173.39 USD with Premium
Sign up for TOM Premium for an extra $10 off your purchase as well!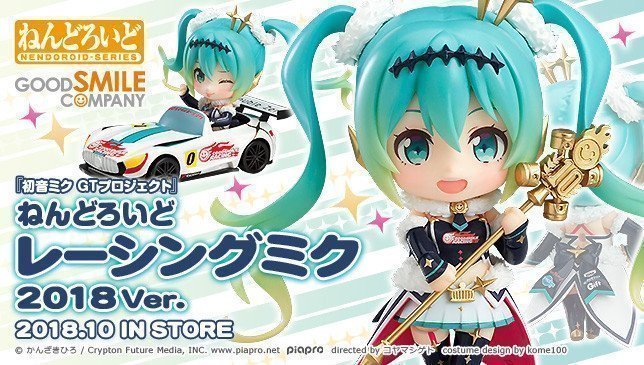 And while you're at it, be sure to grab the Nendoroid Racing Miku 2018 as well! If you're not interested in sponsoring GSR (which you really should look into doing if you can!), you can order the standard edition at the links below.