To commemorate his 10 years in the music industry, Pinocchio-P has revamped his past works in the form of a remix album P+! The album features 1 new track and 7 remixed songs from his past music catalog. The expected release day is on September 19, 2019.
If you want to receive the album earlier, and at a discount price, it will be available at Comiket 96 on August 12, in the Tokyo International Exhibit Center. The venue price of P+ will be at ¥1,500 (approx. $14), while the mail-order price will be ¥1,800 (approx. $16) + tax. A special badge will be available with P+ exclusively for those who purchase the album at the event.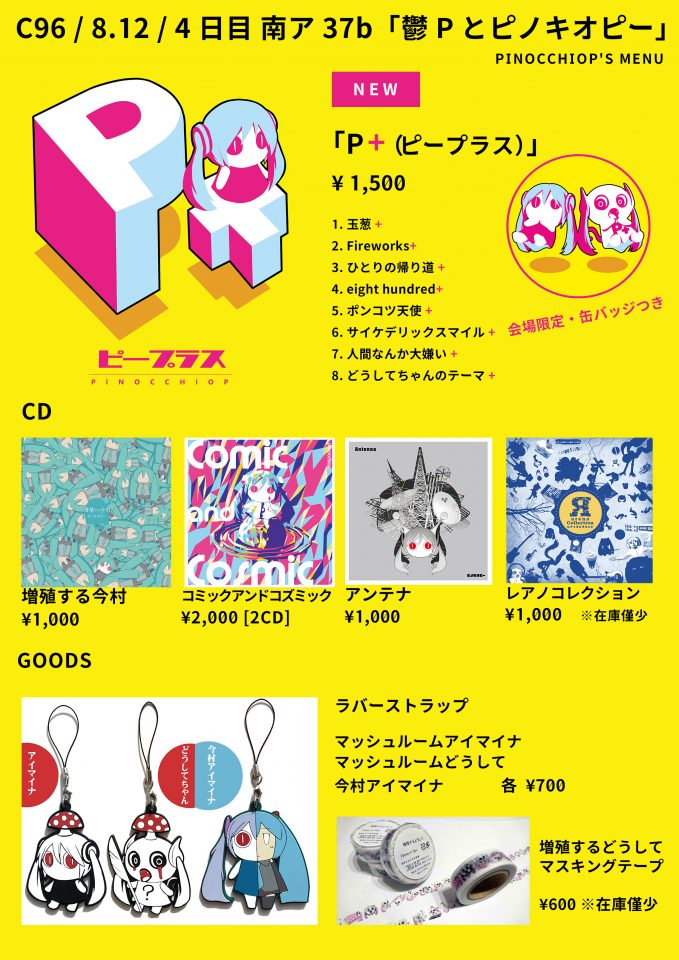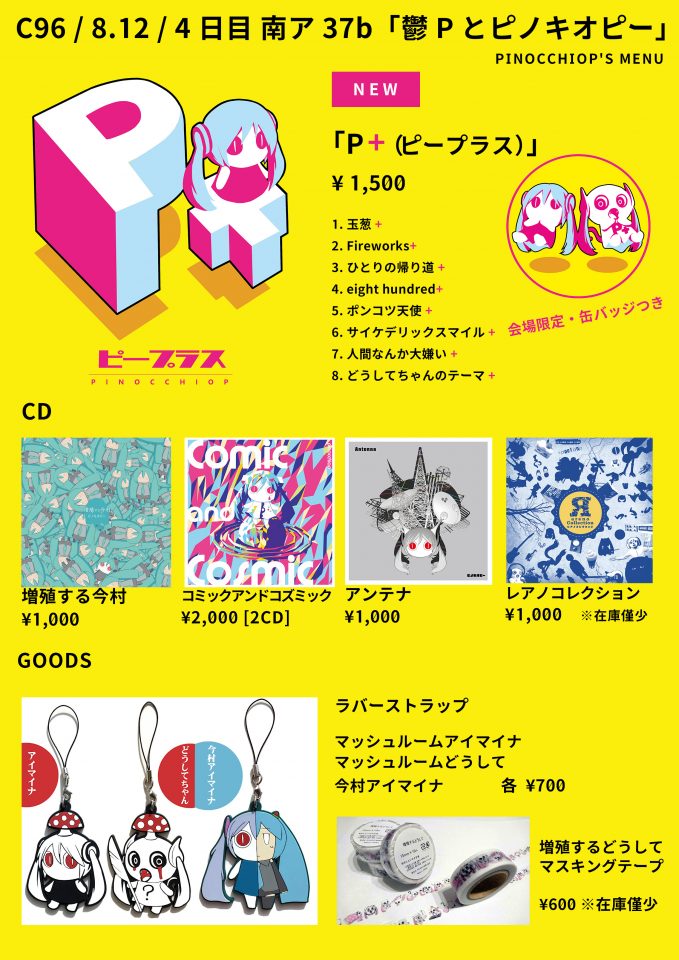 Other Pinocchio-P merchandise will also be available, such as other CDs, rubber straps and masking tape.
CD
As well as P+, these previously released albums will also be available:

Proliferation of Imamura – ¥1,000 (approx. $9)
Comic and Cosmic – ¥2,000 (2CD) (approx. $18)
Antenna – ¥1,000 (approx. $9)
Яareno Collection – ¥1,000 (approx. $9) (Limited Stock)
Goods
Rubber Strap ( ¥ 700 each, approx. $6):
MUSHROOM AIMAINA
MUSHROOM DOUSHITE
IMAMURA AIMAINA

Masking Tape ( ¥ 600, approx. $5. Limited Stock.)
KOUZOU SURU DOUSHITE
P+ Trailer Video
Tracklist
Onion+ is a new original song exclusive to P+! It's PV was released prior to the release of the album and can be watched below.
Producer: Pinocchio-P
Featured Vocaloid: Hatsune Miku
Be sure to support Pinocchio-P by purchasing the album! Happy 10 years to Pinocchio-P!
Pre-Order/Buy