We teased them through our social medias yesterday, and they are finally here: MEDIUM⁵'s Qixi Festival-themed pendants are now available through Quadimension!
With the Power of the Stars!
The Tanabata festival is usually held on July 7th in Japan, however, the Qixi Festival follows the tradition as well, using the lunar calendar instead, so we're celebrating it today! We are sure you cannot resist to such adorable chibi artworks featuring the MEDIUM⁵ divas illustrated by 枫叶!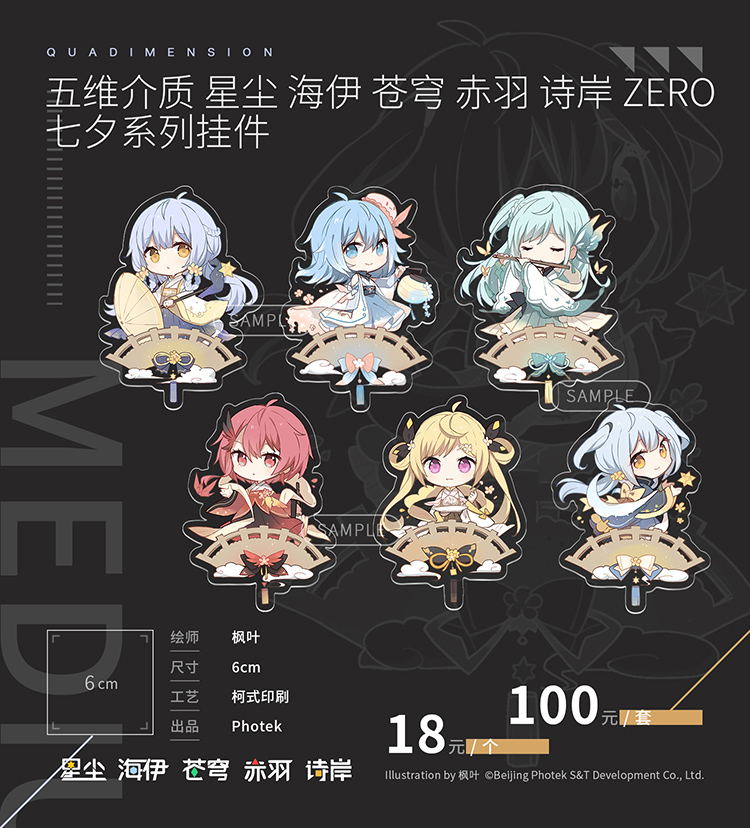 Those pendants' size is 6cm and portray all six of Quadimension's girls: Stardust, HaiYi, CangQiong, ChiYu, ShiAn and ZERO!
Each one is priced 18 RMB singularly, while they cost 100 RMB as a bundle of six!
Are you interested? You can find them here!
Source
Release is expected on mid-August, so be quick grabbing yours and be the first taking them home!
Follow us on VNN and our social medias to not lose any news about your favorite Virtual Singers!
Quadimension is on Youtube and Weibo
You can also find Stardust on Weibo, Twitter and Youtube
ChiYu can be found on her personal Weibo, just like ShiAn has her own account!
HaiYi is on Weibo too, and so is CangQiong on Weibo as well!
Product Page