When it comes to sweeten their costumers' life, Fujiya surely known how to do so, and their Hatsune Miku collaboration products are part of their plan to make us all happy! We got an exquisite Macaron Box not long ago, and this time seems our next treat are Strawberry White Chocolate Cookies!
A new Sweet Collaboration!
After such a successful collaboration with their macaron boxes in collaboration with Peko-chan, seems cookies will be our next sweets on the must have list!
Featuring a marvelous illustrations made by our beloved Rella, those boxes include four big cookies each and are a perfect gift for any cookie lover, especially if they like strawberry and white chocolate flavored ones! They also only cost 1,000 JPY each, which is totally worthy for such tasty snacks!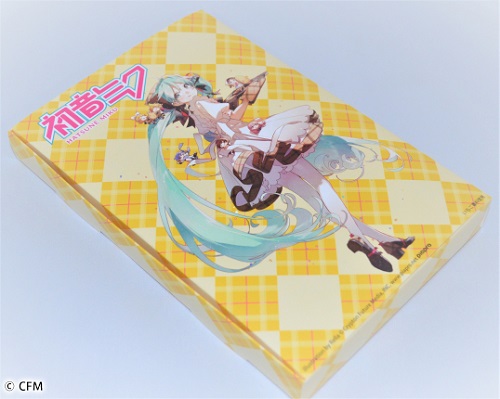 They look even better in real life! And can be purchased in bundles of two or three boxes too! Buying bundles will get you special bonuses as well of course!
By buying a single box you will get a random A5 clear file folder.
Buying a bundle of two you will a get the above bonus and three postcards.
While for a bundle of three you will get all the bonuses mentioned above plus five different coasters.
Lots of bonuses isn't it? But they are absolutely worthy!
Additional Goods
Alongside the boxes, they are also selling clear file folders and can badge collections, with more items to come in the near future!
Clear File Folder Collection
All those A4 clear file folders are perfect to store documents safely, without forgetting to give an adorable hint of course!
Can Badge Collection
Can badges instead are the perfect deal for any tote bag user! Each badge has a size of 76mm and feature a cute set of chibi made by Rella for the collaboration! Aside of our beloved Piapro characters you will also find Peko-chan, of course!
As of now, those are the current available items:
We are aware there isn't much variety at the moment, however, there are is an acrylic stand coming tomorrow (JST), and they will start selling can badges and clear file folders singularly on August 31th, so it's only a matter of time!
Where to Buy
All of the above products are available through their Fujiya x Miku web store, however, they will also be sold through some of their physical locations as well! You can find the list below!
Pay them a visit you ever manage to travel in Japan this month!
Sources
Sweeten your life with those delicious cookies, and don't hesitate telling us what you think about them!
Stay tuned with us on VNN for any further informations about all your favorite Virtual Singers!
Hatsune Miku is on Facebook (English and Japanese), Twitter (English and Japanese), Youtube and Weibo
Fujiya x Hatsune Miku Collaborative Shop
Hatsune Miku Official Blog Press Release