The moment we have waited for is finally here: Quadimension opened pre-orders for their latest album "天马行空Fairytale", revealing the full track list and all its  editions! Let's check it out!
Tracklist
For the past days Quadimension kept teasing us with some of the songs that were going to be in this album, but we now got not only the full tracklist, but even its crossdemo!
All of the songs are absolutely wonderful and will light up your days thanks to Stardust, ShiAn and ChiYu's stunning vocals! Check the tracklist down below!
The Moment When Allegory Foresees the Encounter with You / ShiAn feat ONO & 赭柚奶
Wings of Phoenix / ChiYu feat Senjougahara Yousei & Nóngsuō Páigǔ
Son of the Forest / ShiAn feat Xīng Huī & 大九_LN, tuning by cillia
翡夜Racing Game / ChiYu feat Zeno
Little Witch's Divination House / Stardust feat Hóng & 大九_LN, tuning by 心
Flutter and Soar High for New Born / Stardust feat MeLo & 绿无
404 Not Found / ChiYu feat KIDE & 

Nóngsuō Páigǔ
Cannot wait to get this album in our hands! With so many good songs like that we won't help but feeling wonderfully!
Album Editions
Just like all of their previous albums, this one s also available in many editions! Let's check them out!
Base Package (includes the CD, Album case, its lyrics booklet and five postcards) – 60 RMB
Merchandise Package (all of the base package plus an A4 art book and three 75mm pins) – 110 RMB
Luxurious Package (all of the above plus an A4 PP folder and three acrylic pendants) – 150 RMB
Metal Case Collection Edition (all of the above plus a special metal case and a numbered card) -180 RMB
You can purchase them via Quadimension's Taobao store by clicking here! Release date is set for August.
Bonus Pre-order
But there is more! People that pre-order the album will get some extra bonuses based off of the edition they choose!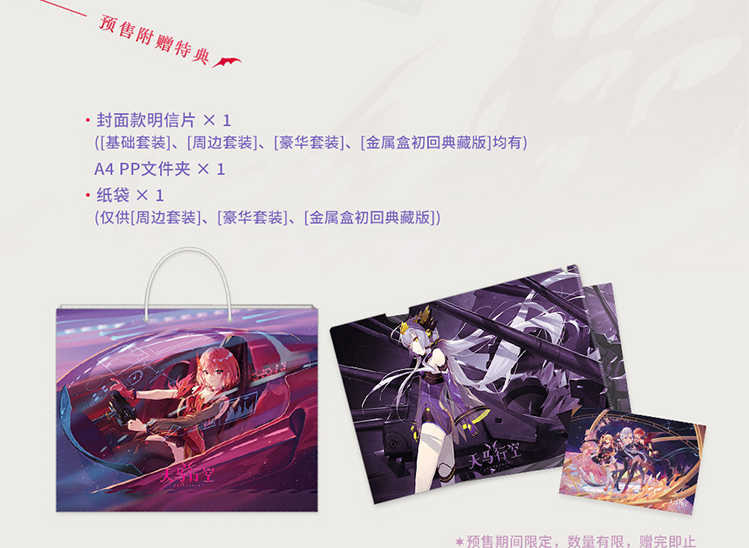 All of the people that pre-ordered the album will get an additional postcard featuring the album's illustration.
Those that chose to buy the Merchandise, Luxurious or metal case editions will also get a paper bag and an A4 PP folder.
Bonuses always encourage me to pre-order those things, and this paper bag is surely pretty inviting, isn't it?
Sources
We are definitely looking forward for this album's release, and you guys? Are you excited just like us? Tell us in the comment section!
Follow us on VNN and our social medias to not lose any news about your favorite Virtual Singers!
Quadimension is on Youtube and Weibo
You can also find Stardust on Weibo, Twitter and Youtube
ChiYu can be found on her personal Weibo, just like ShiAn has her own account!
Album Product Page