The time has finally came, and Quadimension finally fully revealed ChiYu's full design, her demo song and opened pre-orders for her Synthesizer V voice library!
Fire Up the Voice!
After such an eager waiting for MEDIUM⁵'s last member to be fully revealed, ChiYu finally shows us her vocal skills at their finest, alongside of her design! Check out her demo song below!
ChiYu isn't the only thing we got revealed today! Do you recognized this song? It's the same one used for her previous vocal sample. We now finally know its lyrics, title and author. It is titled "翡夜Racing Game" ("Fěi yè Racing Game") and was composed by Zeno for our new fire maiden's introduction. Her voice is filled with power, bringing us a sharp and memorable voice to Synthesizer V's Virtual Singers' cast.
Her design and illustration were revealed today as well and they were made by Hanasa, ATDan and Kurumimi. ChiYu's outfit is exactly what we would expect for such a powerful vocalist, inspired by fire, and we cannot wait for her to make even more appearances in the future!
Pre-Orders
ChiYu's voicebank, as we previously confirmed not long ago, is running in the Synthesizer V engine made by Dreamtonics, and she is up for pre-order now! her voice library is available in both digital and physical version through Quadimension's Taobao store and comes in bundle with SynthV's editor.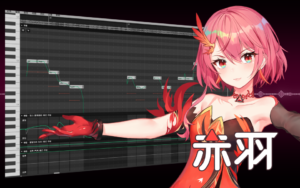 Her release date is scheduled to be on April 30th for the digital version, which is priced 500 RMB and includes:
Synthesizer V Editor Installer;
ChiYu's voice library installer and serial number;
User manual and installation guide;
Physical shipping of the code to your home (in Mainland China's territory, and will require an extra fee).
The physical version will begin shipping on late May, instead, and is priced 598 RMB. You can pre-order ChiYu's chinese voicebank here.
However, those prices are only a limited time offer, as ChiYu's voicebank will cost 680 RMB at the end of this discount, so you better order her as soon as you can!
Sources
We cannot wait for ChiYu to fully show us her true potential through songs and content, so let's keep an eye on her together!
Follow us on VNN and our social medias to not lose any news about your favorite Virtual Singers!
Quadimension's "亚特兰蒂斯Atlantis" Album preview and MEDIUM⁵'s Fifth Member Appeared!
Vocal Sample of Quadimension's Synthesizer V ChiYu Published!
New ChiYu Demo Song Published!
Quadimension on Weibo
ChiYu on Weibo
Product Page on Taobao
Synthesizer V Website